Grants for Farmers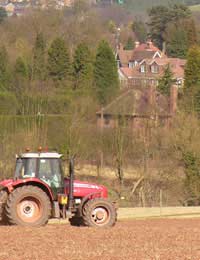 The system that gives grants to farmers isn't easy to follow. An enquiry to DEFRA (the Department for Environment, Food and Rural Affairs) will often lead to other bodies. Among these are Regional Development Agencies (RDAs); the Forestry Commission; and various other agencies that cover the regions of England, Northern Ireland, Scotland and Wales.
However, it's possible to give an overview of agricultural grants. This can at least ensure that farmers don't lose out on the common types of funding.
Single Payment Scheme
The European Union's main grant programme for farmers is the Single Payment Scheme (SPS). There is no relation between the SPS and farm production. Farmers can build their businesses on the demands of the market rather than demands from government.
The agencies that run the SPS, and the methods of administration, differ in each UK region. In England, the conditions for receiving SPS payments are as follows: an eligible party must be a farmer; must have eligible land; and must have entitlements. The definition of eligible land is permanent pasture and arable fields.
Entitlements refer back to 2005. In this year, the government issued entitlements to most farmers. Farmers can get more entitlements by buying or leasing them from other farmers.
To claim SPS payments, a farmer must have a hectare of eligible land for each entitlement. The payment is a flat rate plus an amount based on any subsidies a farmer received before 2005. In England, payment for each entitlement will become just a flat rate by 2012.
English farmers must make their SPS payment applications via the Rural Payments Agency. The deadline is 15 May each year. This summary of SPS payments does not cover Northern Ireland, Scotland and Wales. The regional SPS agencies have further details.
Forestry Commission Grants
If a farmer has woodland, there are grants for forest development and management. Funding comes from the EU. Each region runs the scheme to meet local needs. However, a useful first point of contact for grants is the UK Forestry Commission.
Area Payment for Nuts Scheme (APNS)
Farmers can apply to their regional agency for money to help fund nut growing. The nuts eligible under APNS are almonds, hazelnuts, pistachios and walnuts. The grant also applies to locust beans.
Aid for Energy
Farmers can grow crops such as willow and rapeseed for energy production. Energy companies may burn the crops to create electricity; or they may process the crops into fuel such as biodiesel. Farmers receive a set amount per hectare of energy crop.
Protein Crops
For the purpose of a grant, protein crops are field beans, peas and sweet lupins. Farmers growing these crops receive a set premium per hectare.
Restrictions
The APNS, Aid for Energy and Protein Crop grant schemes have restrictions. For example, if the total number of energy crop hectares exceeds two million across the UK, the amount of the payments drops.
Some schemes also have a limited life. It's therefore wise to check the current and future position on grant payments within a region before changing a farm's produce.
You might also like...
Good morning hope you are well just wondering if there is any grant's or funding for me to apply for I have 9 sheep and 18 horses the sheep are allpets and just used for the fleas just wondering if you could help please thank you
The sheep retreat
- 15-Aug-21 @ 9:04 AM
I am 20 years old in Uganda,I am having an acre of passion fruits and i need any kind of grant to buy a water pump
Kalule Ahmed
- 3-Aug-21 @ 1:44 PM
HELLO I AM A YOUNG WOMAN OF 35 YEARS OLD WANT TO ASK WHAT POSSIBLE FINANCIAL HELP /GRANT SCHEME I CAN APPLY FOR AS I WANT TO SET A POULTRY MINI FARM IN ARURAL ENVIRONMENT !?
Maria
- 1-Jul-21 @ 12:35 AM
I am young lady how starting a new businessplease helpi needfunding
Ntombi
- 19-Apr-21 @ 10:52 AM
Hi, Am looking for an agricultural grant to fund my business idea in farming.
Cossie
- 16-Apr-21 @ 10:52 PM
I am a female Zambian looking for a grant. I have 10 hectares piece of land and I want to pit up a poultry farm. I will be happy to receive a grant from any reputable institution.
I need a grant for putting an electric fence round my farm.2 vehicles to help me with my business and a cold room
Namnam
- 12-Apr-21 @ 2:56 PM
I am a poor country boy in the mountains of North carolinajust looking to make a future for my family in farming I've found a few farms I would like to buy and start a big farm on but its kinda hard to without capital so more than anything I'm looking for a grant or even a investor to help me out with my dream
Jamee
- 10-Apr-21 @ 9:55 PM
hi I'm a young south African citizen who is enthusiastic about life i just embark on farming business as i am already have some 21 Goats, 23 sheep's, 10 Pigs with one of pigs ready to produce and 3Cows,now all I need is to be granted with instalation of irrigation system so that I can also plough
Thandie
- 10-Apr-21 @ 7:06 PM
I need grant to farm sesame seed in northern Nigeria
AHMED O. A.
- 9-Apr-21 @ 6:52 PM
Are there grants available for installing an irrigationsystem
Annie
- 6-Apr-21 @ 4:02 PM
Hi, I am seeking for financial assistance from any charitable organization to start poultry farming for me to fight poverty
Farmers agent
- 4-Apr-21 @ 6:48 AM
I need a grant to kick off my agricultural business $10,000 will be a good start. Thanks
Risensun
- 1-Apr-21 @ 3:15 AM
Hi, i am a recent graduate from the University of Liberia with a bachelor degree in Agriculture, a born Liberia. i have passion for what i studied. and i want to get engaged in farming especially cassava production and Oil Palm Nursery for other farmers. we have six hundred 600 acres of land in Bong County, my county of origin. i have done a market survey and realized that the consumers for these produces are encouraging. but i do not any funding to start. what can i do
LET RISE TOGETHER
- 30-Mar-21 @ 10:25 PM
I am looking for grant from usda to get tomatosonions garlic and peppers to market my Hot sauce..also interest in organic tomatos..i have land already..need to get seeds, tractor etc.HIRE FEILD HELP..i am for helping country get out of poverty..i need a grant writer also..this is my first attempt.
Cici
- 25-Mar-21 @ 4:36 PM
Hi my partner and I are looking for a farm tenancy but was wondering if there was any financial grants we could apply for to help us get the farm up and running thanks in advance.
Picke
- 11-Feb-21 @ 9:57 PM
Hi, I am about to start rice farming in Sierra Leone. My aim is to work with the local communities to provide employment and help the fight against poverty. I am looking for funding for the equipment (tractor, harvester,tillage and fertilizer applicator). Please advice if funding can be obtained from here.
Sasman
- 11-Jul-20 @ 3:30 AM
Hi, I am just starting a small beekeeping/Pollination business. Would you know if there are any grants available for this? Cheers
Ballybeeman
- 27-Jun-20 @ 12:40 PM
I DID GENERAL AGRICULTURE IN MY ORDINARY NATIONAL DIPLOMA AT LAGOS STATE POLYTECHNICS, LAGOS NIGERIA AND CROP PRODUCTION AND HORTICULTURE IN THE SAME SCHOOL AND I HAVE BEEN A FARMER IN NIGERIA FOR OVER 20 YEARS. BUT I AM NOT ABLE TO GO A LONG WAY BECAUSE I COULD NOT GET NECESSARY MACHINERY AND FINANCE FOR MY FARM. I WOULD APPRECIATE IT IF I COULD GET SOME MACHINERY AND GRANT (FINANCE) TO HELP BROADEN MY FARM SINCE I HAVE SOME ACRES OF ROUGH FARMING LAND.
KALAM.
- 21-Mar-20 @ 9:37 AM
hi friends,am a Ugandan man of God and teacher training farmers to fix soil by giving them seeds to plant in eastern part of our country.Am fighting both poverty and climate change.My prayer request is more seeds to give out to these farmers.Thank you.God bless you and remember us in your daily prayers! Amen.
mwalimu
- 4-Jul-19 @ 8:50 PM
Please sir/ma, I am looking for a place where I can get grant of at least $2000 to start fish farming business in Nigeria. Please help, I am jobless University graduate. Thanks.
bunmmy
- 11-Mar-19 @ 3:36 PM
Please sir/ma, I am looking for a place where I can get grant of at least $2000 to start fish farming business in Nigeria. Please help, I am jobless University graduate. Thanks
bunmmy
- 11-Mar-19 @ 3:33 PM
Please sir/ma, I am looking for a place where I can get grant of at least $2000 to start fish farming business in Nigeria. Please help, I am jobless University graduate. Thanks.
bunmmy
- 11-Mar-19 @ 3:29 PM
Sir a m a small farmer from Tanzania seeking for a free tractor help to work in my country
Mbogoshi
- 7-Feb-19 @ 7:29 AM
I am looking for starting an aquaponics farming in Bhutan to help poor villagers in remote regions of Himalayan kingdom to become self sufficient through vertical farming system. Can I get any financial assistance from here?
Somdheb
- 30-Jan-19 @ 10:18 AM
Hi My local farmer has devastated trees and hedges near us. I understand this is being investigated by our county council as hedging was habitat for dormouse. Allegedly this was done in the name of drainage!!! How do I find out if this work was done using grant money ?
Sandy
- 3-Jan-19 @ 12:19 PM
Hi our farm builds are falling down but we don't have a lot of money to fix them any help for this?
Limemortar
- 4-Sep-18 @ 10:32 PM
I am now starting to buy sheep. We have brought 14 acres of land but we need a barn built as our machinery keeps getting stolen. Is there any grants available for new start ups. Many thanks
Tracy P
- 27-May-18 @ 3:26 PM
any grants for building a haybarn on our farm please - DEFRAs new rural development grants are useless.
cowgirl
- 16-Feb-18 @ 11:04 AM
Hi we have move in to South Lanarkshire. We have about 3 and half acres of woodland most of the tree need to be removed possible grant for replanting.we are needing to refence all of the farm.also we need all of the field dranage done as the land is very wet and boggiy in places can't keep animals on it till it all done Are there any grantsplease
Dalquhandy
- 4-Feb-18 @ 10:21 PM