European Fisheries Grants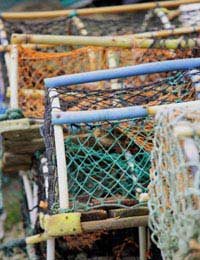 The European Union has operated a fisheries grant scheme for some years. The latest incarnation of the scheme is the European Fisheries Fund (EFF).
The EFF offers grants to the fishing industries of EU member countries. These grants have one principle aim: to help the sustainable development of the European fisheries sector.
Funds
The EFF has £111 million available for the UK. Each of the four UK governments has a share of this amount:
Wales - £14 million
Northern Ireland - £14.5 million
England - £38.5 million
Scotland - £44 million
Suitable Projects
There are various projects that attract EFF funding. Among these is the modernisation of fishing vessels. Owners can seek grants to buy and improve fishing gear, and to reduce the effect that fishing has on the environment.
Other projects include support for communities that depend on fishing; marketing fish products more effectively; improving the quality of fish products; developing aquaculture and fish farming schemes; and improving facilities at fishing ports.
Interested parties should apply to their national government.
EFF Cross-Border Projects
It's possible to submit an application for an EFF grant that covers more than one government in the UK. A project may also involve all four UK areas.
Such a proposal goes first to the UK Marine Management Organisation (MMO). Each of the governments makes a separate decision about the project. The MMO then discusses with the governments which one of them should lead the project and be the point of contact.
EU Aid
EU Aid is a related fisheries grant scheme. Each EU member state must monitor and enforce the EU's Common Fisheries Policy (CFP). This can prove costly. Enforcement bodies can therefore apply for funds from EU Aid.
The MMO coordinates such applications for help in the UK. Each year, the MMO asks UK enforcement bodies if they need money for anticipated costs. The MMO collates the requests and submits them to the European Commission. The Commission then decides whether to issue grants to assist CFP enforcement.
UK enforcement bodies that need funds should contact the MMO in the first instance.
Fisheries Challenge Fund
The Department for Environment, Food and Rural Affairs (DEFRA) gives money to the MMO for a further grant scheme, the Fisheries Challenge Fund. Strictly speaking, this money is not from the EU. But the Fisheries Challenge Fund relates to the CFP.
The purpose of the Fisheries Challenge Fund is to improve the management of fisheries and help workers become involved in fishing industry research.
The total money available is £70,000. Grant applicants should submit ideas for projects that meet the CFP and DEFRA intention to provide sustainable fisheries. Projects must also aim to solve a fisheries management problem.
The grants can assist with analysis; research; social and economic studies; and biological issues. Applicants must state what contribution they intend to make to the project. This needn't be money. Instead, it can be in the form of time and experience.
MMO has also said that it is keen to see projects that give practical support to the work of Regional Advisory Councils (RACs). The UK government regards such support as vital.
You might also like...
Am looking to buy my own boat and looking for fundinghow do I apply
Sprocket
- 3-Sep-21 @ 11:11 AM
Hi I'm looking to see if there any grant/loans Available to help buy under 10m fishing boat. I've been fishing for over 20 years now and been a skipperfor 17 years. And I'm fed up with the owners of the boat earning all the money with what I've earning them and I'm only just getting buy each mouth. It time to think about my self for once and my family. So is there anythink that can help me.
Enguk
- 27-Aug-21 @ 9:56 AM
Hi, i am looking to start a fishing processing business which i have knowledge of and i have been wanting to go into this business especially now that we have access to our waters hence more access to fishes but need help with accessing and applying for grants. Will be really grateful if i could be given help with this so i can start as soon as possible because it will also create jobs for others and revenue for the economy. Thanks
Hello I have been in the fishing industry for 23 years but taken a few years out I am interested in buying my own trawler and am wondering if there is any grants/funding available for first time buyers to help get back into the industry again.
Sterling31
- 12-Jun-21 @ 10:01 PM
Hi, Are there any grants available for a new build under 10. To replace my current vessel that is over 40 years old, and that I am still currently using, and have been for the last 30 years.
Nets
- 2-Jun-21 @ 3:24 PM
Hi I am looking to starting up a new fisheries business in Africa and need help buy the fishing trawlers I have already have a place for factory just need the material for a percentage in the business0
Alims
- 29-Mar-21 @ 8:01 PM
Hi I'm looking to buy a commercial fishing boat for lobster and crab in Northern Ireland, I have plenty of experience in this sector but the initial start up cost is quite hard to find. I was wondering if there were any grants available for this any help would be appreciated thanks!
Pm212
- 22-Feb-21 @ 10:15 AM
Hi i am looking for funding to start a grading tea from Africa Grant because of my disability i would love to eventually package my own brand for supermarket and shops.Or both.How can you belp me with a grant anda grant to make my house functional for my disability as it has gone downhill for 10 years of focusing on kids andless time for tlc i have disrepair and disfunctional furniture.Thanks Gladys Taylor
I am looking for any grant funding assistance on building a new 10m fishing boat for line fishing Mackerel/ Bass in Cornwall . Any information will be greatly appreciated as I have a potential building slot in March of 2021 . Looking forward to hearing back from you . Respectfully your Keith Leeves
Large
- 26-Dec-20 @ 8:59 AM
Hi im looking to start my own buisness in fishing trawling amd looking to be pointed in the right direction to get funding to start ive seen a trawler i want to purchase used to work onit the owner passed away and i want to take over the buisness but cant find any help any advice or direction would be brilliant thanks
jay23wales
- 4-Oct-20 @ 3:26 PM
I'm looking to buy my first commercial fishing boat and looking to see if I can apply for funding to help buy this vessel
Kingfishersy56
- 16-Jul-20 @ 11:33 AM
im looking for a start up loan for a fishing boat i have 20yrs experience just had 3 out and was a trawler owner before got class1 skippers ticket any ideas.
marcy marc
- 9-Jan-20 @ 12:34 AM
Hello,currently looking into buying a inshore fishing boat fishing for crabs and lobsters. Just wondering if there is any grants or loans available for young fishermen to help me get going Thanks sam
Sam
- 11-Nov-19 @ 4:31 PM
Hi there I was wondering if there is a grant available for me to improve my lobster to change my old pots for new ones so I can improve the quality of my catch thanks in advance Rhys
Rhys
- 27-Aug-19 @ 11:22 PM
Starting a fishing business with my partner who currently skippers a boat that's for sale and we're hoping to buy. Looking for any help that's available for gear or upgrade grants. Thanks,
Hello, I'm a 20 year old fisherman who has been working on boats since I was very young. I've been working for others who owned there own boats and think I've gained enough experience and knowledge to start up myself, but the cost to start from scratch is unaffordable. I was just wondering if there is help or grants which could help me start up because it's my lively hood and know this is the career I love and enjoy, any reply would be greatly appreciated and I appreciate your time. Thanks Liam sim
Sim
- 26-Apr-19 @ 1:31 PM
Hello. I have a 8.9m creel boat In west coast of Scotland. I'm looking forgrants for lobster parlour Creels and prawn Creels.to improve the quality of our catch.
We are a small fishing club based in Northern Irelandand hope, in the near future, to build a fishing stand or stands to help expand access to the water for disabled and able bodied anglers alike. It would be appreciated if you could advise if any grants are availablefor this purpose.
Linfield
- 15-Mar-19 @ 4:33 PM
Sir a m a small farmer from Tanzania seeking for a freefishing boat to work in my country
Mbogoshi
- 4-Feb-19 @ 5:11 PM
Hi there, looking to get back fishing after 6 years absence (30 years experience), have got money together to buy boat, looking for some assistance to buy some lobster creels and prawn creels, can you please advise where I might get somehelp, kind regards
bigmac
- 24-Jul-17 @ 3:22 PM
Have a 9m creel boat looking for grant for safety gear as aye work single handed and was going to employ someone else to help me was looking for life. Raft and bins for keeping mackerel fresh and for keeping my bait in them fresh
Shugs
- 9-Sep-16 @ 10:53 PM
@thomas. Sounds like you've made a good start. Check out
this page
for information on specific funding and how to apply.
GrantsExpert
- 25-Feb-15 @ 2:39 PM
hi ther i am just starting a business i have purchased a 5.3 meter fishing vessel i am loking for a grant /loan 2 help me get safetey equipment ice machine and sum start up cash for fule i will be imploing 2 people and am loking 2 expand my buisness
thomas
- 23-Feb-15 @ 5:43 PM
Hi, Im looking to start a business as a launderette or as a small takeaway please could you help me with any grant funding that may be available to me?
sylve
- 1-Dec-13 @ 12:17 PM