Food Processing and Marketing Grant Scheme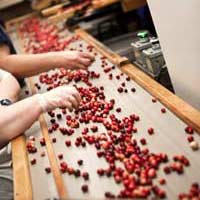 For those who process and sell food, times are hard. Container ships with refrigerated and deep-freeze compartments have turned the distribution of food products into a global business. Competition in the industry has intensified. This has affected prices and revolutionised methods of food production. Those companies unable to stay abreast of developments struggle to remain profitable.
The European Union has a programme to help address these issues: the Food Processing and Marketing grant scheme. In the UK, the regional governments each run the scheme. Money comes from the regional governments and the EU. In some instances, private companies also contribute. The scheme runs until 2013 with its current levels of funding.
Details
The details of the scheme vary to match regional needs. In Scotland, for example, the full name is the Food Processing, Marketing and Co-operation (FPMC) scheme. The aim of FPMC is to stimulate the profitable and sustainable production of food across the country. To reach this goal, anyone who processes and sells food must have the knowledge and resources to respond to the changes occurring in the industry.
FPMC's intention is that food producers, processors and retailers work together more closely. Only then, according to FPMC, can farmers make money and continue to supply the country's food factories and shops.
Other Goals
Countries trade food more than ever before. Consumers in developing countries want to expand their choice of cuisine. A further intention of the grant scheme is to take advantage of international markets and boost exports.
The final goal of FPMC, however, is not just to help with the processing and selling of established food lines. The grant scheme aims to boost innovation. It provides the finance for new healthy and creative food products.
Grant Applicants
Anyone who has a role in the food production industry can apply for a Food Processing, Marketing and Co-operation grant. The list includes farmers, market gardeners, retail chains and supermarkets. Applicants can be individuals, groups of individuals with a common interest, or companies.
Universities and food science research institutes can also become involved. Under the scheme, their role is to support the food industry with appropriate studies and management reports. Applicants are in competition with each other for the available money. This funding is in three categories:
1. Co-operation Grants
Co-operation grants focus on partnership working among the individual elements of the food production chain. Applicants should apply for these grants in two phases.
For phase one, an applicant must describe any proposed research or study and explain its objectives. The application must include details of the methodology, the qualifications of the people undertaking the research or study, and a breakdown of the cost.
Phase two requires more detailed financial information. This includes the audited accounts of the body proposing to implement the project. There are also questions applicants must answer about waste, climate change, carbon emissions and environmental benefits.
2. Non-Capital Grants
Non-capital grants cover projects such as consultancy, consumer education and the development of new food products. The content of the application form is broadly similar to that of phase two co-operation grants.
3. Capital Grants
The form for capital grants also follows the same lines as the questions in the phase two co-operation grants application. Capital grants, though, are for the purchase of equipment and plant. They can also help towards the erection of factory units, sheds and other buildings that are part of a food processing and retail scheme.
Example
The point of contact for anyone interested in applying for a grant is the appropriate regional government. Each government provides advice for any individual, group or company that wishes to complete a grant application form. Nonetheless, applicants should first have a clear idea of what they want to achieve.
For example, a group of specialist, small-scale food processors such as cheesemongers may be finding it hard to distribute and sell their products to major retailers. Such a group could apply for a non-capital grant to employ a consultant.
This consultant could look at the possibility of creating a marketing company for the group. If the project is feasible, the group may then want a non-capital grant to cover the cost of employing a marketing manager. This manager could then arrange for the sale and distribution of the group's various cheeses to retailers.
You might also like...
I am retired did a degree in food science and technology when I retired graduating 6 years ago I have HACCP level 3 have been doing consultancy but I am in the vulnerable cattergty being diabetic with COPD I have started two succesfulsmoking businesses in the past and am going to set a small one up here in my cottage in Crewkerne somerset only me to start with I am investigating the possibility of start up grants and matched funding for equipment I intend tosell to local hotels/restaurants , farmers markets and possibly mail order Can you advise Regards John thompson
Jmt
- 30-Jan-21 @ 8:18 AM
hi , we are a highly competitive food production factory with 10 years experience selling in EU, we produce high quality processed meat products. we want to open a factory in the uk and link up with some local farmers. we need advice and some help.tx
Bob
- 30-Nov-20 @ 1:16 PM
I have just started an online business making organic bread mixes, are there any grants available for this type of business?
Breadman
- 12-Jul-20 @ 1:00 PM
Hi, we are looking to start an organic egg production unit . Please can you advise on grants and funding to get this project started ?
K G ORG
- 5-Jul-20 @ 12:18 PM
i am looking for a grant for refurnishing more meshinery in my businesses can i get a grant???
Joseph Deutsch
- 22-Jun-20 @ 5:28 PM
The food processing -marketing co-operation .the business is having the summary of build and occupy to the trade and industrial companies to provide them with food.all though the company is not operating because of thewas not good.to buy the stock ofillustration to run business. we will lease for the amount to turn over the business to start in operation to the certainpower station.
Nyambose
- 11-Apr-19 @ 10:23 AM
I am looking to start up my own business as a retail chain selling carpet and flooringto rival the big boys such as Tapi and Carpet right and open 20 stores within the UK but need investment where do I start?
Cheltrobin
- 23-Feb-18 @ 10:27 AM
In 2016 my self, and my parents purchased a small farm, in 2017 I sold a house and invested some cash into the farm, and put a new farm bank account in place, and invested in a online account system, I invested in livestock, a livestock trailer, a tractor, and livestock handling equipment etc. But that's it, I can't take a wage from the farm at the moment, and I have been living, of savings. I was a truck driver but, I was not able, to find work in this area. And now I have been told , that i may not be to drive a truck again, because of one bad eye. My point is, someone has to be on the farm everyday, and there is lots todo, and it's a full time job. Is there any help, (for an old boy old school person of 50 ) to help with living expenses, because it is important to be onthe farm everyday, and at the moment it's a full time, unpaid job all weathers!!!
Deere
- 19-Feb-18 @ 11:13 PM
What about Organic Food and Drink Project funding within Europe. Strictly controlled from primary production to processing and to the consumer without intermediaries. Thank you
Baf
- 18-Jul-16 @ 1:12 PM
Trying to find grants, to start up a pig farm in Cheshire.. Can you help..? Thanks
Piggy..
- 3-Feb-16 @ 11:11 AM
Please advise on obtaining funds and grants to start own farm, purchasing land getting funds to kick off.