Finding Funding to Insulate Your Home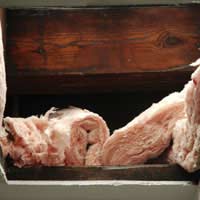 Insulating your home is possible one of the easiest and most cost effective ways of making your home more energy efficient.It is also a good way to start saving money on household fuel bills. In fact, more than half of the heat you use in your home is lost through walls, floors and lofts.There are, however, grants available to homeowners to help with the cost of insulating your home.
A Helping Hand
As a homeowner, or a private tenant, and you are receiving benefits or tax credits, or are over the age of 70, you are probably eligible to receive a grant to pay for loft and cavity wall insulation.And, if you wanted to be even more energy efficient, the government also provide grants of £400 to pay for solar panel installation.
If you don't think you are eligible for a full grant, don't worry, you could still receive a grant that will cover 50 per cent to 70 per cent of the cost - this could save a homeowner of a three bedroom detached house an average of £500.
Feeling Hot, Hot, Hot
Local authorities have been under obligation to reduce energy usage and carbon emissions by 30 per cent per area in a bid to reduce climate change since the Home Energy Conservation Act (HECA) was introduced in 1996.Various local authorities now have structured projects in place that work with residents to help deliver these energy and carbon requirements.
The Energy Savings Trust acts as the overseeing body and it is through them that local authorities can gain access to funding to help with the installation of loft and wall insulation.
Over the past 10 years, local authorities have made significant advances and, on a more personal note, individuals who have taken advantage of the funding provided to insulate their homes have saved an average of £250 on their fuel bills per year.
Upstairs, Downstairs
It is estimated that around 25 per cent of the heat that is produced in one single home escapes through the roof. By insulating your loft you can make significant savings on your fuel bill because it acts as a blanket, keeping the heat in the living space below.The standard requirement is approximately 11 inches of loft insulation in your home. If you have up to six inches already, then you are eligible for a grant to install the surplus.This will also include the cost of lagging all the cold water tanks and pipes.
Another Brick in the Wall
The loft, however, isn't the only place where heat from inside the home escapes from. Heat produced in the home also escapes through the walls, in fact, up to 35 per cent is lost this way.By insulating the walls, you could save a further £130-£160 per year.
We have been hearing a lot about cavity wall insulation recently. It works to keep an even temperature within the home and prevent condensation on walls and ceilings. This helps to keep homes cool in the summer and warm in the winter.The reason we have been hearing so much lately is because houses that were built before 1935 might not have suitable wall insulation.
If your house was built before this time, you could be eligible for grant for cavity wall insulation. Now, this sounds like a messy job. It is, however, very simple and can be installed through small holes drilled on the outside of the property. The cavity wall insulation is then injected in through the holes and the holes are filled in to match the existing brick.
You might also like...
Hi, Is there a funding grant to cover the cost of a new, more energy efficient Conservatory Roof. I am on full disability benefits and Long Term Disabled. Thanks
Lubylou
- 19-Jun-20 @ 5:25 PM
Hi. We are in a unusual situation which is standing in the way of us getting the help we soo desperately need for our home. The house we live in belonged to my partners mother who passed away suddenly. Her ex partner who still owned half agreed to let us continue living in the house and we pay everything. Mortgage, bills, as well as anyhome improvments as it was us who wanted to keep the house. We had people come out to insulate the loft who refused to do so due to damage to the roof so we had a roofer come out and see what needed to be done to be told our roof tiles were in terible condition and were not made anymore and havent been for a long time.our only option would to have a new roof. So we do bot have a labdlord who is obliged to carry out the work and the only loan my council offer for this type of job is homeowner-occupiers.is there any other way of getting help with roof repairs. Our home is bitter and there is alot that needs doing to make it air tight. We need new windows and doors and we have very old wooden ones and our home is a solid brick home.if you know of any grants that could help with a new roof, windows, doors or external wall insulation in the wirral area it would be much apreciated! My partner is self employed but we do recieve universal credit top up in benefits.we also have 3 children in the property the youngest being 15months
Jade
- 24-Nov-18 @ 9:16 AM
Jim - Your Question:
Wife and I are both in late 70s we had a home report done and were told we had a damp problem coming through our gable end wall. This will obviously require attention,our question is is there any grants available for this?
---
Our Response:
There aren't many grants for this kind of thing, the best thing to do is check locally to see if your local council has any schemes running.
GrantsExpert
- 11-Apr-18 @ 10:26 AM
Wife and I are both in late 70s we had a home report done and were told we had a damp problem coming through our gable end wall. This will obviously require attention,our question is is there any grants available for this?