Feed-in Tariff Grant: Solar Panels and Wind Turbines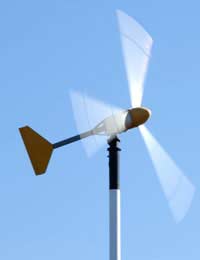 Anyone in the UK who installs and uses a renewable energy system to produce electricity can claim a Feed-In Tariff (FIT) grant. FITs have two advantages:
They pay for the electricity the renewable energy system produces even when installers use the power for their own needs and they pay for electricity that goes from the renewable energy system into the national grid.
What Renewable Energy Systems are Eligible For a Feed-In Tariff?
The types of renewable energy system eligible for a Feed-In Tariff are:
Solar panels
Wind turbines
Hydroelectric units
Anaerobic digestion plants that produce biogas for electricity
Micro gas-powered heat and power units up to 2 kW
Who Uses Renewable Energy?
Households, businesses, farms and factories increasingly use one or more of these renewable energy systems. Households and businesses often employ solar panels or wind turbines. Businesses on rivers take advantage of flowing water and generate hydroelectric power.
Depending on their waste output, some businesses, farms and factories build anaerobic digesters. These turn unwanted food, animal manure and wastewater into biogas.
Micro gas-powered heat and power units are relatively new to the renewable energy market. They may appeal to a wide range of users, though.
Who is Eligible for a Feed-In Tariff?
Anyone with a property can apply for a Feed-In Tariff. Homeowners, landlords, private companies and not-for-profit organisations can install renewable energy systems and make a claim.
Applications are ineligible if a renewable energy system produces more than five megawatts of electricity. Five megawatts, however, is a huge amount of power. It is enough to meet the electricity requirements of a village or a large factory.
Application dates
FITs began on 1st April 2010. Installers of new renewable energy systems can apply for the tariff. Anyone who installed a system after 15th July 2009 can also make a claim.
Those people with an older renewable energy system may receive the tariff at a lower rate. Only systems registered under the terms of the Renewables Obligation, however, are eligible for this reduced tariff.
How Long Does a Feed-In Tariff Last?
For solar photovoltaic systems, the tariff lasts 25 years. For micro gas-powered heat and power units, it ends after 10 years. For all other forms of eligible renewable energy systems, the tariff lasts 20 years.
Retail Price Index
The government has linked the amount of the Feed-In Tariff to the retail price index (RPI). The tariff increases or drops by the percentage the RPI rises or falls.
This RPI guarantee applies to everyone currently registered with the FIT scheme. The government intends to review the scheme every five years, starting from 2013.
Who Pays the Feed-In Tariff?
The Feed-In Tariff is a payment endorsed by UK law. The government do not pay it, however. The money comes from energy companies. To finance FITs, the energy companies raise the money from electricity customers across the UK.
Installation
Anyone interested in benefiting from a Feed-In Tariff should first do some research on the companies that offer renewable energy systems. Look for companies that have MCS (microgeneration) certification. It's also worth noting that members of REAL (Renewable Energy Assurance Limited) abide by a consumer code.
Always seek quotes from two or three companies and discuss installation options. The point of doing this is not just to get a value-for-money deal. A good installer understands how FITs work. They also handle Feed-In Tariff registration.
Those who wish to register a renewable energy system themselves should do so through their energy suppliers.
You might also like...
We are a village hall charity. We installed a 9KW solar PV system in July 2012. Part of the funding was a National Lottery "Awards for All" grant. Ofgem are now suggesting that we cannot receive FIT payments since we have had a grant from a 'public authority'. Are they correct? (This is a major issue for us).
Chris
- 12-Nov-12 @ 4:09 PM
am interested in your grants for tyhe solar panels for energy
chips
- 21-Sep-11 @ 7:59 AM