Wellcome Trust Arts Awards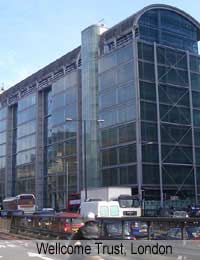 The Wellcome Trust is a charity with a global outlook. Its main purpose is to improve human and animal health. To do this, the trust supports people who work in the fields of biomedical research and the medical humanities.
The Wellcome Trust Arts Awards encourage arts projects related to the study of life in the context of medicine. The awards cover every art form. These forms include photography, creative writing, film, music and dance. And projects can focus on adults, young people or both.
Criteria
To make a successful bid for a grant, applicants must have a project that interests people in biomedical science. The project must engage the audience and promote discussion.
Art can be an ideal medium for achieving this. It can place biomedical science in front of people who may not have encountered it before. Art can also suggest alternative ways of approaching the ethics, culture and social implications of modern day science. By so doing, it can open up new ways of thinking.
The Wellcome Trust is also keen on collaborations between artists, scientists and teachers. These collaborations can give fresh insights into both science and art. They can also lead to better learning opportunities.
Eligible Applicants
Applicants must live and work in the UK or the Republic of Ireland. They can apply as individuals or as members of an organisation.
Successful applicants are often artists, writers, scientists, directors, film-makers and teachers. The list isn't limited to people from these backgrounds, however.
Organisations that apply include schools, colleges and universities; community groups; research centres; arts venues; and production agencies. But again, there are no restrictions.
The Wellcome Trust carries out an eligibility assessment of any organisation making its first grant application. The organisation must send its audited accounts for the last two years; the articles of association; assurance that it has never had a grant or funding from a tobacco company; and information about other projects it's been involved with, and any related grants.
Amounts
The Wellcome Trust Arts Awards have two categories. The first is for small to medium-sized projects. The amount of the grants for these can be up to £30,000.
Applicants must show that their projects aim to develop new ideas; promote workshops or productions on a small scale; or look into new ways of engaging biomedical science with the arts. The projects may also involve new joint initiatives between scientists and artists.
The second category is for large projects. The amounts are £30,000 or above.
These projects are usually on a large scale. They should aim to make a significant difference to the way people relate to biomedical science. Projects can also be for mixed audiences and have a variety of results.
Whatever category a project falls in, it should last no longer than three years. Successful projects should also have biomedical scientific input. This can come from a scientist acting as an adviser. Alternatively, a scientist may be an integral part of a project and work closely with the creative input.
You might also like...