How to Find Funding For a Business Idea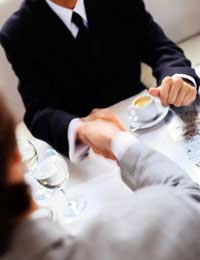 So, you have great idea for a business, but the main question on your mind is 'how can I make it a reality'?The main hurdle faced by many budding entrepreneurs is how to get the funding that will get the business off the ground.
Depending on what your business idea is will determine where you need to look for funding, so the first thing you need to figure out is how much capital you are going to need to raise.
Charity Starts at Home
The best place to start when looking for funding for a new venture is with friends and family, and indeed, your own savings account.By using your own money, you are reducing any form of red tape that would come from outside sources and there are no strings attached. However, you must keep in mind that if your venture fails then you would be left with nothing at all.
For many small business owners, the place to start was at the bank. This often brings with it yet another hurdle as most banks want to secure the loan against an existing asset, which could see you ending up homeless. However, there is another way.
The Small Firms Loan Guarantee scheme was designed specifically for small businesses that have a viable business plan and was originally set up as a joint venture between the Department of Trade and Industry and a selection of lenders.
This scheme was set out to help those who are unable to obtain a conventional loan usually due to not having available assets to offer as security. The Small Firms Loan Guarantee scheme helps by providing lenders with a government backed guarantee in case of default.
Once your lender has approved the application, the Department for Business, Enterprise and Regulatory Reform will provide up to 75 per cent of the security. However, you must bear in mind that the decision as to whether to lend to you, or not, comes from the lender as it is them who are providing the remaining 25 per cent.
There is a wide range of qualifying criteria that you will need to be aware of when applying for funding through the scheme. Eligibility is generally restricted to businesses that have been operating for less than five years and those with a turn over of less than £5.6 million per year.
However, certain businesses are not eligible for the loan, as are those that employ over 200 members of staff.
Best Thing Since Sliced Bread
If you think you may have had the idea that could be turned into 'the next big thing', then you will be looking for a larger sum of funding.
This is where private investors could play a big part. With shows like Dragons' Den, more and more people are trying their hand at securing funding from private investors, and there are many out there that are willing to back a good prospect.
But where should you start? Have a look on the British Venture Capital Association website, this is the representative body for the UK's private equity industry.
The Long Haul
It is the process of securing funding that will take time, but there are lots of grants available that can help towards other aspects of your business.
Once you have decided on where you are going to raise the large amount of capital from, then it could be worth looking into government grants or national lottery funding to see if there is anything else you are entitled too.
You might also like...
Hi am looking to get help to start my business up I am not working at the moment and can not get any help of the banks i need funding I am looking to find between 7 / 10 grand there is no business link near me ?
Big D
- 16-Sep-15 @ 8:57 PM
@want to be normal. While a search on the internet will bring up some useful answers for you, you should also try your local council - they should be able to give you an idea of all funding/grants available for startup businesses in your area. There is also a useful
article here, with some good ideas.
GrantsExpert
- 16-Mar-15 @ 12:27 PM
after suffering breast cancer i am finding it very hard to get back in to work. i think the best way forward t be normal again is to work from home but are there any help with set up costs as being unemployed now is very limiting to any free money
want to be normal
- 12-Mar-15 @ 4:12 PM
i would love to get my internet marketing business off the ground, i can't start until i have move into my new house and will run it from home. This trade is genarating local leads i live in Leeds , westyorkshire at the moment but the new house i hope to gain some support obtaining is in Halifax. i readily could do with some sound advice
Kite-Ministries
- 18-Mar-14 @ 2:14 PM
Looking for funding for a Storm Chase Team (New Business) Where Can I find Funding for a very small Business?
WeatherOne
- 20-Aug-13 @ 1:36 PM
I am looking for help with start up costs for a Cleaning business in West Yorkshire, I am long term unemployed so have no savings, I am not eligible for the NEA . I had help from Business Link over 12 year ago would I be able to get help from them?
Kay
- 10-Mar-12 @ 1:21 PM
You local Business Link would be the best place to go to first. You can also try your local council - some have funds/development trusts for start-up businesses.
GrantsExpert
- 15-Mar-11 @ 12:13 PM
I am looking for a grant to help with start up costs for running a small business in the Bewdley area, and would like some advice where I can apply to please?
Jo
- 15-Mar-11 @ 11:43 AM