Royal Blind Society Grants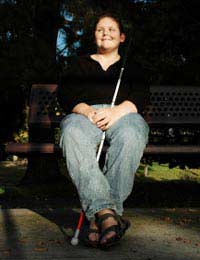 There are almost two million people in the UK who have problems with their sight. For 140 years, the Royal Blind Society has helped those on low incomes with grant awards.
The purpose of such awards is to give practical support to the blind and partially sighted. This support leads to independence and a more fulfilled life.
Amount
The total amount the Royal Blind Society gives in grants each year to visually impaired people is about £100,000. This money, and the running costs of the society, come from public donations. The society receives no help from the government.
Who Qualifies?
Grant applicants must have blind or partially sighted registration. He or she must also be a permanent UK resident.
Applicants must make a grant claim through a third party. This third party should be someone who knows the applicant well and holds an appropriate professional office. This office can be that of a welfare worker, a social worker, a day care centre manager, a rehabilitation officer, a Citizens' Advice Bureau officer, a worker with a local group that supports the blind, or similar.
The other qualification criteria are disposable income and savings.
Weekly household disposable income must not be greater than £104 for one person or £182 for a couple. If there is anyone else in the home, the disposable income maximum increases by a weekly amount of £47 per person.
To calculate disposable income, applicants must add their total income. They should exclude Disability Living Allowance and Attendance Allowance. From this total, applicants must then deduct council tax, mortgage payments or rent. They should make no other deductions.
If an applicant has savings that total more than £4,000, the Royal Blind Society is unlikely to give a grant.
The Grants
The society awards grants to help towards the cost of basic household bills. These include electricity and the phone. The amount of such a grant is up to £208 per year.
The society also awards one-off grants. These are up to £200. The society may award one such grant per household per year.
The society has certain priorities for one-off grants. Among these are health and safety for day-to-day living, and UK holidays. For the holidays, the society prefers applicants to book one of its own hotels.
Grants can also help with the cost of computers and software. The software should aid reading and writing, and improve the chances of work and learning.
Applications
The society reviews applications for annual and one-off grants every three months.
Applicants must enclose a quote for the goods or service they wish to buy.
If an applicant's disposable income is greater than the amounts stated by the society, the applicant should enclose details of any exceptional circumstances that may be relevant.
A charity may sponsor a grant application to the society. But the society expects the sponsor to have already given a contribution to the applicant, or have pledged to make such a payment. The Royal Blind Society's grant will not be greater than this amount.
You might also like...
I was diagnosed with best disease in 2017 & now i am partially sighted, in the last year i have fallen into debt with my electric & council tax,i am inquiring if i am intitled to a grant, i would like to update my kitchen & bathroom flooring to a none slip, also i am in need of a tumble dryer as i live in a first floor flat witn mo access to a garden
Ricky
- 19-May-21 @ 12:24 PM
Hi there, I am registered as partially sighted person I would like to know if I can apply for a new room carpet as the one I have is very old and if I can have some money for a new sofa as the one I have is very old. The sight support lady is comming to see me on the 16th of March to help me as I need new magnifying glasses and to discuss my eyesight as I am having problems with walking into things and I have injured my foot. And walk into walls loose my balance ect Please could you send me some information about the above please. Thankyou. Irene Matthews.
Dolphin62
- 16-Feb-21 @ 6:44 PM
Hi. Could i please have some information on holidays for family with a visually impaired child and mum has also a complex disabilities and is registered disabled.Many thanks
Aaron
- 17-Oct-19 @ 9:46 AM
I have a stargat diseaseand need help to pay home help for my 4 children who are in school and I cant help them with homework so pay someone to help them.
Fats
- 13-Sep-19 @ 6:41 PM
Im registered blind and i would like to know if i could get non slip vinyl flooring for my bathroom and kitchen off a grant please.
Juddy
- 28-Jul-19 @ 11:52 AM
I am registered blind and want to enquire a bout the holiday grants for partially sighted people please. N ul haq
Fred
- 7-Jan-19 @ 9:28 PM
I am indian.I and my wife have HIV positivepleasehelp me some money
Ranjith
- 11-Nov-18 @ 4:18 PM
I need help funding my child's school trip to France . Thanks
Sharon
- 28-Jun-17 @ 3:44 PM