Paths to Health Grants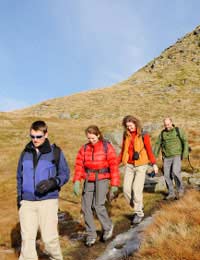 Health professionals say that walking is the perfect exercise. This concept is the stimulus behind the Paths for All campaign.
Paths for All is a Scottish charity that dates from 1996. It represents over 20 national organisations that wish to promote walking for health. The organisations include the British Horse Society; the British Heart Foundation; the Forestry Commission; the NHS; Scottish Natural Heritage; and the Scottish Disability Equality Forum.
The aims of the charity are twofold: to develop and maintain a national walking programme in Scotland, and to encourage a growth in the number of accessible paths. In this way, the charity hopes to increase the percentage of people who are physically fit.
Delivery Themes
To achieve these aims, Paths for All has seven delivery themes. The first three relate to the national walking programme:
Innovation. This applies to new and innovative ways that promote walking.
Building capacity. Under this theme, key stakeholders nurture healthy walking schemes and develop ways to work together
Volunteers. This theme supports the work of volunteers who lead health-promoting walks.
An increase in available paths, and improvements to existing paths, are the driving forces behind the four other themes:
1. Technical. Through technical means, Paths for All aims to improve path quality, and open new paths for public use
2. Community involvement. The charity's Community Paths Support Scheme helps local people develop path networks
3. Active travel. Paths for All encourages people to walk and cycle along paths for leisure and commuting
4. Advocacy, support and advice The charity promotes the benefits of path use, and gives advice to anyone who wishes to improve or open paths.
Key Stakeholders
The key stakeholders mentioned here are the individuals and authorities that control access to paths. Among these people and organisations are farmers, landowners, companies, councils and government departments.
Grant Applications
Paths for All has around £1.5 million in funds. This money comes from bodies such as Healthier Scotland and ScotRail. It funds three types of grant for health-walking projects: community, workplace and groups.
The community grants are both small and large. Small grants are up to £2,000; large grants are up to £40,000. Workplace grants are up to £2,000. For a community health-walk grant or a walk-to-work grant, applicants should first speak to a Paths for All Development Officer.
Group grants are part of a recent initiative called Local People: Local Paths. Paths for All have grants under this scheme up to £1,000. The purpose of the money varies. Successful applicants can buy tools for clearing overgrown paths; advertise the use of paths; and take any appropriate action that develops local paths.
Once again, groups should contact the Paths for All Development Officer to discuss any ideas further.
Projects
Projects to date are numerous. They include a mountain bike trail in the Highlands; cycle paths around a new golf course at Loch Lomond; and paths for walkers in the Outer Hebrides.
The main criterion for a grant is that it relates to healthy walking in Scotland. There are no deadlines for submissions of ideas.
You might also like...
Hi I am writing on behalf of Barr Community Stores, Barr South Ayrshire. We are a small village in Ayrshire with many miles of wonderful walking around us. We are currently developing ourshop/cafe facilities for walkers and would like to try and produce a range of healthy baking aimed at walkers which does not include refined sugars, can be gluten or dairy free, vegan or vegetarian etc. We want to persuade local bakers within the community to try recipes and produce healthy, attractive food for us to sell in the shop. Unfortunately our funds are extremely limited and this venture would represent a financialrisk that we could not afford by ourselves. Would you have any ideas for funding bodies that would give small grants for this type of thing? Thanks Anna
sam
- 13-Mar-17 @ 3:09 PM