Grants for Museums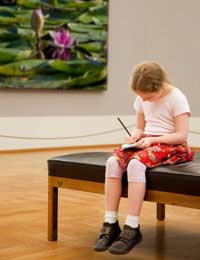 The Victoria and Albert Museum (V&A) has run a purchase grant fund for almost 130 years. The aim of the fund is to help libraries, archives and museums improve the range of their collections. The total value of the grants for any year is about £900,000. Within this budget, individual museums can apply for varying amounts.
In 2009/10, for example, Bradford-on-Avon Museum received £350 from the Purchase Grant Fund to help buy a pair of aquatint prints. Canterbury City Museums received £17,500 for Iron Age brooches and a Celtic mirror. And £3,250 went to the Norfolk Museums Service to purchase a rare Norwich silver spoon.
To apply to the Purchase Grant Fund, a museum must have MLA (Museum, Libraries and Archives Council) accreditation. It can then ask for a grant to buy a broad variety of material. This includes fine art, rare books, manuscripts, maps, old photographs, and archaeological finds.
Grants usually cover up to 50% of the price of an item. The Fund does make occasional exceptions to this limit and may pay up to 80%. To help cover the difference, a museum should preferably seek funds from local sources. A museum can submit any number of applications to the Purchase Grant Fund in a year. The only restriction is a maximum grant award total of £80,000.
V&A staff will gladly discuss applications and give advice.
MLA PRISM Fund
If a museum wants to acquire a technological or scientific item, it should contact the MLA and ask about the PRISM (Preservation of Industrial and Scientific Material) Grant Fund.
The purpose of the PRISM Fund is to help museums collect and conserve items that relate to the history of technology, science or industry. The total fund is worth £250,000 each year.
Among examples of recent grants are £12,000 for the repair and maintenance of a 1961 Plaxtons bus; £1,150 towards the repairs to a Fairy Gannet Royal Navy aircraft; and £13,500 for the repair of a mechanical silver swan dating from 1872.
The MLA PRISM Fund applies to England and Wales. Similar funds operate in Northern Ireland and Scotland. The Northern Ireland Museums Council and National Museums of Scotland run the schemes.
National Heritage Memorial Fund
The National Heritage Memorial Fund (NHMF) awards grants to buy, conserve or maintain any collection, object, structure, building or piece of land that has special significance. This significance may relate to art, science, architecture, aesthetics, scenery or history.
NHMF grants have helped purchase and save more than 1,200 items and places since 1980. The Mappa Mundi, Sir Walter Scott's manuscripts and the Conenwulf Coin are among them.
The Art Fund
The Art Fund is an independent charity. It has helped museums and galleries acquire important items of art since 1903.
The Art Fund recently gave a grant of £225,00 to help the Fitzwilliam Museum in Cambridge buy a Dutch masterpiece from the seventeenth century. It has also given grants to acquire numerous works of art for other museums. These include the National Museum Cardiff, the John Creasey Museum and the Perth Museum and Art Gallery.
You might also like...