Climbing and Mountaineering Grants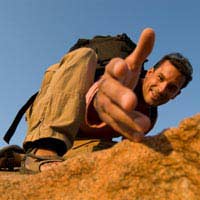 For more than 20 years, the Mountaineering Council of Scotland (MCofS) has awarded grants to climbers and mountaineers. These grants have helped Scottish climbers travel to mountains across the world.
Successful applicants include experienced climbers, climbers seeking to improve their skills, and those who wish to explore rarely visited mountain ranges.
MCofS has also given awards to climbers who specialise in ice or pure rock climbing, bouldering, sport climbing, big wall style climbing, Himalayan style climbing, adventure winter climbing and ski mountaineering. MCofS also helps young people from 14 years old become more involved with mountaineering.
Grant applicants must be members of MCofS. On the grant claim form, they must complete a breakdown of the costs of any proposed expedition. They must also include details of personal contributions, any sponsorship, and amounts of other grants where applicable.
In addition, applicants must ensure they meet the regulations and permit demands of the area in which they intend to go climbing.
British Mountaineering Council (BMC)
BMC works on behalf of climbers, mountaineers and hill walkers in Wales and England.
BMC has a limited pot of money available for international climbing expeditions. Anyone who applies for a BMC grant must therefore meet strict criteria.
To begin with, applicants must be BMC members and have BMC insurance. They also have a better chance of receiving a grant if they are young and need money to help them benefit from a climbing or mountaineering expedition.
The expeditions must focus on new and significant ascents. The members of expeditions must also have clear evidence of their commitment to mountaineering and climbing.
Finally, a successful applicant must give BMC a report and photos of the expedition. BMC will use these in its magazine and on its website. An applicant must also be prepared to give talks at BMC lectures.
As well as its expedition grants, BMC has the Julie Tullis Memorial Award. Female climbers and mountaineers, and disabled climbers and mountaineers of both sexes, can apply.
Other Grant Bodies
MCofS and BMC are not the only bodies to award climbing and mountaineering grants. There are a number of smaller groups who may also be able to assist.
The Alpine Ski Club, for example, awards the Kenneth Smith Scholarship. This helps ski mountaineers meet their ambitions.
The Andy Fanshawe Memorial Trust is for young climbers and mountaineers aged up to 26. The grant can help with personal expedition costs and training.
The Alison Chadwick Memorial Award assists with the funding for individual female mountaineers or all-female expeditions.
The Mark Clifford Award is for young mountaineers. It encourages them to visit climbing areas and mountain ranges off the beaten track.
The Polartec Challenge is an international grant scheme. It supports outdoor adventure. Applicants should submit claims that are original, feasible and responsible.
Winston Churchill Travelling Fellowships give people the chance to travel and explore. One of the fellowships covers the leadership of expeditions. Appropriate climbers and mountaineers may qualify.
BMC has full details of the above, and other, climbing and mountaineering grant schemes.
You might also like...