What is the Arts Council and How Can it Help Me?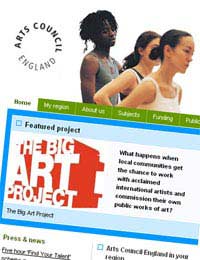 Arts Council England was established to help promote art work to the larger public in the UK.For the last two years in particular, they have invested more than £1 billion - money provided by the government and the National Lottery.
What is The Big Arts Debate?
The arts debate was introduced to find out how the British public value pieces of art, combining research with consultation and debate with members of the public, artists, and industry organisations to determine the expectations for investment in the arts.
By carrying out these debates - the last one being in 2006 - the Arts Council hopes to understand more about how the arts contribute to public value.
The National Lottery Good Causes Fund
The National Lottery Good Causes fund provides much needed funding to the arts, having injected more than £2 billion since it was introduced in 1994.You can see where the money has gone to, funding projects such as the Angel of the North, the Tate Modern and The Lowry to name but a few.
Although, it doesn't just provide money for artists to follow through their initial projects. Money is also given to communities to help them establish an arts base, whether that be buying instruments, building or refurbishing the village hall or purchasing much needed equipment.
Individual Arts Grants
The scheme, Grants for the Arts, which forms the main source of funding from the Arts Council, enables individuals to apply for a grant.In total, the Arts Council has funded over 1,100 arts organisations injecting more than £400 million into them in one year alone (2006/07).
The Arts Council also reach out to help purchasing works of art easier and more affordable for individuals. This is where the Own Art scheme comes into play.A number of galleries across the country have joined this scheme, which is basically an interest free loan scheme giving people the chance to purchase paintings, photography, glassware and furniture.
The Application Process
The grants provided through the various schemes run by the Arts Council are in very high demand so, of course, there is strict eligibility criteria, and even some of those eligible don't always receive funding.In order to manage demand, the Arts Council aim to distribute funds evenly. However, the amount of funding is limited:
For national projects, the fund ceiling is set at £200,000 and this is reduced to £100,000 for grants given to organisations - for all grants applied for, the minimum provided is £1,000.The Arts Council does, however, expect individuals or organisations to contribute at least 10 per cent of the money required for the project.
This doesn't necessarily have to come from personal monies, such as savings or your income, but can be provided by local organisations, funding from public bodies or grants from trusts or foundations.Given the right circumstances, the Arts Council will provide all of the funding - but this only happens if the potential for other funding is limited.
There is no deadline to apply for funding from the Arts Council, but you must start the process before you undertake the project.You can download an application form from the Arts Council's website, although you aren't currently able to complete the process online.
You might also like...
@Liz. There are many art classes in your area (an internet search will help you here). The prices are not unreasonable. If you want to do a formal course/degree etc, you could try an adult learning bursary, although most of these are aimed at getting people into work eventually so there may be an upper age limit.
GrantsExpert
- 15-Jun-15 @ 10:30 AM
I would like to go to an art school toprogress in drawing and painting. I have attended various art course over the last5 years., I would liketo attend the Princes trust school but funding for me would be helpful. I have notice that there is lot available for a young person to get help, but what about a mature person? I left school when I was just 15 never been unemployed never had any help with any type of funding but now I am a retired person with a limited income I would like some help with some funding. How does one go about it. I am 68 ladyand I live in Worthing, West Sussex. If you cannot help me perhaps you could advise how to go about funding and who to go to. With Kind Regards Liz B-D.