Funding That Helped a Young Entrepreneur: A Case Study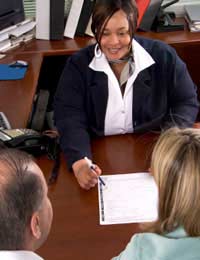 Before she left school, young entrepreneur Mary O'Keefe knew she wanted her own business. She also realised that obtaining the money for this ambition was going to be tough.
Difficulties
"I felt that the difficulty of setting up a business was two-fold: my lack of experience and my lack of money.
"My experience when I left school at 18 was a paper round I'd done for four years, and a holiday job in the insurance company where my father worked. This holiday job involved little more than basic filing, photocopying, and supplying the office workers with cups of tea and coffee.
"None of these 'skills' were going to impress a bank if I applied for a business bank account and a loan. But when I finished my school exams, I didn't want to work for an employer to gain experience – I wanted to jump straight into the deep end of self-employment.
"All I really had going for me was my enthusiasm, my determination, and an idea for a specialist clothing shop."
General Help
"There's actually a lot of general business help available. My local council in fact had a scheme to promote local business and to give advice about business rates, financing, writing business plans, etc.
"The first thing I did when I finished my last exam at school was to seek this help. I remember attending a free meeting where a very helpful guy ran through the process of creating a business plan. I was by far the youngest person at the meeting!
"Nonetheless, I took advantage of such help as much as I could. I still had a major problem, though – no money to finance my idea."
Competition
"It was then I came across Shell LiveWIRE UK. This is a useful source of advice and information about starting a business. What's more, the advice and information is specifically for young people.
"Above all, I discovered the Shell LiveWIRE Young Entrepreneur of the Year competition. Winners receive £1,000 to help with the start-up costs of their businesses.
"I entered the competition immediately. By so doing, I realised that £1,000 was not going to get me a shop on a high street, so I downscaled my retail clothing idea to a market stall."
The Prince's Trust
"As it happens, I wasn't one of the Shell LiveWIRE winners, but by the time I heard this, I was pursuing another possibility.
"The Prince's Trust has a Business Programme for any young entrepreneur aged 18-30 who's unemployed or working less than 16 hours a week (at the time, I was still doing my paper round for about six hours a week). Applicants must also have an idea for a business they want to develop, and must live in England, Wales or Northern Ireland. I met these criteria.
"Help from the Prince's Trust comes in the form of advice; training for business skills and planning; free legal help; and start up funding. I applied, and was lucky enough for the Business Programme to accept me.
"The upshot was that the Prince's Trust proved extremely helpful. The Trust also gave me some money.
"As a result, I was able to start selling my specialist clothing from a stall in an established market. The funding I received enabled me to rent the stall and buy some initial stock. I also used all of the modest savings I'd managed to put to one side over the years."
Starting Small
"I know that I've started small, but at least I'm self-employed. I'm well on the road to financial independence. And frankly, without the funding, I'd never have been able to get this far."
You might also like...
I believe that this forum should be able to help young aspiring entrepreneurs like me to live our dream
timyv
- 29-Dec-11 @ 4:45 PM