An Energy Inefficient House: A Case Study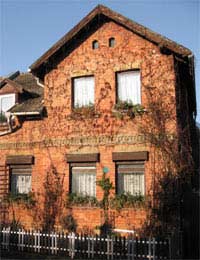 There are three million or so homes in the UK built in the 1930s. These properties are popular, but the ones that owners have neglected can be expensive to heat and run. So when Doug Turnbull bought a slightly dilapidated 1930s semi a year or so ago, he realised he'd have to make some changes to reduce his energy bills.
Initial Thoughts
"From the surveyor's report of the house, I knew I had a lot to do. Money was tight, however. This meant that expensive projects such as new windows would have to wait for what I called 'phase two'. In the meantime, however, I made a note of what I could do immediately for a reasonable cost.
"To begin with, the insulation in the loft was a series of rotting carpets laid across the beams. Clearly, I needed proper roof insulation.
"There was no central heating (putting in a system was another phase two job). Instead there were electric fires, and a hot water tank powered by an electric immersion heater. To help keep the bills down, I decided I needed an insulating jacket for the tank, and cavity wall insulation.
"There were also draughts in the house that seemed to be everywhere! They came through gaps in the windows, the doors, and the floorboards. As I said, I didn't intend to replace the windows and doors for the moment, so over the course of a weekend, I went through the house with tubes of sealant. By Sunday afternoon, I'd sealed off the worst of the gaps and cracks.
Financial Help
"Before I started the insulation work, I decided to check out grants. There are some really useful grants for the elderly and for people on certain qualifying benefits. In fact, you can have your home insulated free of charge.
"I don't fall into the elderly or benefits categories, but I did come across some subsidised insulation deals offered by the energy companies. I set things in motion straightaway. Within a few weeks, I had loft and cavity wall insulation to the required standard – and for less than £450.
"I don't know what the fuel bills were like before I bought the property. Nonetheless, I thought I would save around £150 a year thanks to the roof and wall insulation.
"I also fitted a jacket to the water heater. This cost me less than £20, and has saved me around £30 in lost heat in the past twelve months.
Phase Two
"Phase two of my energy efficiency programme began about nine months after I first moved into the house. By then, I'd sorted out the money for double glazing and central heating. Before anybody installs new central heating, by the way, I suggest you check out the government grants. Depending on your circumstances, you could save a lot of money.
"Installing the new windows, doors, and heating made me think about other things I could do. I replaced my light bulbs, for instance, with energy efficient ones. I also began to read up on renewable energy such as solar heating, solar-powered charges for mobile phones, wind-driven turbines, and clockwork radios and torches.
"The government offers grants for certain renewable projects. I'm not saying I'm about to go solar and wind-powered, but these are certainly options to supplement my use of mainstream electricity and gas in the future."
You might also like...
How do I go about o it getting a grant to roughest my house .
Geo
- 20-Feb-16 @ 10:41 AM
I'm looking to replace my council run home internal doors, as they are plywood lined with paper. The draughts that come through the doors are unbelievable. The doors are bow'd slightly and they are of poor hanging quality. I am looking to replace them with solid fire doors, and I'm wondering if you came across a grant for that.
tony
- 2-May-11 @ 1:19 PM