Help for Disadvantaged Children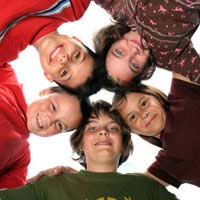 Disadvantaged children are those who are suffering neglect, abuse, distress or illness. They may be living in deprived or poor conditions. They may have disabilities and behavioural problems.
The Weavers' Company Benevolent Fund
The Weavers' Company Benevolent Fund is a charity that assists disadvantaged people aged 5 to 30. One of the aims of the charity is to help children and young people make the most of their lives and take a full part in society.
The charity is interested in giving grants for projects that solve the social and economic difficulties that disadvantaged young people and their families have to deal with. The charity also gives advice about life skills and opportunities for work and education.
The Hedley Foundation
The Hedley Foundation gives grants to help disadvantaged children with educational and recreational needs. The Foundation also considers awards for projects that aim to improve young people's welfare and health.
Volant Charitable Trust
The author J. K. Rowling is behind the Volant Charitable Trust. One area of the Trust's funding is the alleviation of social deprivation and poverty, particularly for children and women.
Registered charities can apply for grants from the Trust. There are no set amounts for grants but projects should generally last no longer than three years.
Maurice Wohl Charitable Foundation
The Maurice Wohl Charitable Foundation has a wide remit. Among its areas of interest are the welfare of children and the relief of poverty. The Foundation occasionally makes large one-off donations to projects that meet its criteria.
The Beatrice Laing Trust
The Beatrice Laing Trust gives grants to a variety of causes. It considers applications from organisations that work to improve child education, welfare and development.
BBC Children in Need
BBC Children in Need gives grants to non-profit organisations that run projects for disadvantaged children. Among such organisations are voluntary groups, charities, local councils, churches, social enterprises, universities and schools.
Grant applicants must show that their organisations are financially stable and properly run. Organisations must have a child protection policy that all staff understand and use.
Applicants must also prove that the award of a BBC Children in Need grant will lead to positive changes in the lives of disadvantaged children.
The BBC provides full details of the grant application process on request.
Pearson's Holiday Fund
Many voluntary groups and charities give grants that help pay the cost of holidays for disadvantaged children. These groups and charities are local, regional and national.
Pearson's Holiday Fund awards grants that help disadvantaged children take a beak from home. The Fund relies entirely on private donations.
Pearson's Holiday Fund does not accept grant applications that come direct from families. A third party must always recommend a family for assistance. Applications therefore come from people such as health visitors, teachers and social workers on behalf of children aged 4 to 16.
Family Holiday Association
Like the Pearson's Holiday Fund, the Family Holiday Association requires referrals from third parties. All Association holidays take place in the UK. The Association may also supply professional support for children during the holiday.
You might also like...
My son his in need of kitchen things.He has mental health and is worse now since his sister died. Also he suffers from seizures so I see him every day to make sure hes ok.He is on alot of medication and he hardly goes out. His cooker is broken and he needs a new one.A fridge freezer is needed also he likes to sit and look out kitchen window so he sits on a stool.A table and chairs would be lovely. Thank you for looking
Dee dee
- 5-Sep-20 @ 9:59 PM
My son suffers badly with mental health more so now that his sister died. He has his own flat which I see him every day as he has had seizures and his mental health is bad.His cooker is old and not good.Also he needs a fridge freezer.His kitchen had nothing and he likes to sit out there but no table and chairs and this would be so lovely if he could have that.Thank you so much
Dee dee
- 5-Sep-20 @ 9:52 PM
Mum of3 boys , I am very depressed and live in very low income. I can't afford to pay for a fridge freezer, washing machine, bed and clothes laptopfor my son also. With this pandemic it even more worse to buy food every money. My income is very low.Please could you give me a grant. Also I suffer for mental illness more than 10 years.
Nicole
- 15-Jun-20 @ 5:12 PM
I work for an alternative provision for a college. We have students who have difficulty interacting with people and also high anxiety and SEMH. For this reason many of our students cannot make use of facilities at other campuses and in the Leeds area. We have managed to secure a vocational block for the students at the provision but we are lacking in anything music related. We would like to provide a studio for the students and a variety of music equipment. If anyone feels there is a grant that would be willing to support us please direct me to them. The provision has around 160 students on role and just under half have EHCPS. Thank you.
ZED
- 24-Jul-19 @ 9:42 PM
Mum of 5 with 4 living still at home. I'm desperate to take my children on holiday as we have never been on one as a family, due to my son ethans disabilities he was 2 when he started getting partial diagnoises as the doctors kept saying he was to young to get a properly diagnoised. His siblings have given up so much without a whimper or a moan. So i would love to take them to the beach for a holiday as i feel like im failing them as a mother. If anyone could help I would truly be greatful Thank you
Baggy
- 18-Jul-19 @ 11:37 PM
I feel like i lost my family even though i can still see them and for a while now i have been feeling depressed.
carisse berri
- 20-Sep-18 @ 12:11 PM
My partners got severe depression and anxiety problem , He's prescribed a lot of medication for other medical problems too out son is 5 he's noticing now that dad's poorly he doesmt get out of bed etc and it's effecting our son I want some respite for him or a fun day out etc trouble is money his dad get high rate care pip this money goes on waterproof besheets,taxis etc, in so worried about Xmas aswell and have never looked for help before I just I could make my son happy and let him have some fun away from what he sees day in day out
K1725
- 11-Nov-17 @ 8:20 PM
Coach Adam- Your Question:
I have a lad who plays for my football team. His parents are not well off and the yearly fees are 140 pounds. They cannot afford this and I fear the kid will miss out is there any help he is a great footballer at u7s and he has potential which may go unnoticed as he may not be able to play
---
Our Response:
We hope some of the resources above help. Does your local council have a sports development officer/department? They may have some contacts or ideas of where he or the club could get funding. It might also be worth thinking of creating hardship fund at the club and allocating some of the fund raising money towards that.
GrantsExpert
- 15-Jul-16 @ 12:26 PM
I have a lad who plays for my football team. His parents are not well off and the yearly fees are 140 pounds. They cannot afford this and I fear the kid will miss out is there any help he is a great footballer at u7s and he has potential which may go unnoticed as he may not be able to play
Coach Adam
- 12-Jul-16 @ 7:29 PM
interested about activities of the foundation
chief
- 29-May-16 @ 4:16 PM
Hi I've got 2 girls that got delayed in they development an one got behaviour problem I'm looking for grant that can help take them out somwwhre for a break if you could help plz thank you
sally
- 4-Apr-16 @ 8:08 PM
@Mog. There's a list of more organisations to contact on the
Living Made Easy
website.
GrantsExpert
- 22-Jan-15 @ 12:43 PM
I have got an so for my 2 grandchildren aged 3 3and4 my 4 year old has severe gdd microcephaly dismorphisn I have been trying to find a grant to help me sort out the rest of my garden to.make it safe.for my grandson to play in I just don't know where to start I have had family fund for new cooker
mog
- 20-Jan-15 @ 2:46 PM
@Mumof2 - try the
TurntoUs
website to see if you are eligible for any other help or grants. You could also try your local salvation army or similar charities in your area (sorry we can't name any directly as we do not know where you're located) - they often have furniture etc available for people suffering hardship.
GrantsExpert
- 11-Nov-14 @ 9:29 AM
Hello, me and kids are kids moving to a new property. I work part time . At the moment i do struggle to buy things like: cooker, freezer. Beds. Wardrobes. We have to leave current prooerty this thursday. Council provide paint. But in property there is no carpets only blsck wood that goes on the top off cement. I have about 200 pounds and remival cost is 80 pound. So i have 100 left for ebething else. I do receve housing, tax credit, childcare help, working tax. Thank you for reading email. Any help is valued. Bless you.
Mum off 2
- 9-Nov-14 @ 7:41 AM