Grants for Disabled Children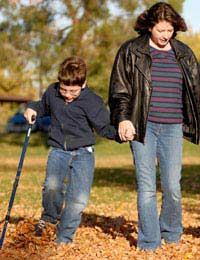 The Family Fund is a registered charity that gives grants to families with severely disabled children. It also helps severely disabled young people aged 16 and 17.
The general aim of the Family Fund is to give such families, children and young people greater choice. This in turn provides more chances to get the most from life. The Family Fund helps 53,000 families all over the UK. The total amount of grants the charity awards each year is £31 million.
What the Grants Can Cover
Family Fund grants cover items that lead to an easier and more enjoyable life for disabled children, their families and young people. These items may be holidays, computers, washing machines or driving lessons.
Criteria
Applicants must:
Reside in Wales, Scotland, Northern Ireland or England
Have a legal and permanent right to live in the UK
Have lived in the UK for at least six months
Be the carer or parent of a severely disabled child who lives at home
Be the carer or parent of a severely disabled young person who lives at home
Have an annual income of less than £27,000 in Wales, Scotland and Northern Ireland, or £25,000 in England
Income
The figures given above apply to the total income of the household. This income includes money from work, benefits and tax credits. It also includes occupational pensions, maintenance payments, interest from savings and income from rented property.
The Family Fund uses net and not gross earnings. In other words, it considers income from work after deductions for tax and national insurance.
The Family Fund disregards child benefit, attendance allowance and disability living allowance. And there is no savings limit.
Living at Home
The severely disabled child or young person must live at home. The Family Fund does not help if children or young people stay with relatives; live with foster carers; or are in local authority care. Furthermore, if a statutory agency has a duty to pay for a requested item, the Family Fund will not award a grant.
Severe Disability
The Family Fund definition of severe disability is not necessarily the same as that of other bodies. Anyone who requests a grant has a chance to give the details of the disability on the application form. The Family Fund will then see if these details meet its criteria.
Entitlement
No one has an automatic entitlement to a grant from the Family Fund. Every grant is discretionary. It also depends on the availability of funding.
Source of the Funding
Most of the Family Fund's money comes from the national governments of Wales, Scotland, Northern Ireland and England. The governments provide the money because they are committed to the needs of disabled children and young people.
Grant Frequency
Applicants can ask for a grant once every 12 months. If an emergency arises and an applicant needs to ask for a further grant within a year of a previous award, the Family Fund may be able to help.
How to Apply
The carer or parent of a severely disabled child or young person can request a grant. Applications refer to the whole family. If a request for a grant is for more than one disabled child, an applicant must supply details of all the children or young people on the one form.
You might also like...
i have really bad mental health, which is only getting more worse i would like this grant to finically support myself .
chezz
- 7-Sep-21 @ 1:40 PM
hy jus i want know i am single mother i got 3 children 1 is 7 years old 2 is 5 years old 3 is 2 years old I am in universal credit At this time i dont have job Can i apply family fund grant Thanks
nadia
- 26-Aug-20 @ 9:36 AM
Hi cn i get help for a grant for my children. I am a single parent and have 3 children. My eldest is disabled and youngest is disabled. My youngest is severly sight impaired(blind) and suffers from developmental delay and has plagiocephaly syndrome. My eldest has chronic pain due to her being diagnosed with leg length discrepancy and she suffers from acute achilles tendon too.Thank you
Miss101
- 21-Feb-20 @ 8:05 PM
I am from south wales but love in England and now I have nobody apart from my kids. I want to move back to wales to be near family so I can get help with my autistic daughter, is there any help out help out there for me?
L Taylor
- 17-Jan-20 @ 12:06 PM
Hi can anyone shed any light? I had a home visit off a lovely lady from family fund fridaysince applying i have become a student ,will this affect claim? I told her as she asked about work etc told her started studying in september resulting in my carers allowance being stopped. ive just read on another thread someone got turned down from family fund as she like me became a student.
Mell
- 3-Nov-19 @ 9:21 PM
Looking on getting help with days out over summer
Kelly
- 15-Jul-19 @ 11:20 AM
Hi, I am looking for a grant to pay for equine therapy for my 10 year old daughter whom has been diagnosed with PTSD, I am unable to work as I am now main carer as she is unable to manage school and other social activities, she totally loves animals though and I feel equine therapy could really be of some benefit, we have been waiting for help through NHS for over 7 months but her mental health is deteriorating each day and she is becoming more distressed and feels she no longer wants to be alive, any help greatly appreciated Regards Desperate mum
Emjay
- 2-Apr-19 @ 3:58 PM
How do I apply for a grant for my daughter to get her a laptop? She suffers anxiety and is unable to go to school so Is home tutored. A laptop with help massively.
Hi I am a carer for a disabled child with mental health problems how do I apply for a grant or find the application to apply?
Saf
- 24-Aug-18 @ 3:56 PM
Hi how do I apply for a grant towards a holiday and an ipad and a lap top for my granddaughter as she needs a treat aswell she puts up with a lot my grandson has autism ,adHD learnt difficulties behavior and attachment disorder thank you
Ali
- 18-Jul-18 @ 11:09 PM
Looking for a grant for a holiday have 3 childeren youngest is disabked
pls can someone tell me how to get application form 4 grants pls
taz
- 9-Jul-17 @ 11:01 PM
Hi I have a grandson on a special guardianship order he has fetal alcohol syndrome any needs 24 hour care today we could do with a break to Butlins or anywhere just to get away I don't know what else to say because I'm not very good at doing this thank you for everything
Gilly1963
- 14-Jul-16 @ 4:10 PM
Hi I have 6 children 1 is disabled due to being 15 wks early and having loads of problems im looking to take my kids on holiday but can get my children the time of school as they won't grant it and that was only £266 for 7 days but in school holidays it's £910 for 7 days which I can't afford my children have gone though loads due to my son being in and out of hospital when ill and they have cope well I just want to treat them to a holiday and woundered if there was any1 to help with funding some off it so I can take them in school holidays
Hi am a single mother of 2 x severly but different complex needs & my youngest is terminally ill. Myself & boys feel we need a much needed break from everyday routine from appointments, etc same old 24/7 at home it is for us plus from last christmas my youngest who's terminally ill has had lots of admitions in & out of hospital he was so poorly we nearly lost him but amazingly he pulled through but its caused him many more problems & numerous operations to. I think we just need to go away for few days just to have some happy memories rather than all the things weve had to deal with & being a single mother who cares for both boys alone 24/7 was wondering if there's any charity grants to help us have a much needed holiday soon as i carnt financially afford it to be honest. Thanx vicky
Vicky
- 3-Aug-15 @ 12:16 PM