Family Action Grants to Help Those in Need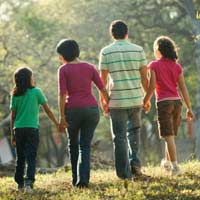 25% of all people suffer mental illness at some stage in their lives. Such illness can lead to all manner of problems. Half of all adults who have debts, for example, are suffering financial hardship because of depression or some other type of mental trauma.
There are other facts about mental health that make sobering reading. Around 75% of people with depression never receive help or treatment; half of those with mental health problems have children that depend on them; and 65% of children with parents that have mental health problems will themselves experience mental illness.
This means that there are significant numbers of adults and children who are at risk because of mental health issues. Family Action is a charity that provides help to these vulnerable people.
Background
Family Action dates back to 1869. Over a period of almost 150 years since then, it has developed a network of 100 services.
These services give welfare help to more than 45,000 families and children each year. This assistance is in the form of emotional support, practical measures and grants. Family Action also has an education-based information and grants scheme. This assists a further 150,000 people.
The charity's emotional support and practical measures help resolve the many problems that arise from mental illness such as domestic abuse. An equally important aspect of Family Action's work, however, is its grants programme. The charity has provided grants since it first began. It now administers educational and welfare grants throughout the UK. Both schemes have a range of priorities. The educational grants also have offshoots such as the Horizons Education Fund and the Mid-Yorkshire Social Work Fund.
Education Grants
Applicants for Family Action education grants must be students at an EGAS-affiliated university or college. EGAS is the Educational Grants Advisory Service. It helps students find grants from charitable trusts.
To be eligible for a Family Action grant, students must usually be receiving welfare benefits or on low incomes. They may also have families.
Family Action gives priority to students studying certain subjects. These tend to be practical rather than academic. They are the type of subjects that increase a student's chances of gaining work.
Students don't need to be British citizens to apply for grants. Refugees, people with leave to remain, and asylum seekers are eligible and may be studying International English Language Testing System (ILETS) courses or English as a Second or Other Language (ESOL) courses.
Family Action doesn't set limits to its education grants. The usual amount of each award, however, is £200 - £300. Students generally apply for such grants to help with education costs such as necessary equipment, travel and books.
Although there is no restriction to the amount of a grant, Family Action gives just one grant per applicant for each academic year.
Welfare Grants
The aim of Family Action's welfare grants programme is to provide financial help to individuals and families who are on low incomes or who receive welfare benefits.
Grants normally work out at £100 - £300. They cover items such as clothing, cookers, washing machines, beds, medical adaptations and aids to communication.
There is a limit on overall funds for the grants. To control this limit, Family Action accepts applications only at specific times of the year. These are the months of March, June, September and December. The charity doesn't process welfare grant applications outside these four months.
Family Action targets its welfare grants at priority areas. The first of these is mental health. Applicants, for example, must be aged over 18 and have a clearly diagnosed mental health problem.
The other priority areas are domestic abuse; sickness; disability; young people aged 19 – 25; and older people aged 60 or over. Family Action also offers grants to women living in Greater London who need a holiday to help them recover from illness or exertion.
In every instance, grant applicants should not apply directly to Family Action. They must seek the backing of someone who has worked with them such as a health worker or social worker. These representatives must complete and submit grant forms on behalf of the applicants.
If a grant request is successful, Family Action sends a cheque to the applicant's representative. Applicants cannot receive direct payment.
Family Action restricts each successful applicant to one grant per year.
You might also like...
I am struggling mentally, I need help to pay for my courses that help to keep me engaged and to get some academic materials.
WINTAYS
- 1-Jul-22 @ 12:54 AM
Hi my name is John I have a diagnosed mental health condition need help to buy new washing machine as our old one packed in
Big john
- 27-Apr-22 @ 6:26 AM
Hi I need a grant to purchase essential items such as clothes, food, furniture & kitchen appliances.
Severely ill young a
- 17-Aug-21 @ 8:11 AM
I am suffering from diagnosed mental health disorders and need help with college expenses
Remuires
- 15-Aug-21 @ 1:37 AM
Hi I have Bipolar disorder and things are difficult.My Gas and Fridge are not working they need a replacement.Please help
Sid
- 13-Aug-21 @ 4:54 PM
Hi my partner drowned saving my daughter from a river last month he could not swim leaving me with 3 children 2 autistic pda adhd girls and a baby he loved his children so much because we were not married im entitled to nothing but iv lost a life of hope and support and love i loved him sooooo much.
Kaylie
- 13-Aug-21 @ 12:57 PM
I'm a young black male suffering with Fetal alcohol syndrome and learning disabilities and mental health problems. I need a grant to help myself get by after paying the rent gass bill electricity bill food. I find it very difficult to pay attention to the details of letters email and day to day life.
Matty
- 26-Jul-21 @ 10:40 AM
Hi I need help with clothing etc money towards items as I'm struggling I suffer from servers mental health conditions. I lost all 4 of my children on the 7th of may.
Waller
- 9-Jul-21 @ 3:12 PM
Hiya I need a grant to buy clothes I suffer from mental health problems
Daniel
- 4-Jul-21 @ 6:21 PM
We cant evan buy clothing or hygeine products etc
Lorraine
- 29-Jun-21 @ 9:17 AM
I have tried to contact via emailbut cant contact you.i suffer with mental health depression and panick attacks I am on benefits with 2 children and my partner we are struggling for funds and our washing machine has broken we dont have any funds to purchase one or in a position to rent.my children are aged 7 and 9 years we are struggling to pay debts also with gas and electric and water rates also council tax we are in trouble with.my daughter has been diagnosed partially dead and will need 2 hearing aids we dont claim any benefits for her other than child benefit she doesent get any disability nor do I as pip are saying I am not entitled to it
Lorraine
- 29-Jun-21 @ 9:16 AM
I have been in homeless hostel in salvation army and now I am in shared acomadation and the last person that left took a lot of stuff and I already needed clothes now I have no cash to replace it and she also took our food and I have used the food bank all I can I am also a victim of domestic abuse I was involved in rta I was on a bus and got thrown forward and hit the windscreen but I really could do with a cash injection as my physical and mental health will dee
Mena
- 29-Jun-21 @ 7:17 AM
Hi I am a single mother with bipolar and depression. I have just recently got a house after being homeless and could do with some financial assistance with a new cooker and fridge as the ones I've got are dodgy and failing.
Ria
- 16-Jun-21 @ 11:08 PM
Hi there I have severe bipolar and anxiety my husband died last year and I have been unable to food and cloth the children iam in grateful need of some financial assistance
Kat
- 24-Mar-21 @ 6:51 PM
I suffer with debilitating mental health. I am in desperate need of financial assistance. I have exhausted all the help I can get from my local food bank and am looking to apply for a grant towards the cost of daily living
Chris
- 29-Jan-21 @ 10:50 AM
Please I am really snuggling fincinal I don't have any money for food I have health problems
Hi I'm struggling to buy my son a new bed he's 21and a full time student we receive universal credit as I'm on long terms sick my parter has multi sclerosis and gets pip . I was hopeful that you could help with the cost Yours kindly t m
Teen
- 10-Jan-21 @ 2:56 AM
Hi I have recently left my job as my employer did not understand my health condition.My daughter is at university and suffers from mental health condition and anxiety. I have been extremely concerned about her wellbeing as the only bred winner but now have no job. I have been applying but due to pandemic no one is hiring.I would appreciate any financial help please
Liz
- 10-Dec-20 @ 1:09 PM
I need a grant to get some new clothes and a dishwasher and to deckerat my flat can you please help me
Madmatt
- 4-Dec-20 @ 12:48 PM
Hi I struggle with mental health i only get enough money to pay my monthly out goings meaning my poor daughter would wake up on Xmas morning to nothing can you help
Michelle
- 25-Nov-20 @ 10:20 AM
Hi we are really struggling living on universal credit we suffer with mental health and I have copd we really need help who do we turn to thank you
Liverpool
- 14-Nov-20 @ 10:09 PM
I'm trying to find a charity that can help me. I had to give up work as got few medical problems,so on low income. Im in desperate need of an electric cooker and dont know where to turn as low funds cant afford to buy one. Please if you could just point me in the rite direction I would be really grateful. Thank you.
Maz
- 2-Nov-20 @ 12:59 PM
Hi I suffer from really bad depression and anxiety I have a 2 year old daughter and also my partner who suffers the same as me and hehas autism which make day to day living hard for use both we have bad days were we don't want to go out and having extra help would help use get motivated and can enjoy taking our daughter somewhere which will make me and my partner very happy it would make our day and knowing we can't do that sets use both back with our depression then it triggers our anxiety is there any help we can get?
Mariaholt92
- 17-Oct-20 @ 9:06 PM
My daughter has fetal anti convulsing syndrome and I have severe depression my tumble drier has packed up
Mandy Nixon
- 19-Sep-20 @ 7:03 PM
My daughter has fetal antI convulsing syndrome and severe behaviour problems. I am suffering severe depression myself my washing machine is on its way out and my drier packed up
Mandy Nixon
- 19-Sep-20 @ 7:01 PM
I suffer with alot of mental health and ths could really help
Jlee
- 19-Sep-20 @ 12:34 PM
I suffer anxiety and depression and money problems soo ths Wil help me alot
Jlee
- 19-Sep-20 @ 12:32 PM
Hi i have severe depression and anxiety i was sent to prison for something i never done i was totally devastated i have never been in trouble in my life,not even a speeding ticket.the sights and things i went through has taken its toll and left me with PTSD.i am currently sofa surfing at friends and families houses and the lack of help is having a detremental effect on my health.if possible could i have a grant as i have little clothes as any old clothes are too small..please help.
Bren
- 15-Sep-20 @ 2:04 PM
Need help please I need a grant if possible thank you
Bling
- 10-Sep-20 @ 7:35 AM
Im really struggling with mental health problems I have no funds please help me
Ellis
- 1-Sep-20 @ 10:31 AM