Grants for Growing Food Locally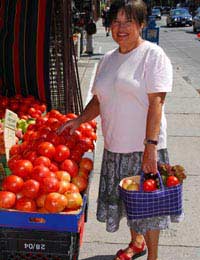 Local Food is a grant scheme that runs in England until March 2014. The scheme has £50 million available for applicants. The scheme's purpose is to encourage communities to grow food. Such food will therefore be accessible and affordable. But there are also other aims: by giving people access to fresh food, nutrition will improve; the gardeners involved with growing the food will become fitter and healthier; a Local Food project is a shared social enterprise that will give communities a greater sense of identity; the environment will benefit from local food distribution and the use of composting.
The Five Themes
These aims are very clear. The Local Food scheme also has five themes:
To promote an awareness of the connection between a healthy life and food
To foster chances for learning new skills
To boost the local economy and develop social enterprises that grow, process and market food
To teach people about food, and to enjoy the cultural variety of food
To show people how to manage land in a sustainable way by growing food
Source
The source of the £50 million pot of money is Changing Spaces. This is part of the Big Lottery Fund. The goal of Changing Spaces is to encourage communities to enhance their surroundings and take greater pleasure in them. Local Food is an important part of this goal.
Scheme Management
Applicants for grants can contact the Royal Society of Wildlife Trusts (RSWT) in the first instance. But although RSWT manages the scheme, there are 15 other bodies that provide help. These include Garden Organic, the Soil Association, FareShare and the Black Environment Network.
Funding
Funding falls into two categories: small grants and main grants.
Small grants are from £2,000 to £10,000. Main grants are from £10,001 to £300,000.
Small Grants
For a small grant, an applicant doesn't need to offer any other form of funding to meet a project's cost. Applicants should note, however, that at least 20% of the grant must go towards revenue; the rest can go towards capital costs.
Small Grants Criteria
Successful projects must meet one or more of the Local Food themes; they must be good value; and the applicants must have a sound method in place for managing the budget.
Projects must also have a good level of sustainability, and show effective working between partners. Above all, the community must be part of the project and must benefit from it.
Main Grants
Applicants who seek a grant of more than £20,000 must supply match funding. Main grants of £10,001 to £20,000 do not require additional funding.
Main Grants Criteria
The criteria for main grant awards are more detailed than those for small grants. In particular, a project must relate to a specific need that is part of national, regional or local strategies. A project must also achieve a minimum of two of the Local Food themes.
Common Question
One of the common questions about the Local Food grant scheme is whether it's possible to apply for the cost of buildings and land. The answer is yes. But applicants must meet all the legal requirements of planning permission, certificates of title, and so forth.
You might also like...
This grant stopped now. Fully finished. No more new investors and applications, no more.
WongTan
- 29-Dec-20 @ 12:31 AM
I just want to help the children learn more
Darline
- 30-May-19 @ 10:33 AM
THIS SCHEME HAS BEEN SUSPENDED THOUGH STILL SHOWS AS ACTIVE BUT NOT TAKING NEW APPLICATIONS AT THIS TIME. THE BIG LOTTERY FUND HAVE PUT IT ON HOLD, THOUGH THE GENERAL CONSENSUS BY THEIR EMPLOYEES IS THAT IT WAS EFFECTIVELY CANCELLED IN 2011 THOUGH STILL MADE TO SEEM ACTIVE AS IT SEEMS TO MAKE THEM LOOK GOOD - VERY DISAPPOINTING AS WE HAD PREPARED OUR APPLICATION AND WERE AWAITING THE NEW ROUND OF GRANTS.
WOODFIREDFOOD
- 4-Jul-12 @ 8:33 PM