Could I Get a Grant For New Embroidery Business?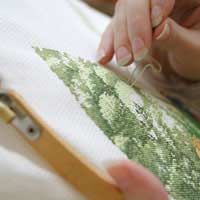 Q.
I'm looking to start a small embroidery business and was enquiring how I could look into getting a business grant to get started
(L Rafferty, 5 February 2009)

A.
There are no specific UK grants for an embroidery business. This is not a cause for pessimism, however. Instead, you need to find a grant that matches one or more of the following factors: your circumstances; where you live; and what you need the money for.
Your Circumstances
Your circumstances can dictate the type of grant you apply for. If you've been claiming Jobseeker's Allowance for 18 months or more, for instance, you may qualify for the government's New Deal programme. This can help you get your business off the ground.
Gender is also relevant to grants. If you're female, you may be able to take advantage of a scheme that encourages women in business. The Women's Development Programme in Derry is one example.
Check the government's Grants and Support Directory (available online). You may find something to match your circumstances.
Where You Live
The Derry example above links a grant not just to gender but also to location. This approach to grant funding is not unusual. Where you live is one of the key factors grant dispensing bodies take into account. Just a glance through the Grants and Support Directory makes this clear.
A start-up grant for a business, for instance, almost always specifies a certain location for the new venture. An example is the South Tyneside Business Start-Up Grants scheme.
If there's a government sponsored business advice centre in your area, contact it and enquire about local grants.
What you Need the Money For
Clearly, you want money to start an embroidery business. You should note down, however, your specific needs. These might include premises; machinery; employees; training; or even help with a business plan.
There are grants that can assist with these needs. To help you further, look at the government's Grants and Support Directory. It has details of particular business grant requirements.
Please note, however, that your location and circumstances may still affect the outcome of an application. This reflects the complex nature of the grant system in the UK.
The answer is to conduct detailed research based on the criteria discussed here. Create a checklist that includes your circumstances, your town and region, and what you'd ideally like a grant to cover. Many people who persist, do eventually succeed.
You might also like...
Hi, I own a home based embroidery company and am in need of updated machinery.The machines I own are on a lower grade that provide me a minimal amount of products that I can produce.I need a professional embroidery machineand software so that I can compete with other embroiderers and local businesses.The machines I have are not built for continuous work and are starting to ware.I am looking for financing to purchase upgrades
Ride Or Die
- 3-Feb-21 @ 5:42 PM
Hi, I am disabled and working as a Sales Agent in chemical for last few year, now i have oppertunity to take my business next stage for that£175,000 as a grant or Long term loan, If i get this will create employment as well # BIPIN SHAH
Janu
- 10-Nov-20 @ 7:12 PM
Hi, I have already started a embroidery and textile printing services business and need help with another machine as I'm pushing mine to the maximum. A second more reliable machine would help me get items out more promptly
Straight to the poin
- 6-Nov-20 @ 12:41 PM
I am a single mother and my son has been offered a place to go on a business school trip to NY. I can not afford the amount for the trip, but would like him to go as he always missed out other trips since primary.
Mak
- 26-Sep-19 @ 3:59 PM
I have been working as an embroidery machine operatorsince 2012 and currently,i want to advance in owning my own embroidery business but i need financing to be able to start that business.
Chrishani
- 30-Mar-19 @ 3:45 PM
I am 35 and disabled but was wondering if I could get a grant for an Art Gallery i need about £150,000
Alan Range
- 20-Jun-18 @ 11:34 PM
Hi, I covered basic hand embroidery and beadwork on a college mixed-media course, along with ceramics/glass and jewellery design.My tutor encouraged me to study at Manchester University on their BA Embroidery Course, but due to financial strain I finished my studies with an HND.I've done various bread and butter jobs since I left including a bead embroidery contract with a fashion designer who urgently needed someone on a contract basis in Bond Street. She was happy with my work although I'd had no previous work experience in bead embroidery... Since, I've been wondering how I could further develop my skills/do more training, develop my portfolio and maybe gradually start a little business doing small-scale bead embroidery jobs for clients....Have you any advice? Many thanks! Sarah
Sarita
- 21-Jun-14 @ 11:03 PM