Grants for Adapting Your Property Due to Disability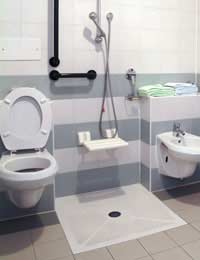 Disabled Facilities Grants are available from local councils to help pay for necessary adaptations to your home.Formed by the government, this grant enables disabled people to adapt their home so that they can continue to live there.
You can apply for a Disabled Facilities grant if yourself, or someone else living in your home, is disabled, one of you either owns or is a tenant of, the property and you can certify that you, or the person who you are applying for, will occupy the property for five years.
If you are a landlord and have a disabled tenant, you can also apply for the grant to adapt the property for their use.
Putting the Money to Work
These grants are provided by your local council and can be used to adapt your property in order to give the disabled resident freedom of movement in and around the home.This could include work such as the widening of doors, installing ramps, installing a stair lift or providing a downstairs bathroom.There is also the option to use the grant to improve facilities in the home, such as the heating system or lighting controls.
Put the Wheels in Motion
The first step in the process is to request that an occupational therapist come out and assess your home. This will provide you with a better idea of what adaptations you will require.Then you can start the application process. Firstly, you need to contact your local council – specifically the housing or environmental health department.
It is important to bear in mind that your application won't be accepted if you have already started carrying out the work on your property, but the council are under obligation to notify you of the outcome of your application within six months.
The Price is Right
Like many other grants offered by local councils, the Disabled Facilities Grant is means-tested – based on an assessment of your financial situation.Basically, the council will look at your weekly income and essential outgoings, such as rent or mortgage payments and personal expenditure, to determine what level of the grant you will need. They also take into account your savings, which if above a certain level can have an impact on the amount you will receive.
However, if you are applying because you have a disabled child under the age of 19, then there is no need for means-testing and you will receive the full amount.If you are married, or have a partner, the council will assess your combined income, but the first £6,000 of any savings you might have is ignored.
The maximum grant amount available is £25,000 for applications in England and Northern Ireland and £30,000 in Wales.
Planning
With any building work, especially if external changes are being made, planning permission or buildings regulation approval may be required. This is not included in the application for the grant and you will have to apply separately to gain any approval you might need before you start the work.
Once you have received the grant, the council can also request that you employ a qualified individual, such as an architect or a surveyor, to make sure that the work is carried out appropriately, but you can use a portion of the grant to pay for this.
How to Appeal
If you have been refused a Disability Facilities Grant by your local council don't panic just yet, you can appeal. Each local council has an appeals and complaints procedure.If this isn't effective, you do have the option of registering a complaint with the Local Government Ombudsman.
You might also like...
My husband is in a wheelchair and I would like to get our back garden paved so he can go out there in his wheelchair is there a grant we can apply for??
Neetz
- 9-Aug-19 @ 7:54 AM
We both have disssbilites and need s downstairs cloakroom what is the criteria needed to apply to the council for funding for this
Marg
- 4-Aug-19 @ 7:41 PM
Hi I'm currently in a two bed counsil bungalowwhilst I have the basic adoptions ie grab railswet room I cannot manageI'm in a wheelchair I cannot walkmore than 3 /4 steps wirh a frame I cannot move around my home because I cannot turn my chairthe hallways so narrow my we r rooms great but I cannot get my chair in and out I cannot get through doorways although once in a room in fine there's enough room to move my chair all ways but I'm a prisoner in my home I have no ramps I cannot answer the door I use my back door but that leads to another and cannot get my chair in and around the out house to get through the second door it's terrible I have no garden sending so cannot get a notability scooter as I'd need to keep it indoors no fending so not safe to leave out side I need my kitchen cupboards lowering and sink as I cannot reach them from my chair this is so so hardI don't no where to go who to ask or anything any advice would be great it's. Local authority property and I'm on disability benefits so there must be help available I just don't no how or whom or if i can get assistance
Leelee
- 11-Jul-19 @ 7:01 AM
Hii my dad has rhemotoid arthritis and prostrate cancer so is crippled with pain and disability he is unable to shower n bath and just has very basic flannel washes so hygiene is very poor so Grant's supports bath harness so he's is able to have baths and showers ..thanks
Missv
- 6-Jul-19 @ 1:30 PM
Hi, my grandmother is 93 years old living in a sheltered accommodation bungalow. She has just got out of hospital having spent a week in there following a fall in her bathroom where she hit her head of the bath and also hurt her knee. She cannot get in and out of the bath and has to wash sitting down in front of the basin. She has a seat in the bath which is of no use since she can't step in and out of it. My question is would she be entitled to a disabled wet room of some sort? Thank you for your help.
My wife is disabled, she can't walk more than 20 metres without help. Parking in our road is almost impossible every day. Would we get help having a dropped kerb and/or driveway installed?
Daytona955
- 9-Jun-19 @ 4:29 PM
Sirs, I have a mobility disability (walk with a stick and Walker, occasional have to use a wheelchair) and following a car accident I have nerve damage affecting my bowel and bladder. I rent my home from the local housing authority. I applied for a disabled facility grant to adapt my bathroom to a wet room, and to adapt my kitchen, as well as creating a downstairs toilet. Most was essentially approved, although for some reason initially they had issues with the downstairs toilet; which is a necessity, as I often do not make it upstairs to the bathroom so I have accidents, or worse, if I'm not expecting any one I'm stuck upstairs like a prisoner so I'm close to the bathroom. At first they said I had to move, but in over 4yrs they did not find a suitable property, instead I'm left having embarrassing accidents, falling down the stairs, once a fall left me unconscious at the bottom of the stairs for 3days in winter (unable to get up). Despite repeatedly chasing them, I'm being told, work will start, yes we'll give you a start date. Instead what's happened in close to 5yrs is they've paired back what was originally agreed, and even then no work has begun. What I'm wondering is, am I entitled to engage the trades myself to do the work and invoice the local authority. I don't know what my rights are as a tenant. I know if I owned the property it would be different. But this has now been going on far too long, And frankly, drama aside, I think the Housing Authority are either hoping one of the accidents will finally kill me or I'll pay for the work myself (which I would do if I had the funds). As Grant Experts can you please advise me on my options, the situation is now extremely urgent and life threatening! I apologise for the length of the message, I did not know what information you required. Regards Beverley
Blimey
- 5-Jun-19 @ 11:50 PM
I have just purchased a bungalow but the kitchen needs to be lowered as I am a wheelchair user. I have found some great builders who are going to build a ramp for me so I can enter the property (I have managed to scrape together enough for this) but I won't have the whole sum of money for the work on the kitchen. Is there anywhere that can help me out but will still let me use the builders that I want? I am happy to pay as much as I can towards it. Many thanks.
LilN
- 3-Jun-19 @ 5:33 PM
I have a flat which I plan to renovate and rent it out. It's on the ground floor and would like to consider making it disabled friendly. Please can you tell me if there is any grants out there to help pay for the adaptations? Thanks
Pablo
- 18-May-19 @ 10:13 AM
I am coming up toy sebenoeyj birthday and simply love my h garden. My one problem is that due to BRI g able yo keep my balance and having up to 10 times over yje last few momys Ian not able to msnsge y rear garden any more due to it having a slope of 45 degrees i would like to have it changed into three terraces. My condition has apparently due to having had polio as a infant in my left leg and a now depend on a walking stick to move about. The disability is getting words by the day and I am worried that I may become house bound
Doc
- 8-May-19 @ 11:49 AM
Hi just enquiring about a downstairs bathroom for my parents. They are elderly have problem going to up and down the stairs. My mum has severe arthritis and my dad has walking difficulties. Please can you provide me with some information so I can seek help for my parents
Jusna
- 18-Apr-19 @ 1:37 AM
Hi I have a special needs wee sister..and my mother just past away just 3 months ago my wee brother moved into the house where my mum and sis lived.. I have 4 children and live in a 3 bedroom bungalow and she always wants to come stay with me.. Would it be possible to get a grant to build her a bedroom onto my bungalow?
Shauna
- 8-Apr-19 @ 12:19 PM
I have been in my one bed room flat for 8 year but not been able to get out in the garden has its very uneven and I have walking problem and limited moblilityand their is also a big hole in the garden would love to be able to use the garden hope that I will get help to pave and make over the garden I do not socialize because I get breathless and wheeze on walking because I sever lower back pain and always in pain hope that I can get help some where to do the garden
Deedee
- 22-Mar-19 @ 7:58 PM
I have l fell no voice l have need s and my son l have add and blame l don't want to live any more l have to reading and speaking to l just want some time and help l don't no were to go l am all on my own sins my mum and dad past away can you help my number is l am to sleep ey now but my son has birthing problems and is very very over wait l need to get him clothing all the time he is 8 but we're s 14 to 15 years old thanks x L
Oliver
- 18-Mar-19 @ 12:06 AM
The lady with the insecure garden may get some help from The Family Fund.She would not get £10,000 though.Maybe they could make a small area safe.
Roxy
- 5-Mar-19 @ 8:30 AM
Hi,a year ago we moved to a one bedroom housing executivebungalow due to an immediate need to move to a place without stairs. My wife was having serious problems due to disabilities. Due to this bungalow having one bedroom my wife, my son and I share. My son is 11Years old now and we thought that we might qualify for an extension(extra bedroom) but when we had an assessment by an occupational therapist they said it wasn't disability need but a social need.And the housing executive are not helping with an extra room either. My wife is very happy in our new home and wants to stay as she feels safe and happy. But we Need an extra room. What can we do.
Tom
- 10-Feb-19 @ 1:45 PM
Hi I have suffered from a slipped disc in my lower spine and I suffer from lymphoedema in my legs i also have polymyalgia and am diabetic I also have arthritis in my knees and I have trouble walking or standing for more than a few minutes I have trouble getting of the chair. I am in severe pain all the time. I can't get up and down stairs I have my bed in my kitchen and use a commode in my livingroom I can't get in and out of a bath so only have a wash down every week in the kitchen on my bed I have been trying to stay away from a wheelchair but my pain is getting so unbearable it looks like it is going to be the only way to get around because I have only Been out of the house four times in 5 years and that was a total disaster. I am starting to get depressed. I have no heating as the oil heating doesn't work my kitchen had a flood twice last year and the units around the sink have rooted with water damage and the worktops are coming away from the walls.I I would love to have a bathroom and shower down stairs so i could have a hot shower and a room were I could put my bed. There is other things I need done in the house like new back door , front door and panel , there is cracks in the ceiling and there is things outside that need done. I am in receipt of eesa and pip I was left the house by my father but I pay the mortgage and ground rent and have done since 2013. I have my cousin living here and he helps me by making me food and doing housework and anything else I neceilingthere anyway I would be entitled to help by getting a grant or can you steer me in the right direction. Thank you
Need help
- 8-Feb-19 @ 3:43 AM
We are having a wet room installed as we are both disabled(we have a little money but not enough for the whole job;£6500,is there any help with the cost? This is the cheapest quote that we can fined;and will be carried out by Mobility one stop; we own the house,are both disabled and pentioners
Pard
- 6-Feb-19 @ 4:27 PM
Hello My father is registered blind and lebers diagnosis (neurological) stiffness in his body so he cannot move around without excruciating pain. He is 70yrs old. His kitchen is in urgent need of renovation .The roof is falling down and so are the units. He cannot access the units as they are either too high or too low. He cannot use an air in the kitchen as it's too tight for him to go inside and use the kitchen independently. We asked for assistance from local council as the OT had only suggested a lift in the property. As for his eye sight... there's no help available.
M2I
- 5-Feb-19 @ 11:29 PM
Hi, have a daughter that was born with polymicrogyria, which affects both sides of her brain. She is fully dependable on me when she is with me. I have her every weekend from Friday to Monday morning. I cannot bath her properly due to the bathroom in my flat not meeting her needs and poorly laid out. I would really appreciate some assistance In adapting the bathroom for me to be able to bath her properly when she's with me. Her hygiene and comfort is very important to me and atm I can only bath her properly when I have visitors to assist me. Thank you for taking the time to read this, I hope to hear from you soon
Adam
- 3-Feb-19 @ 8:50 PM
Due to disability both my wife and I need a downstairs bathroom. We do have some funds of our own but do not know the limits of what amount you have to have before you can claim. Also if we have to pay ourselves some people have said you may be VAT exempt. Please advise kind regards
robert
- 30-Jan-19 @ 3:36 PM
I am registered blind since March I wanted to know if i an entitled to a grant for extended bath roomdown stairs please.As the current bath room is to small and I can't adopt to my current bath room is a hazard please.
Fred
- 7-Jan-19 @ 11:31 PM
I'd like some information or advice or if possible for someone to come out and have a look and discuss my situation with regards to having a extension or having something in the kitchen as I have a ex wife who is in a wheelchair and can't get upstairs due to her having vertigo also has lymphedema of the legs also back pain can't stand or walk very far if anyone could get back to me I'd be much appreciated many thanks
Steve
- 16-Dec-18 @ 1:53 AM
Hi my son has ADHD learning issues and is deaf he wants to have a play room so he can be close to the garden ,I did ask the council if they could put patio doors in they said no so am to scared to ask if they can build a small extension fory son ?
Wendo
- 11-Dec-18 @ 2:59 PM
Hi I wanted to know if I can get help towards maintain my garden as fences are broken my daughter has gotadhd . It's hard for me to afford much to maintain my garden as it can take up to 10000 pounds to maintain it .It's not secure for her to be alonetobring friends over as I don't let her go out aloneif Ican get a grant so she can bring her friends home so I can keep an eye on herso it's better for her.
Say
- 27-Nov-18 @ 2:11 PM
My wife is registered disabled, I have health issues osteoarthritis, compressed discs in the spine and prostate problems and I am in constant pain I am not registered disabled. My doctor is supporting the requirement to have a bath fitted instead of the current walk in shower. It will be difficult for my wife to use a bath because of disability and we are now looking into a low level bath with a bath lift. An occupational therapist is going to assess my wife to see if this adaption is feasible.If my wife gets the go ahead from the OT would the work come under a grant?
crl
- 14-Nov-18 @ 12:26 AM
Hi my mum is on the higher tier of disability and has already had work started on her bathroom ie bath removed and walls plastered would she still be eligible for a dissabilities facility grant and if not should she do
mary
- 10-Nov-18 @ 5:18 PM
I have a lodger (62) who has shared my house for 20years I am is carer. His depression and anxiety is now measurable worse. He is to be assessed for autism in particular Asperger's syndrome which I have suspected this since I first met him as I was a teacher have taught several pupils with Asperger's and recognised this immediately. He gets the full PIP and EESA and travel permit. However he is now in a situation where any bangs, loud noises he treats as a potential threat and goes into deep depression. I have had an outside wall sound proofed and it was effective but I now need to put secondary glazing in to hopefully eliminate 80% of other noises from traffic. Will he be entitled to a grant for the secondary glazing even if it is just VAT relief. The cost will be £4000 inc VAT
Zaphod
- 15-Sep-18 @ 4:53 PM
Hi - my mum is in her 90th year and lives independently in sheltered housing; she is getting frail and she needs now to move in with me as I am her only care giver.I work from home in my converted garage and am looking to convert my office into a granny annex for her, which means putting in a small kitchen and shower room.She is a registered disabled person; I live in the Wokingham area of Berkshire - do you think I can get a grant to have my property converted?Thanks for reading this post.
Dee Dee
- 30-Aug-18 @ 5:41 PM
I`d like to know if I can get a grant for off road parking. I`m registered disabled & receive full PIP. I have a garage but it`s a double heavy up & over door & very difficult for me to get open & shut. It even means that I can`t go out when I need or would like as it`s so difficult. Would really like to have my front garden turned into a driveway so I can be able to go out whenever I like NOT IF I can open the garage door or not. I also sleep downstairs now on the sofa & only have a very small front room & was also wondering if I would be able to get help with an extension so I could have a bedroom & not have to live in 1 room. Any help & advice would be gratefully received. Thankyou
Tichie
- 26-Jul-18 @ 7:59 PM