Grants Available for Landlords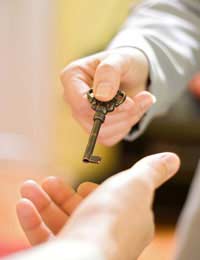 There are a range of grants and loans for landlords, but what is available from council to council varies. Many local authorities feel that landlords shouldn't have access to grants and loans because they have built up a substantial amount of equity in the property, however, others believe that by having access to these funds tenants will reside in acceptable accommodation.
There are, however, grants available for energy efficiency, HMO conversion and the renovation empty properties for use by tenants.This form of funding is very complicated and each council has different criteria for awarding the grant to landlords. For example, some means-test landlords to assess whether they are eligible for the award and others specifically target landlords that have secure tenants in place.
Becoming energy efficient
Following the introduction of Home Information Backs (HIPs), it has become easier for homes to be given an energy rating. A recent study revealed that an average four-bedroom house has an energy efficient rating of 'E' - which is quite bad considering that 'A' is the best and 'G' is the worst.
Making a property energy efficient can be a very expensive task, but having loft and cavity wall insulation not only helps increase the property's value, but has also become essential if owners wish to improve the saleability of the property.
Pre 1990 houses and those built between 1935 and 1980 are the worst affected and are the primary targets for the Heat Project grants, but this doesn't mean that houses built since then can't get financial assistance.
It is estimated that by installing loft and cavity wall insulation a household can save as much as £250 on their annual fuel bill, not to mention reducing their carbon footprint.In order to qualify for this grant, at least one member of the household, including tenants, must receive one of a list of benefits, including income support, housing benefit or pension credit.
HMO conversion grant
In April 2006, the government introduced a new legislation that required landlords to licence their property if it fell into HMO status.A HMO is basically a building, or part of a building, that is occupied by people who don't live as a single household - with a family relationship. This group of people must also share basic amenities, for example a toilet or bathroom.
Self contained flats that were originally one very large house can also come under the HMO legislation if the conversion was below the Building Regulations standards set out in 1991 and tenants acquire at least a third of the flats.
The HMO conversion grant can be anything up to £30,000 and is used to bring the property in line with the minimum HMO standards.This type of work includes fitting the appropriate fire precaution and safety measures for tenants and meeting the minimum standards required for fixed amenities, such as kitchens and bathrooms.
There are many conditions to meet in order to be eligible for the HMO Conversion grant and these vary depending on your local council. The best thing to do, before applying for the grant, is to check whether or not you are eligible to receive the funding with your local council.
Empty property grant
If you own a property and it has been empty for more than one year, you have the option of being able to let it to council-nominated tenants on a long term lease - usually between five and ten years. If you do this, you could be eligible for an Empty Property grant.
This form of funding covers 50 per cent of the cost of renovation work, including any heating or insulation work.The grant can also be used for properties that are in a substantial state of disrepair or to convert a property from being a single household to a multi household.
You might also like...
My parents house has been left to my two brothers & myself in trust while my mum is still alive. We want to rent it out but there's a lot of repair work/modernisation needed before it's habitable. It's been empty for over a year now. Can we borrow money, using the house as equity to carry out the work?
Michele Phillips
- 11-Dec-20 @ 1:40 PM
I lived in my house for 27 years with my dad, grandad, sister and my daughter the house hasn't been renovated in 15 years, holes in the ceiling the walls are crumbling. It's quiet mouldy and dusty it's so expensive to fix all the problems I have no idea what to do
Keisha Reid
- 24-Nov-20 @ 4:48 PM
Are any grants available for commercial properties? I have somewhere in mind but it's been empty for years and the owner is 70, disabled and can't afford to bring it up to standard. I would take it on as a tenancy if the building could be made fit for purpose, and the local community would be delighted to see it in use again.
Gigi58
- 15-Nov-20 @ 11:53 AM
I live in a static caravan on my smallholding alone and happy doing so,my bungalow celing came down 6 years ago water damage(uninsured ) some a well meaning person reported to the council how I was living,I do NOT want help from them just that they leave me alone, I am 75 but as bright as a button, but because I decline their borrow now for repairs pay back comes when I pass away,,Because I refuse they are condemning my electric supplyto my caravan which I live (it's like blackmail) I want NOTHING from them just left alone,,What are my rights,,thank you,,
Billy
- 4-Oct-20 @ 11:43 AM
Some double glaze windows are 20 years old Would I be able to get grant
Iqbal
- 29-Sep-20 @ 11:33 PM
hi, My family have lived in and owned this pair of 'Houses of special interest '[I have the paperwork] since 1946, they are 180 yrs old. I am retired and my son has special needs and recieves ESA, The render is comming off and people are in danger of being hit by falling masonry, the exposed brickwork is letting the rain in and rotting the wood and plaster in te rooms. I do my best with repairs, but this is too much for me. Can I get a grant to help repair the render? Kay J
Kay
- 17-Sep-20 @ 4:05 PM
My wife and I are both 72 years of age and are in receipt of pension credits. We have lived in our house for almost 40 years.we think we might have damp in the lounge round the bay window and near back door and also in the bathroom. We wondered if we would qualify for a grant to get this fixed as I have quite severe COPD
Charlie
- 4-Sep-20 @ 6:02 PM
My son who has learning difficulties has been made homeless and is sleeping on my living room floor.Is it possible to get a grant for a loft extension to enable him to have a room?
janek
- 14-Jul-20 @ 9:11 AM
Hello, my Daughter wants to build a Granny annex in her garden fo me. I am disabled and 75 years old. Could she get a grant to help with building costs.
Chippy
- 11-Jun-20 @ 9:49 AM
Hi! I'm a home owner being living at the same house for over 20 years. I'm not financially strong as before. The Covid 19 episode has not helped. My windows is the issue i would like help on. I have had the double glazing well over 30 years and some are broken being covered with cardboard and plastic, some are cracked and I would like help in getting these replace. Can you advise please.
JAAHBLESS
- 10-Jun-20 @ 12:51 PM
HI, I AM IN THE FIRST STAGES OF CONVERTING MY LOFT SPACE, HOW CAN I APPLY FOR A GRANTS THAT CAN HELP ME TO PAY FOR THE COST ROOF INSULATION OF ROOF VELUX WINDOWS,WATER AND ELECTRIC SUPPLY, HEATING ETC. MANY THANKSMATT
MATT
- 1-May-20 @ 1:04 AM
Hi l am a landlord brought a flat with a sitting tenant the EPC was an E and was listed as having insulation in walls and roof . Just had a new EPC done and has come back as an F with no insulation in walls or roof . Is there a grant to get theinsulation done l am the lease holder of the flat the landlord owns the block .
jack
- 1-Mar-20 @ 3:02 PM
I may like to convert a bedroom for use by a blind person whatbgrants are available and his mych can I charge for his room and care he would have use of therest ofbghe house.
Frank
- 29-Feb-20 @ 2:10 PM
Is there any grant for a dss tenants for windows? Got damp around 1 front window and condensation.
FoxyT
- 18-Jan-20 @ 8:29 AM
We hve just purchased a shop with rooms above which we like to convert into a self contained unit. Is there a grant available for this from the council? Thks Mary F
We hve just purchased a shop with rooms on the first floor that we would like to convert into a one bedroom self contained unit. We heard that there may be a grant available from the council. Please can you advise me if this is so. Thks. Mary F
Hello My house is very damaged very badly needs urgently repair work at many areas please approve a grant to repair it. Thank you. Regards.
N/s
- 20-Nov-19 @ 4:55 PM
I am a house owner and my house is in bad condition if not repair will be damage more and may be fall down. Thank you. Regards.
N/a
- 20-Nov-19 @ 4:53 PM
I have the chance to private rent a rural farm house that's been empty for 2 years it's in need of new windows ,doors,bathroom ,kitchen,and central heating it's a mature couple that own it would they qualify for some kind of grant
Cazrus
- 23-Sep-19 @ 7:48 AM
I rent a property to a disabled lady who is on home dialysis. I have replaced the windows at the rear of the house but now need to replace the front. 2 windows, a small bay window and the front door. Any help available as I dont make a penny on the rent and am out of pocket every month.
Embo74
- 24-Jul-19 @ 10:29 AM
We own and live in a property that people finally finished building in 1623 and is Grade 1 Listed … We are looking for a grant that would help us meet the cost of repairing the crumbling external walls and to repair the damage caused by repairs carried out by the previous owner(s) who used concrete instead of lime mortar and off the shelf emulsion instead of a lime based one.
Gary
- 17-May-19 @ 3:29 PM
I am going through a rather difficult separation and my ex has left us living in a house that is in a state of disrepair.He's using the condition of the house a tool to make me give in to his settlement.Unfortunately I cannot afford to repair or his offer. I can however afford to buy him out for a lesser settlement get a mortgage and do the repairs as part of the mortgage.In the meantime myself and my children are living in a house with tiles falling off walls, leak from the bathroom damaging the ceiling downstairs and leaking roof, a kitchen that is literally falling apart, doors that are insecure and drafty, cracked and broken windows, carpets with holes in, fences that are falling down, I l could go on.I work and receive tax credits and child tax credits.I have one child who has special educational needs and both who suffer with anxiety.I have applied for and was granted one grant which paid for a hedge which was completely overgrown and unmanageable to be taken down.This was the only thing that needed doing that I didn't have to contribute financially to that I qualified for. I would really like to have the front door replaced as it is drafty and you can see daylight round the edges.You have to slam it really hard to get it to shut properly and this is causing plaster to fall off the walls and causing more drafts. What can I apply for? The rest of the work that needs doing will cost approx. £10,000.00.Not including carpets, other flooring, oven, hoband fridge. Thanks
Tracy
- 27-Jan-19 @ 4:02 PM
I am 73 my wife 56 son 17 we are tenents in a flat that has a g in heat grade we can not keep up to the heating costs what can you advice to help us
Bob
- 5-Nov-18 @ 12:45 PM
My husband and I are currently renting. On our landlords land there is a derelict mill. The main body of the building is still standing, but is in need of major repair in all areas. The landlords have enquirer about permission to turn it into a holiday let, but if they allow us to purchase it, would we be able to get a grant to restore it?? We're in the Thames Valley area and would need help to get it up to a habitable standard, as it's been empty for at least 15 years.
Emily
- 29-Aug-18 @ 10:22 PM
Hi, I have a rented property but it only has a gas fire in the lounge and the wall attached electric heaters in all the other rooms.It's only a small 2 bed house with prepayment meters.Do you know of any grants that could help with energy efficiency as it's got a D rating. Thanks
safi
- 29-Apr-18 @ 8:30 PM
I have lived in my house for the last 18 years and i need to replace the roof as it has no felt and the slates are broken, i spoke to my insurers and they will not help to repair the roof as i cannot prove the date and time it happened, as it didn't leak until the bad weather started. i have a war pension due to an illness contributed to Military service, do you have any advice as who i can turn to help with costs.
Benny
- 12-Apr-18 @ 11:38 AM
I have just bought a property in need of renovation. the house has been empty for approx. 2year. I am a single mum of 2 working part time. would I be eligible for any grants to help with damp proofing/heating/rewiring?
Linzmacca
- 28-Feb-18 @ 2:59 PM
brianc - Your Question:
I had some people knock on my door and told me my ridge tiles heeded repair but they stole the lead flashing from around the chimney and my roof leaks and the plaster has come off the walls I am 69 and living on a pension I cant afford to have it repaired
---
Our Response:
Did you report this to the police? Are you insured?
GrantsExpert
- 27-Feb-18 @ 11:46 AM
i had some people knock on my door and told me my ridge tiles heeded repair but they stole the lead flashing from around the chimney and my roof leaks and the plaster has come off the walls i am 69 and living on a pension i cant afford to have it repaired
brianc
- 24-Feb-18 @ 3:36 PM
I am 71 next birthday I receive pension credit and have no savings I also still care for my two adult children that have Down's syndrome and live with me my roof is leaking and I have damp and Mould are there any grants to help me
Hoover
- 21-Feb-18 @ 9:09 PM