Talented Athletes: Scholarship Schemes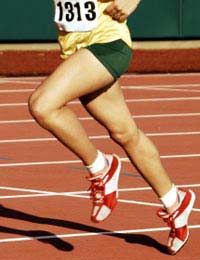 With programmes such as Britain's Got Talent showcasing on our television screens and, of course, London being the host of the 2012 Olympics, it is hardly surprising that the Government want to nurture the talented athletes we have in this country.
What is The Talented Athlete Scholarship Scheme?
The Talented Athlete Scholarship Scheme (TASS) was introduced by the government to develop Britain's sporting stars by encouraging a partnership between sports and education.This partnership provides training athletes with the ability to concentrate on their sport as well as study their chosen subjects at college or university.
The athletics section of the programme includes things such as coaching techniques, physiotherapy, sports medicine and strength and conditions along with competition support and training expenses.
Getting Noticed By TASS
TASS has partnered with over 50 National Governing Bodies of certain sports to allow this partnership to be implemented in institutions across the country. This means that in order for an individual athlete to apply for funding through this scheme, they must be nominated by the relevant sport's National Governing Body.
Each sport has its own set criteria for the main Talented Athlete Scholarship Scheme and the scheme that focuses on the 2012 Olympics. Athletes must achieve these set criteria in order to be eligible for nomination for the TASS award.
The first TASS award is available to all athletes and the maximum amount awarded is £3,000 per athlete per year. However, since London won the 2012 Olympics, the scheme has introduced a specific award for the athletes in training for that specific sporting event. The 2012 scholarships are awarded to the maximum of £10,000 per year.
Gauging Your Eligibility
To be eligible for the TASS awards, all athletes have to be holders of British passports and be eligible to compete in their chosen sport in the UK.They must also be registered at an address in the UK and currently be studying at an English education institute.
Once you have been accepted onto the award scheme, the term will run from October to September. Although you won't directly receive the funding, you will have the ability to access certain services through Universities and Colleges that are in partnership with the scheme.
The 2012 Olympic Programme
The 2012 programme is slightly different in that it is specifically designed to encourage talented athletes to train as potential medal winners at either the winter or summer events.This is a fast track scheme which runs alongside the main TASS programme and the funding supports sporting services such as coaching, physiotherapy, physiology and nutrition, along with many others.
These athletes will be identified through their NGB and will already be competing in their chosen sport, but will be put through a selection process that is made up of three stages.Firstly, the athlete is nominated and put forward for the 2012 award via a registration form. This enables the TASS management to decide whether that athlete is eligible for the award.
The second stage requires the NGB to complete an Athlete Subjective Criteria Form, which basically gives details of why the athlete in question should receive the award and how that funding will be used in order to help the candidate progress in their sport.
And finally, the assessment stage. At this point the TASS management team look at each application they have received for the 2012 funding and consider the current performance, support the athlete already receives and makes a judgement on whether they will benefit further from the 2012 scheme.
You might also like...
Hello I was browsing the internet and came across yourselves.I am trying my best to raise funds for a Time Trial bike and sports equipment in the sport of Para cycling C5 Category.I have been trying my best to safe money but I just seem to be getting not even close to the amount required to get an upgraded bike from my old and outdated broken current T.T. bike. I have been competing in disability sport just this year 2016 and in the previous seven years in abled bodied cycling as their is know recognised para cycling in the north of Ireland, and so now that I have been confirmed a C5 rider competed this year winning five gold medals and a silver in my first ever championship in Dublin. I have overachieved in cycling thus far locally and nationally with gold, silver and bronze medals and many other trophies to date. but more recently I have been told my bike is just not really competitive anymore hence call and plea for any sort financial help what so ever as I feel I am currently being held back with the old equipment I own at moment.I appreciate your time and thank you for reading my letter.I would be much obliged and thankfull for any help or assistance what so ever.Steven Workman.
worky
- 16-Oct-16 @ 8:20 PM
I am 16 years old and have just signed up to do a BTec Sports Science course and have been picked to join the AASE programme aswel. The issue I face is that I live in Middlesbrough and the college closest to me to offer this opportunity is in Gateshead. This will result in me travelling for approximately 2 hours in the morning and evening to and from college. The college have awarded me a travel bursary of £500, but this doesn't cover the total costs involved in my travel. I am writing to enquire if there is any funding available from yourselves that may help me. Many thanks Balal
Balal
- 1-Sep-16 @ 12:33 PM