Disability Sport Funding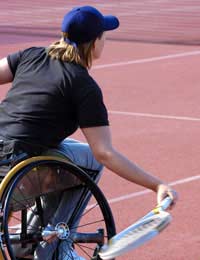 At Beijing in 2008, the British Paralympic team was very successful. The 42 gold, 29 silver, and 31 bronze medals prove the skill and commitment of disabled UK athletes.
As with all athletes, however, disabled sports people often rely on grants to help them realise their potential. Government agencies, local bodies, and charities supply this much-needed funding.
UK Sport
UK Sport is the body the government has set up to invest in talented athletes. The purpose is to improve British success in both the Olympic and Paralympic Games.
UK Sport manages a lottery-funded scheme that extends twenty years into the future. The scheme allows the organisers of disability sport to bid for grants to offset the cost of holding major events. UK Sport also invites athletes to make personal applications.
Funding for individual disabled athletes starts at £1,000. The highest awards – up to £8 million – go to the National Governing Bodies (NGBs) of key sports and apply over four years.
UK Sport operates two grant schemes. Within these are set programmes and criteria. A disabled athlete or disability sport NGB must meet these before receiving a grant award. UK Sport has further details.
TASS
TASS is the UK's Talented Athlete Scholarship Scheme. The scheme's aim is to help athletes make the transition from grass roots sport to the world sporting stage.
To receive a grant, a disabled athlete must have the nomination of his or her sport's NGB or a higher educational institute. In addition, athletes must hold a British passport; be in some form of education; and be able to take a place in the national team.
TASS grants apply from 30th September each year to the beginning of October the following year. A successful grant applicant must sign a contract and adhere to its terms and conditions.
Sports with TASS-supported athletes include disability cricket; disability powerlifting; disability swimming; wheelchair basketball; and wheelchair tennis.
Local Schemes
UK Sport and TASS are national schemes. There are also local programmes run by a variety of organisations. Their general purpose is to provide grants to support athletes from a given area.
One example of such a locally-based scheme is in the south-west of the country. It offers athletes the chance to apply for cash funding to assist with training, travelling and equipment. Athletes also receive a free pass to certain sports and leisure centres in the area; free legal advice if necessary; and access to high performance facilities at a local university.
To qualify, athletes must live in the area; be involved with a nationally-recognised sport; and have a proven need for financial support. With this particular scheme, disabled athletes must fall within a 12-35 age range.
A good starting point for learning about such disability sport grants is to contact the local council.
Charities
There are charities around the UK that support athletes with grants and advice. These charities do not discriminate between able-bodied and disabled sports people. It's therefore worth asking to see their terms and conditions for grant awards. The sports and leisure department of the local council may have contact details.
BPA
A charity that works nationally and for the benefit of disabled athletes is the British Paralympic Association (BPA). The BPA funds and manages the teams of the British Paralympic Games, and will answer enquiries about entering Paralympic sport.
You might also like...
Greetings from Wheelchair Cricket Welfare Association Bangladesh! Bangladesh Wheelchair Cricket established in 2014. We have come through a lot of Domestic tournaments and International Series as well. We want support to make it a world-class cricket team in the Wheelchair arena. We are working to develop wheelchair cricket in every division of Bangladesh through the cricket selection process. With the Inspirations, we are operating the selection process which was started in May 2018, till now we have Six Divisional Clubs with around 200 above wheelchair cricketers. Thus, BWC is maintaining every step by following general cricket procedures. Our aim is to show the ability to disable persons for bringing them into the mainstream of our society and make them an International icon that no one ever thinks it before. Besides Men's Cricket Team, we have formed a Women Wheelchair Cricket Team in 2018. To make them stronger, we need Sports friendly Wheelchair for both male and female team. Currently, 120 wheelchairs are needed for the smooth operation of divisional clubs. We will be very pleased if you donate us such sports wheelchair. The details are given below.
MOHASIN
- 23-Dec-20 @ 1:06 PM
Hi, I'm looking into the possibility of my daughter having the opportunity to be sponsored or receiving a grant. My daughter has ADHD & dyslexic she was struggling to be understood with her hyperactivity & not having the understanding on how she never appreciated people feelings or emotions when she was being honest to them. She was always bullied at high school or getting into trouble. I could not find a Activity she liked she tried loads out. She ended up having horse riding lessons & she changed so much she was so calm around them and was not hyper when riding. I was getting a bit worried since it is a expensive sport, and I'm not that experienced around them. She ended up getting better she ended up with a share. Then I decided to get her a pony she done fantastic with him ended up representing Scotland. Now she has a horse since she got tallershe started competing in seniors & the horse was no show jumper. I could not afford a expensive horse. My daughter has excelled so much she has achieved loads and qualified for big classes now she has qualified for about 7 classes in British showjumping and competing at Aintree soon. She is only 15 and going so far with her horse with the special bond both have together. The only thing that's stopping her go further is I'm a single mother and I cannot afford the big competitions her disability money pays for her horse & I pay for her classes around our area but it's away above my budget to take her further. I was looking to see if there was any place that supports kids that are really good at a sport and can help with some costs or sponsorship so she has the opportunity to go further. She had the opportunity to leave school to do horse managementbecause she just couldn't make friends or interact well around them. She is doing really well and she is around the thing she loves the most horses. She does not get a bursary for this because she is still 15. I need to pay for her going because I'm a nurse and my pay is over the budget but they don't put into account she is hyperactive and I need to keep her active or she could be going in the wrong direction and all her disability and my pay go to keep her doing what she is doing becoming a fantastic rider and could go further if she had a chance. I hope to be able to help her on her way because she can be the sweetest girl when you get to know her and I just wish she had the chance to shine and show disability does not need to hold you back you just need to find something you are good at and keep going and you will excel and never think there is no hope.
Kate
- 17-Oct-19 @ 8:12 PM
Hi my daughter is in a special beds Judo club where I help to run the club with other parents . The kids have various disabilities, even fighting cancer and now in remission and terminal conditions. The team was in the special olympics Games August 2017 in Sheffield the team came away with 3 gold medals and 2 bronze Medals . Big achievement for these kids well they qualify for the world games in Abu Dhabi in March 2019 so we need to raise as much money as we can to get the kids out there . So please help thanks
Michelle
- 17-Nov-17 @ 11:06 PM
HI I coach a football team for disabledguys and girls who play the game usingbattery powered electric sport wheelchairsand we have lots ofkids come along who want join the club and learn to play but I do not have enough power chairs for them to usethis is a national sport with both a premier and championship league a national side who compete the world cup and we hope inthe not to distant future to become a Olympic sport.so I need to raise funds for more chairs where can I go?
tony
- 12-Jun-13 @ 2:50 AM
After spending a year with operations and in great pain with Knees back and shoulder, I was just about ready to start taking my 8 year old son fishing again. The reason we stopped I said was that he had to be able to swim at least 50 yards. Xmas he presented me his certificate and was excited that fishing was once more on the cards. We agreed that we would get Easter out of the way and then start.You cant believe 3 weeks ago someone broke into my garage and took everything. He's so upset what a bloody low life!!!!!!
I am a disable person and connected Bangladeshi Systems Change Advocacy Network org. now i want to opening a Bangladesh disabled cricket team for this plan i need financial support
Mohasin
- 11-Apr-13 @ 2:22 PM
Hi i play a Paralympic Sport called Goalball and i play it at elite level. Im on the verge on makeing it into team GB. I also travel all over the uk playing tournaments and as of september i will be playing over seas. I am looking for help funding and sponcer ship to help me keep at elite level and finally make it into team gb. Any help or advise would be very greatfull
Hodgo
- 9-Apr-13 @ 4:29 PM
My 14 year old daughter is a wheelchair table tennis in the Yorkshire Disability Table Tennis Squad. There are approx 20 members in the squad to date of various ages and disabilities. We have just learnt from the ETTA that funding is no longer available and the squad is therefore likely to fold. I feel extremely sad and disappointed for this squad of young talented athletes. Are there any grants out there that we can try and apply for to keep the squad up and running? Thanks
Lesley
- 25-Mar-13 @ 9:33 PM
hi i have started small bore target shooting i have SYRINGOMYELIAit is a spinal cordsyrinx stooping most of all the singnels getting through to my body it is very rare and very painful going out to the club gives me hope and excitement to be able to be in a sport shooting i have my fire arms ticket and very keen to do better i have shoot well and have a high aggregate score i want to do more so i have bought my first gun but they are very expensive if i am to compete it matches i need a better rifle much better is there any help for me it will cost about £4900.i am trying to save about £10.00 a week but i need help with coaching i have talked to disabled shooting and my club is very keen for me to do it travel cost and tacking the right food all mounts up the gun has to be built for me as there are so many problems with me the words of horse and knackers yard come to light
We are a parent led charity for children and Young people with Down's Syndrome. We have as swimming club once a fortnight teaching our children young people/adults with Down's how to swim and improving their skills. We use a local hydro pool. We are in urgent need of a grant to keep this group going as it is now costing so much more to run. Please is there any grants out there we can apply for.
justjo
- 6-Oct-12 @ 11:55 AM
Hi I have recently started up Disabled Powerlifting at Stoke Mandeville with Chairman Glyn Hibbert BWAD only I am finding it hard to fund myself for my training, can I apply for some type of Grant as I am looking to compete at the 2016 Rio Paralympics. Kind regards
buddah
- 24-Sep-12 @ 9:45 AM
Please could you advise me if you or if you know of any funding opportunuities that I can apply for for a moderate learning difficulty school in Dunstable, Beds, Weatherfield Academy.We want to deliver dance to allow the pupils to express themselves and to raise confidence which will encourage the pupils to continue to be active beyond school.We also want to make a link to community dance to give the pupils the opportunity to continue their experience in the community. Kind regards, Anna
Anna
- 20-Jun-12 @ 4:24 PM
I am the only disabled (physically) member of Luton Judo Club and I am a Bronze medal winner at the British Closed Championships in 2009.My club is headed up by Chris Hobbs 5tth Dan and the club has had the most amazing success this year.We have won 3 commonwealth championship medals this year alone and the help they give to me as disabled judo player is massive.If we as a club could qualify for any kind of grant for judo equipment/courses that would be of huge help to the development of the younger judo players coming through.
Deano
- 1-Mar-12 @ 2:22 PM
I am a below knee amputee 40 years old only having my surgery last year (2010) I take it is too late for such an old man to get any help in trying to get fit with a grant from any charity body.it has not been a good year of recovery and now at last i can get into some sort of shape but alas I am no good for the paralympics and so will continue to suffer in silence without help from anyone.how can the older generation be expected to become involved when we are too old to be considered for any help i am not asking to become a gold medalist I just want some help in getting back into the world and enjoy myself.
Tallbloke
- 21-Sep-11 @ 11:05 PM