Help for Heroes Grants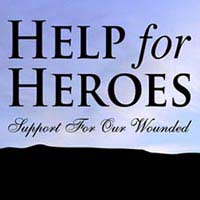 Help for Heroes began in October 2007. The founders were Emma and Bryn Parry. They set up the charity to help armed forces personnel who suffer injuries in Iraq and Afghanistan.
The principle behind the charity is to stand aside from politics and not make judgements. Help for Heroes exists simply to help wounded soldiers.
Growing Support
Despite the charity's relatively young age, it has more than one million supporters. With their commitment, it has raised almost £60 million.
Help for Heros Projects
The first £8 million raised went to DMRC (Defence Medical Rehabilitation Centre) Headley Court. The money was enough to provide a gym and swimming pool. These help the recovery process of injured service personnel.
Other projects include the construction of four Personnel Recovery Centres for £20 million. The first of these centres is due to open at Colchester.
A further £20 million will go to Individual Recovery Plans. These plans give the money for opportunities and courses that armed forces personnel need to secure their futures.
Grants For Charities and Organisations
As well as funding major projects, Help for Heroes gives grants to charities and organisations. The work of the organisations must relate to the needs of wounded servicemen and women.
Combat Stress is the charity that helps service personnel who have suffered severe mental trauma while at war. Help For Heroes gave Combat Stress its largest ever grant. This was £3.5 million for the Tyrwhitt House Treatment Centre in Surrey.
The Soldiers, Sailors, Airmen and Families Association (SSAFA) created a plan to offer temporary homes to the relatives of wounded service personnel. These homes would allow relatives from all over the country to visit injured servicemen and women at the Selly Oak Hospital. Help for Heroes gave a £520,00 grant to assist the scheme.
A grant of £100,000 from Help the Heroes has gone to the British Limbless Ex-Service Men's Association (BLESMA). The grant has funded events for wounded service personnel. These include a yacht race across the Atlantic and a visit to Colorado for skiing.
Troop Aid is a group of volunteers that gives gift packs to servicemen and women recovering at Selly Oak Hospital. The volunteers put together packs that have items such as underwear, a T-shirt and a phone card. Help for Heroes awarded Troop Aid a grant of £50,000. This has helped boost the effectiveness of the gift pack service.
The Rifles Casualty Capability Contingency Fund is a charity that supports the Rifles regiment. It gives valuable help to injured soldiers. Such help enables the soldiers to return to duty or make a positive entry into civilian life. The Contingency Fund also gives assistance to the families of those killed in Afghanistan and Iraq. Help for Heroes gave the Fund a grant of £100,000.
Initiatives
Help for Heroes has also awarded smaller grants for a wide range of initiatives. The main criterion is that the projects assist wounded soldiers, sailors and air force personnel.
Such grants can cover many different types of proposal. They have helped fund a disabled ski team, for example, and paid for therapeutic diving courses.
You might also like...