Early Learning Funding for Young Children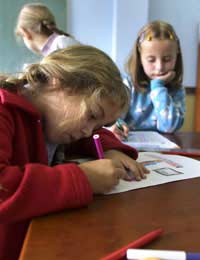 Parents in England can benefit from early learning funding for their young children. This type of early learning is not school; it is a chance for children to play and learn with each other in a secure and organised way.
Basic Details
The age of children who qualify for early learning funding is three and four. Each child can have at least 121/2 hours of free learning every week. The number of weeks that the learning runs during the course of a year is 38. From 2010, 121/2 hours of learning increases to 15 hours per week. The number of days over which this occurs is three.
Age Requirements
To help parents find out just when a child qualifies for early learning funding, the government has issued the following guidance:
For children with birthdays between 1 January and 31 March, eligibility begins on 1 April after they turn three
For children born between 1 April and 31 August, eligibility starts on 1 September after their third birthday
For children with birthdays between 1 September and 31 December, eligibility for early learning begins on 1 January after they reach the age of three
Whatever a child's birthday, the funding for free early learning places continues until he or she reaches the statutory school age of
Providers
The providers of free early learning are: preschools; playgroups; Sure Start Children's Centres; nurseries; and childminders. Nurseries can be day nurseries, maintained nursery schools, primary school nursery classes and private nurseries. Childminders must be on the local authority's registered list. They must also have approval to offer early learning. Local authorities provide all necessary advice to parents and can make the early learning arrangements. It's also possible to ask local Family Information Services about suitable providers in the area.
Standards
As with other aspects of education, early learning must meet certain standards. To begin with, all providers must be in the local authority's Directory. This helps ensure safety and consistency. Each provider also receives Ofsted inspections. These check for compliance to government goals, safety regulations, and appropriate childcare standards.
Finally, each provider must follow the priorities given in the government's Early Years Foundation Stage.
The Learning Process
The Early Years Foundation Stage has five main aims:
The first of these is to help children learn by playing. This is an established technique used successfully in many countries
The second is to encourage the providers of early learning to maintain regular contact with parents. The idea is to explain the process to parents and promote as much interest in early learning as possible
The next aim relates closely to the second. It states that a provider must remain aware of any learning a child does at home
The fourth objective is to keep parents informed of a child's learning progress
The fifth aim is to ensure that all children regardless of background and ability receive the same standard of learning, development and welfare. This also applies to disabled children and those with special needs
Costs
Early learning funding covers the provider's costs. Furthermore, all parents are eligible for the funding whatever their circumstances.
You might also like...
Hi, my son took an entrance examination with King Edward's School Birmingham and was asked for an interview for assisted placement but unfortunately he was not awarded an assisted placement.The school had advised that my son can still enrol as a full paying student based on his exam result.The problem is we cannot afford the fees.My son wants to pursue a career in Aero Engineering and aspire to become a Scientist.I hope that our circumstance wouldn't hinder him to follow his inspiration of a good school.Thank you.
Maria
- 21-Feb-13 @ 12:02 AM