Childcare Grants & Parents' Learning Allowance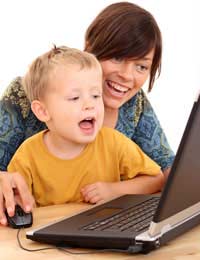 Choosing to attend higher education isn't a decision to be taken lightly. As we all know, students leave university heavily in debt and if you have children then getting into debt would be the last thing you want.There is, however, financial help available in the form of a Childcare grant, the Parents' Learning Allowance, the Access to Learning Fund and Child Tax Credit.
Childcare Grant
This type of funding is available to full-time students that have dependable children to help with the cost of childcare, whether that be a nanny or nursery, during term time and holidays.The added benefit of this is that the grant doesn't have to be paid back.
How much you receive is based on you income and that of your dependents and the total cost of the childcare.To be eligible for the childcare grant, you must be a full-time student, have dependent children that are under the age of 15 or have dependent children under the age of 17 that have special needs.However, if you are in receipt of Working Tax Credit, you won't be eligible for the Childcare grant as well.
If you are applying for this grant, then you are required to use specific forms of childcare that qualify for the grant.This includes those on the Ofsted Childcare Register, those approved under the Childcare Approval Scheme, a care worker registered with the National Care Standards Committee or a foster carer.
You can also apply for the grant if your child is to be cared for by an after school club, or an out-of-hours club run by your local authority.
Parents' Learning Allowance
Not only are tuition fees and living costs expensive when you are a full-time student, but there is the added cost of course materials, such as books.This is an extra element of funding and not included in your student loan, which also means that you don't have to pay it back.
As with most other grants, the amount you receive from the Parents' Learning Allowance depends on your household income. The maximum available to each individual is £1,470 per year and it is also worth bearing in mind that you can apply for this as well as the Childcare grant.
The process of applying to universities is a complicated one, and then to have to go through the application for a student loan will obviously put applying for grants on the back-burner for many.But, unlike other things that have to be done prior to you starting your course, both of these grants can be applied for during your course.
Access to Learning Fund
If you are a student on a low income and run into financial difficulties, then you may be eligible for the Access to Learning Fund.This is distributed at the discretion of the University or college, but those students that have children, particularly single parents, are a priority.
The Access to Learning Fund is supplied on top of your student finance package and universities expect you to have already applied for a student loan, grant or bursary. However, this doesn't necessarily mean that you have to pay it back.
Child Tax Credit
Any other grants you have received won't be counted if you apply to the HM Revenue and Customs for Child Tax Credit, but the amount you receive is calculate through your personal circumstances and income.
You might also like...
im a singlemum on low benefits and my daughter is going into yr 7 so I need to no where I can get help please with uniform
poppy
- 10-Mar-16 @ 12:21 PM
I am going to uni in sept and have just been told i am not entitled to childcare grant or parents allowance because my partner earns 21000 a year however with this he has to run the house and pay for it all including four children i have been awarded the normal grant and loan but with the bills i have to pay plus the books and travel there is not enough to pay for childcare as well the burserarys have also been slashed for first years too i don't know what to do as at the moment it looks like i will have to give up as can not put my self and family in financial hardship
annoyed student
- 20-Aug-13 @ 11:23 AM
Hello I have a friend whose' 15 year old son has just been offered a place at a performing arts school in London. Sadly he was not awarded the scholarship on offer and his parents are unable to afford to send him to the school. Is there a grant he is eligible for ?
Dumbledore
- 20-Mar-13 @ 10:54 AM
I want to start a college course in September that is 3 days (15 hours per week). Although the course is 15 hours it is classed as part time but i was told that part time is classed as 12 hours. I can only do this course if i will get assistance with childcare. Am i entitled to it? Could i do an extra course to top up more hours? Im a little confused.
Clairew
- 15-Mar-13 @ 12:51 PM
Hi I want to start a part time course in Human resource practice level 3, however the course cost is quite high andwas wondering iof there is any funding available for me i work part time at the moment and i am a single parent. any advice would be greatly apreciated. Thank you
Tracey
- 22-Nov-12 @ 8:01 AM
I am a third year student at university in liverpool, i have two dependent children and am in the predicament that Student Finance have all the way through my degree made excuses as to why i couldn't have a childcare grant and parents learning allowance, sadly i am an exceptional student receiving very high first class marks for each and every module but am now left, four months before my graduation with no choice but to leave my course of study, regardless of what anybody tells you, try and wait until your children are in full time education so you don't have to make the sacrifices i am having to make.
Emily
- 3-Feb-12 @ 6:09 PM
I am studying forPGCE. I have applied for a child care grant and the parents learning allowance. It is taking ages to process the application and our savings are rapidly running out. I was lead to believe that I would be eligible for both from the Uni. However, since reading a few threads on the internet I am panicking a bit about whether I have been given the correct information. I am married with two children aged 2 and 4. My husbands income is £1150 net, our mortgage, buildings insurance, council tax and life insurance cost £860 pcm. Our child care is £400 p/w. We receive working tax credit of £120 pcm but nothing towards childcare. We also receive £135 child benefit per month. I have been awarded the maintenance grant of £3000 and student loan of £6000. Will we be entitled to the childcare grant and parents learning allowance? I would really appreciate some advice please. Thanks, Liz
LizzyB
- 30-Oct-11 @ 11:41 AM
Im a student in full time education, 20 years old with a little boy aged 21 months. I have to travel quiet a bit everyday to get to college and back. I get wftc do I stil get parents learning allowance and childcare allowance?
lizzie
- 23-Aug-11 @ 3:21 PM
I have a child who I support financially, but he does not live with me. So i would like to know if I qualify for Parents' Learning Allowance.
dave
- 11-Jul-11 @ 3:01 PM