Qualifying for the Rural Enterprise Scheme (RES)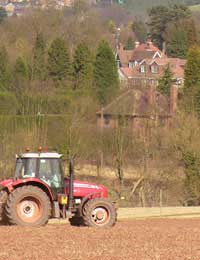 The Rural Enterprise Scheme (RES) which was designed to provide assistance for sustainable development projects within communities.
There is a wide range of projects covered by the scheme, but the primary aim is to help farmers adapt to the changes in the market and develop their business by investigating new opportunities.
Other types of projects would include those that have the potential to produce a commercial return, or those that will provide communities with social or environmental benefits.
It can be argued that one of the main aims of RES is to promote and encourage innovation within individual communities, and as a result of this there is no specific list of projects that would be eligible. But, this doesn't mean that just any old project can benefit from this scheme.
The list of things that the scheme will look at, although somewhat vague, includes things like, financial help towards the marketing of agricultural products,set-up costs for basic community services, such as transport schemes for those that are classed as being isolated, or the conversion of old out-buildings to create small businesses like tea shops or farm shops.
The Qualification Procedure
Now although this scheme covers a potentially large array of projects, the amount of funding available is not unlimited. This means that the grants are awarded on a selective, and regional, basis.
The eligibility process is tough and all applicants have to undergo technical analysis and are compared to other projects that are similar in design and structure to ensure that the one that will provide the most benefits to the community is selected.
It is important that you remember that this scheme is only applicable to those projects in England and also excludes those people who work in areas including Cornwall, the Scilly Isles and parts of Merseyside and South Yorkshire. This is because there are other schemes in these areas that provide funding for these types of projects.
The Application Process
Although there is no restrictions in place that determine when you should apply by, there is a limited budget so it is important that you submit your application as soon as possible.
Regional boards assess applications £15,000 in funding from the scheme can be fast-tracked.There are also separate procedures in place for those applications that are national and act as a mirror of projects based in single locations.
Show Me The Money
The RES fund doesn't limit the amount available to each project because it is actually intended to fill the gap between the true cost of the project and what you can realistically afford.However, the guidelines show that there are three bands for funding through RES.
Firstly, for those projects that have no, or a minimal amount of economic return the funding awarded will be between 50 per cent and 100 per cent. Projects like these, for example, would include those that are specifically designed as an aid to the community or local environment and don't necessarily provide a substantial amount of profit for the applicant.
Those projects where the return is the main objective, the amount of funding available is reduced to 30 per cent to 50 per cent. And finally, the projects that have the potential to return in excess of 25 per cent of the initial investment, then the funding is between 15 per cent to 30 per cent.
You might also like...
Hi, I am looking into funding for my business. I have recently started up my own business, after 14 years in biomass, with my son. We are called biofire and we work with renewable energy/biomass all over the UK.
Nick
- 26-Dec-19 @ 2:24 PM
Lookingfor funding for a range of granite barns to convertresidential. Need help with getting planning permissions..have to act now on thesebuildings no longer in use on farm.
Charlie
- 9-Dec-19 @ 7:03 AM
Lookingfor funding for a range of granite barns to convertresidential. Need help with planningpermissions
Charlie
- 9-Dec-19 @ 6:59 AM
I have just built a Shepherds Hut to let as part of our smallholding business. The letting agents are encouraging me to add a wood fired hot tub to improve the number of bookings. Is there a grant available for this? I have invested £25k already. Many thanks
Bruce
- 6-Dec-19 @ 9:07 AM
I am just about to purchase a property with an acre garden and I would like to build 2 solar powered timber framed holiday lets. I understand that projects that bring tourists to the Dover area are encouraged. Would I be eligible for any government grants?
Alison
- 29-Sep-19 @ 2:42 PM
we are looking to replace the roof on our old stone shippon to start rearing new calfs . the building hasnt been used since we stopped milking many years ago . are there any 100% grants available to get me started please
gilly
- 29-Sep-19 @ 2:16 PM
Hi, my parents have a farm which used to be a dairy farm but they no longer farm dairy. I was hoping to convert the old milking parlour into a rentable workshop space and event /shop/cafe. Would this qualify for a grant?
Nat
- 3-Sep-19 @ 12:16 PM
Hi, we are thinking of converting our stone barn on are small farm to holiday let's , we are in Crickhowell Powys , South Wales , can we get funding, thanks david
Db
- 20-Aug-19 @ 11:23 AM
Hi , I have started a small Apairy in a meadow in Londonderry, Northern Ireland, I'm trying to boost the bee population.As well as trying to get the members of the public interested by funding a hive. I would like to expand the Apairy. Would this be somethingthat could be funded. Many thanks Craig
Craig
- 16-Aug-19 @ 12:30 AM
Hi there, we live in a very rural area on a small holding previously used as a milking Parlour.We live on site.I currently run a dog grooming business from one of the large barns.My husband and I are looking to open boarding kennels too as there is only one small boarding business in the area. We require extra funding for redevelopment to make the whole barn soundproof. We are looking to create two new jobs in our local area if we receive funding to assist with the costs. Look forward to hearing from you Kind regards Louisa Dean
We would like to renovate part of a barn to make a learning area and toilets for our school visits to the farm. Are there any grants or help to do this please?
Sarah
- 20-Jul-19 @ 9:51 AM
Hi, we need to build a new cattle shed so we can take animals through to finishing. Any grants available ?
milkmaid
- 10-Jul-19 @ 8:39 PM
Looking at converting unused building on family farm to set up a small rare breeds Centre with coffee shop, what grants etc are available and who is the best people to help
Chipie
- 11-Jun-19 @ 9:16 PM
Hi, struggling to find any links to the Rural Enterprise Scheme. Is it also called the Rural Development Fund ? Thank you.
ARK
- 27-May-19 @ 5:04 PM
Hi looking at holiday let's for our ex small dairy farm , I have looked online for grants but it's is slightly daunting, can you please help . Regards Spike
Spike
- 8-May-19 @ 8:56 AM
we are a small renewable energy company supplying solar pv,heat pump and recently vertical axis wind turbines.we have sourced and fitted the turbines with surprising results.our aim is to expand this field as it is brand new to the uk.we fit to private dwellings including commercial applications.this is a clean green alternative to current supplies of energy.
andy
- 29-Apr-19 @ 3:02 PM
Hello We have a small stone barn on our farm that is no longer in use. I would like to convert this into a workshop to run a floristy business from. There is no florist in our local town and I feel that there is a gap in the market. Are there any grants available to help convert the barn?
Jojo
- 19-Apr-19 @ 7:12 PM
Just got planning permission for a 60ftx25ft barn in droitwich Worcestershire.we plan to breed rate breeds of animals and rescue animals.can I get funding??
Wardy
- 28-Mar-19 @ 1:48 PM
I have an established Arabian stud farm & specialise in conserving rare bloodlines. I have also rescued many Arab horses & would now like to help people who suffer with PTSD by using the rescued horses as horse therapy has been proven to be very helpful. I am based in Devon but have found a more suitable premises in Somerset.
Hello I have an established Arabian stud farm where I specialise in conserving old bloodlines. I have also rescued many Arabs in the past but would like to branch out into the communityby using these rescued Arab horses to help people with PTSD. I have found a suitable premises but would like to help towards the costs of setting it up. I look forward to hearing from you Gina
Hello we are looking to set up some glamping pods and a tree house in leicestershire on our farm as the farming alone doesnt cover costs. Ive look online and a lot of the grants online are out of date or like LAG closed to applications. We need to try find a grant to help but im at a loss. Thanks
Lisa
- 4-Jan-19 @ 11:38 AM
I would like funding for a toilet facility at a rural hair salon for Metfield, Ip200lb. I have been open two years and the customers keep mentioning how this would of benefit to them.Especially the elderly and kids. I have on numerous occasions asked my landlords,who tell me it's being considered.I knew when I took the premises it was a downfall. So how would fare trying for a grant
Sandy
- 17-Nov-18 @ 6:53 PM
I would like to start up as a Harness and Collar Maker (for horses etc.) I am fully qualified but require additional funding to continue.This is a dying craft which I am passionate about. Any assistance would be gratefully received.The area is Cambridgeshire, UK.
I am 19 years old and I have just inherited our family farm I would love to start commercial bee keeping I am passionate about the environment and wildlife. The farm is a wildlife haven with large hedge rows and ponds with abundance of wildlife. And I'm very interested in diversifying the farm into a wildlife vistors center in the future. Would like to know if any grants are available for my projects.
Will
- 20-Sep-18 @ 3:58 PM
I am exploring purchasing the local shop which hasn't traded for 2 years due to poor management. Would your scheme help to fund the purchase of the premise and revamp? The main aim is to generate emplyment to adults in the village as well as a safe place for the elderly to go and get local produce. Any guidance would be appreciated. Many Thanks Tom
Tom
- 17-Aug-18 @ 1:09 AM
Bob Taylor - Your Question:
We have planted an apple pear and plum orchard as well as other soft fruits which are now producing significant amounts of fruit and would to start producing cold pressed and pastuerised juices and cordials to sell locally.Is there a grant available to assist us with the start up.we are in rural Shropshire.
---
Our Response:
Try the Rural Development Programme for England (RDPE) Growth Programme or
Leader Scheme.
GrantsExpert
- 13-Aug-18 @ 11:36 AM
We have planted an applepear and plum orchard as well as other soft fruits which are now producing significantamounts of fruitand would to start producing cold pressed and pastuerisedjuicesand cordials to sell locally.Is there a grant available to assist us with the startup.we are inrural Shropshire.
Bob Taylor
- 11-Aug-18 @ 6:22 PM
Ali - Your Question:
I want to convert a building or buy a portakabin which is eco friendly and to be used for cheese production. Where would I begin looking for a grant?Thanks
---
Our Response:
Try the above suggestions and also business start up grants. Your local council will be able to refer you to locally organisations that can help.
GrantsExpert
- 1-Aug-18 @ 3:07 PM
I want to convert a building or buy a portakabin which is eco friendly and to be used for cheese production. Where would I begin looking for a grant? Thanks
Ali
- 31-Jul-18 @ 1:09 PM
Mark Lindsell - Your Question:
HiI have a working farm - now mainly arable and have a few old buildings that were originally used for pigs but have been redundant for decades - am thinking of converting them to office/studio space's are there grants available for such projects.ThanksMark
---
Our Response:
There may be some farm diversification grants available in your area - start with the
government advice
for more details.
GrantsExpert
- 30-Jul-18 @ 11:59 AM