Qualifying for the Rural Enterprise Scheme (RES)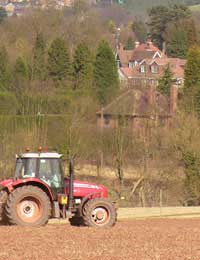 The Rural Enterprise Scheme (RES) which was designed to provide assistance for sustainable development projects within communities.
There is a wide range of projects covered by the scheme, but the primary aim is to help farmers adapt to the changes in the market and develop their business by investigating new opportunities.
Other types of projects would include those that have the potential to produce a commercial return, or those that will provide communities with social or environmental benefits.
It can be argued that one of the main aims of RES is to promote and encourage innovation within individual communities, and as a result of this there is no specific list of projects that would be eligible. But, this doesn't mean that just any old project can benefit from this scheme.
The list of things that the scheme will look at, although somewhat vague, includes things like, financial help towards the marketing of agricultural products,set-up costs for basic community services, such as transport schemes for those that are classed as being isolated, or the conversion of old out-buildings to create small businesses like tea shops or farm shops.
The Qualification Procedure
Now although this scheme covers a potentially large array of projects, the amount of funding available is not unlimited. This means that the grants are awarded on a selective, and regional, basis.
The eligibility process is tough and all applicants have to undergo technical analysis and are compared to other projects that are similar in design and structure to ensure that the one that will provide the most benefits to the community is selected.
It is important that you remember that this scheme is only applicable to those projects in England and also excludes those people who work in areas including Cornwall, the Scilly Isles and parts of Merseyside and South Yorkshire. This is because there are other schemes in these areas that provide funding for these types of projects.
The Application Process
Although there is no restrictions in place that determine when you should apply by, there is a limited budget so it is important that you submit your application as soon as possible.
Regional boards assess applications £15,000 in funding from the scheme can be fast-tracked.There are also separate procedures in place for those applications that are national and act as a mirror of projects based in single locations.
Show Me The Money
The RES fund doesn't limit the amount available to each project because it is actually intended to fill the gap between the true cost of the project and what you can realistically afford.However, the guidelines show that there are three bands for funding through RES.
Firstly, for those projects that have no, or a minimal amount of economic return the funding awarded will be between 50 per cent and 100 per cent. Projects like these, for example, would include those that are specifically designed as an aid to the community or local environment and don't necessarily provide a substantial amount of profit for the applicant.
Those projects where the return is the main objective, the amount of funding available is reduced to 30 per cent to 50 per cent. And finally, the projects that have the potential to return in excess of 25 per cent of the initial investment, then the funding is between 15 per cent to 30 per cent.
You might also like...
Please could someone advise me whether there are any grants available to help me set up my Log Pod Glamping business, i have got full planning permission in place but need support to start . Thankyou
Alypally
- 1-Jun-20 @ 6:58 PM
We are thinking of buying some glamping pods to put on our farm in the Yorkshire dales national park, would we be eligible for this grant and how would we apply?
charlie
- 31-May-20 @ 11:39 AM
Hi we have just renovated and are in the process of developing two barn conversations and the annexe of our farmhouse to let as holiday accommodation and we would like to further develop our land into a glam ping site. Would we be considered?
Lee
- 22-May-20 @ 12:21 PM
Hi my grandparents own a small farm and They are semi reitired and I'm looking to take over and expand. But I need to build some new buildings some cattle sheds and some sheds for storage for hay and straw. Also looking to hopefully build and open a farm shop is this grant helpful in anyway Thanks
Scott1
- 16-May-20 @ 5:24 PM
Hi,we are looking for help with funding to buy and do up an abandoned farm from our local council. We would like to start a farm shop and tearoom on there. Where do we start looking for help.
Emma
- 16-May-20 @ 11:32 AM
Hello, is this grant scheme still open and under what governing body?
Katie
- 12-May-20 @ 3:36 PM
We are looking at converting one of the barns into a residential property for a member of our family and long term to become a holiday let. Are there any grants available for this?
Kate
- 8-May-20 @ 4:34 PM
I would like to start my own equestrian centre that would double up as a wedding venue. Where do I start an could I get a grant for this? Many thanks Jasmine
Jaz
- 7-Apr-20 @ 11:02 AM
I have recently set up a small business in one of our farm buildings. We have a play area and I teach phonics to small children. Is there any grants to help renovate the barn to make it more suitable for the lessons.
Sar
- 5-Mar-20 @ 10:44 PM
Hi there I have a small holding & I have planting 240 fruit trees of several variety. I am looking to build a farm building for Apple press & cider making . Please can you help with what grants I can apply. Thanks
Sandy
- 4-Mar-20 @ 9:15 AM
We have 2 outbuildings in need of renovation which would be perfect to House a bunk barn for cyclists visiting the local forest area, together with a cafe space and holistic therapy space for yoga, treatments and meditation. It's something we have been considering and already run a cafe and workshops from a rented location - so a move and widening of our business? Are we eligible?
Dawn
- 3-Feb-20 @ 8:42 AM
I have just started a new business involving a Red Deer Farm and processing unit. Is this something that could qualify for a grant?
Ian
- 2-Feb-20 @ 11:22 PM
I have just started a new business involving a small red deer farm and processing unit. Is this something that could qualify for a grant?
Ian
- 2-Feb-20 @ 11:20 PM
Hi we are looking to set up a kennels /dog cafe we have a farm that is redundant to the farm but the buildings would make a great conversion and business are grants and loans available to farming family
Rachel Frank
- 1-Feb-20 @ 7:28 AM
Hi, I am looking into funding for my business. I have recently started up my own business, after 14 years in biomass, with my son. We are called biofire and we work with renewable energy/biomass all over the UK.
Nick
- 26-Dec-19 @ 2:24 PM
Lookingfor funding for a range of granite barns to convertresidential. Need help with getting planning permissions..have to act now on thesebuildings no longer in use on farm.
Charlie
- 9-Dec-19 @ 7:03 AM
Lookingfor funding for a range of granite barns to convertresidential. Need help with planningpermissions
Charlie
- 9-Dec-19 @ 6:59 AM
I have just built a Shepherds Hut to let as part of our smallholding business. The letting agents are encouraging me to add a wood fired hot tub to improve the number of bookings. Is there a grant available for this? I have invested £25k already. Many thanks
Bruce
- 6-Dec-19 @ 9:07 AM
I am just about to purchase a property with an acre garden and I would like to build 2 solar powered timber framed holiday lets. I understand that projects that bring tourists to the Dover area are encouraged. Would I be eligible for any government grants?
Alison
- 29-Sep-19 @ 2:42 PM
we are looking to replace the roof on our old stone shippon to start rearing new calfs . the building hasnt been used since we stopped milking many years ago . are there any 100% grants available to get me started please
gilly
- 29-Sep-19 @ 2:16 PM
Hi, my parents have a farm which used to be a dairy farm but they no longer farm dairy. I was hoping to convert the old milking parlour into a rentable workshop space and event /shop/cafe. Would this qualify for a grant?
Nat
- 3-Sep-19 @ 12:16 PM
Hi, we are thinking of converting our stone barn on are small farm to holiday let's , we are in Crickhowell Powys , South Wales , can we get funding, thanks david
Db
- 20-Aug-19 @ 11:23 AM
Hi , I have started a small Apairy in a meadow in Londonderry, Northern Ireland, I'm trying to boost the bee population.As well as trying to get the members of the public interested by funding a hive. I would like to expand the Apairy. Would this be somethingthat could be funded. Many thanks Craig
Craig
- 16-Aug-19 @ 12:30 AM
Hi there, we live in a very rural area on a small holding previously used as a milking Parlour.We live on site.I currently run a dog grooming business from one of the large barns.My husband and I are looking to open boarding kennels too as there is only one small boarding business in the area. We require extra funding for redevelopment to make the whole barn soundproof. We are looking to create two new jobs in our local area if we receive funding to assist with the costs. Look forward to hearing from you Kind regards Louisa Dean
We would like to renovate part of a barn to make a learning area and toilets for our school visits to the farm. Are there any grants or help to do this please?
Sarah
- 20-Jul-19 @ 9:51 AM
Hi, we need to build a new cattle shed so we can take animals through to finishing. Any grants available ?
milkmaid
- 10-Jul-19 @ 8:39 PM
Looking at converting unused building on family farm to set up a small rare breeds Centre with coffee shop, what grants etc are available and who is the best people to help
Chipie
- 11-Jun-19 @ 9:16 PM
Hi, struggling to find any links to the Rural Enterprise Scheme. Is it also called the Rural Development Fund ? Thank you.
ARK
- 27-May-19 @ 5:04 PM
Hi looking at holiday let's for our ex small dairy farm , I have looked online for grants but it's is slightly daunting, can you please help . Regards Spike
Spike
- 8-May-19 @ 8:56 AM
we are a small renewable energy company supplying solar pv,heat pump and recently vertical axis wind turbines.we have sourced and fitted the turbines with surprising results.our aim is to expand this field as it is brand new to the uk.we fit to private dwellings including commercial applications.this is a clean green alternative to current supplies of energy.
andy
- 29-Apr-19 @ 3:02 PM