Qualifying for the Rural Enterprise Scheme (RES)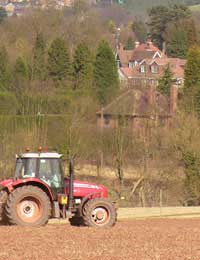 The Rural Enterprise Scheme (RES) which was designed to provide assistance for sustainable development projects within communities.
There is a wide range of projects covered by the scheme, but the primary aim is to help farmers adapt to the changes in the market and develop their business by investigating new opportunities.
Other types of projects would include those that have the potential to produce a commercial return, or those that will provide communities with social or environmental benefits.
It can be argued that one of the main aims of RES is to promote and encourage innovation within individual communities, and as a result of this there is no specific list of projects that would be eligible. But, this doesn't mean that just any old project can benefit from this scheme.
The list of things that the scheme will look at, although somewhat vague, includes things like, financial help towards the marketing of agricultural products,set-up costs for basic community services, such as transport schemes for those that are classed as being isolated, or the conversion of old out-buildings to create small businesses like tea shops or farm shops.
The Qualification Procedure
Now although this scheme covers a potentially large array of projects, the amount of funding available is not unlimited. This means that the grants are awarded on a selective, and regional, basis.
The eligibility process is tough and all applicants have to undergo technical analysis and are compared to other projects that are similar in design and structure to ensure that the one that will provide the most benefits to the community is selected.
It is important that you remember that this scheme is only applicable to those projects in England and also excludes those people who work in areas including Cornwall, the Scilly Isles and parts of Merseyside and South Yorkshire. This is because there are other schemes in these areas that provide funding for these types of projects.
The Application Process
Although there is no restrictions in place that determine when you should apply by, there is a limited budget so it is important that you submit your application as soon as possible.
Regional boards assess applications £15,000 in funding from the scheme can be fast-tracked.There are also separate procedures in place for those applications that are national and act as a mirror of projects based in single locations.
Show Me The Money
The RES fund doesn't limit the amount available to each project because it is actually intended to fill the gap between the true cost of the project and what you can realistically afford.However, the guidelines show that there are three bands for funding through RES.
Firstly, for those projects that have no, or a minimal amount of economic return the funding awarded will be between 50 per cent and 100 per cent. Projects like these, for example, would include those that are specifically designed as an aid to the community or local environment and don't necessarily provide a substantial amount of profit for the applicant.
Those projects where the return is the main objective, the amount of funding available is reduced to 30 per cent to 50 per cent. And finally, the projects that have the potential to return in excess of 25 per cent of the initial investment, then the funding is between 15 per cent to 30 per cent.
You might also like...
Hello I am looking for a grant for beekeeping. To be used for equipment and storage. Thanks.
Oliver
- 14-Jan-21 @ 3:11 PM
Would like to create walkway/cycle paths, build tree house bring back natural water wildlife opening ponds, while small damping waterways. This is to improve overall outlook and appearance for tourists on outstanding beauty for insects and fauna, grants required to achieve this goal
Gazz
- 9-Jan-21 @ 7:00 PM
Hi I'm looking at a site in Dorset with the aim to set up a community small holding that would double in providing courses on all the basics people would need to start a small holding of their own. Part of this would be the conversion of barns to onsite accommodation. We would hope to heat/power most of the site with a combination of GSHP and solar PV. What aspects of this could potentially be aided with grants.
Joel Carter
- 31-Dec-20 @ 12:55 PM
Hi I'm a Beekeeper looking to expand. I have the spaces across multiple farms in Nottinghamshire. I would like to turn this into a large scale commercial operation that also links community and schools in NottinghamshireWould the grants be available to a project like this? Needs are Equipment, more storage facilities, resources for teaching programs.
Jen
- 25-Dec-20 @ 11:03 PM
We have 3 acres of spare grass land running alongside a tree lined stream which we would like to turn into a wild flower meadow and another 6 acres the other side of the stream where we could do the same.Also there is a 2 acre hillside field which could benefit from tree planting.All of these projects would benefit the environment and any help or advice would be greatly appreciated.Many thanks.
Eric
- 22-Nov-20 @ 11:07 AM
Hi, as new regulation have set in and no longer able to gas stored potatoes, we are looking to convert it too a refrigerated system. This will keep the potatoes stored for a long period as we sell them to the community from our shop. Regards Luke
Luke
- 11-Nov-20 @ 2:01 PM
Are there grants available to convert old farm buildings to holiday let's?
Rambo
- 21-Oct-20 @ 7:52 PM
STV are wanting to hear from Farmers who are diversifying their farms for a brand new Channel 5 TV series - please email farming@stv.tv for more information!
Bradley
- 29-Sep-20 @ 10:12 AM
We would like to convert an old stable block into two holiday cottages the building will retain all its features is there grants available to do this we are in a rural area of Norfolk.
Lenny
- 17-Sep-20 @ 11:27 AM
Hi - We are planning to renovate and use an old grain dryer shed as a repair workshop for the community. The idea is that it will accommodate a number (perhaps 4-5 repairers) and it will be a drop-off and collection point for items to be repaired. Would there be any grant support? We need to repair the roof, install electrics, insulate,clean up the space and generally make it usable.
Hugh
- 14-Sep-20 @ 7:52 AM
I would like to renovate 2 tumble down ancient pig sties/ cattle stalls into a couple of rooms for b & b. A grant for this might make it possible. Can you give me any information please. Sarah
Sarah
- 9-Sep-20 @ 5:37 PM
Hello, I am a new entrant in agriculture currently keep bees and graze cattle on wildflower meadows for conservation grazing but would like to grow the amount of colonies of bees I have in order to offer pollination to the wild flower meadows is there any way you could help me with any sort of funding, help or even advice? Any help on my adventure would be appreciated thanks!
Jimbo
- 29-Aug-20 @ 8:42 PM
Hello We would like to use Restore unused farm buildings and yard as a storage facility, would we be Eligible for funding for a project like this.
Sue
- 19-Aug-20 @ 1:28 PM
There are two dis-used agricultural buildings, a Brew House and Cart Shed, in the grounds which I wish to re-build and restore to house and display heritage Collections to the public and Schools and restore as a Community Hall, with Shop and Cafe.on the Isle of Wight. Are financial grants available for these buildings as they are in the curtilege of a Listed Manor house. If so, which Grant funders should I approach?.
Annie
- 18-Aug-20 @ 3:54 PM
Hi, we are looking to convert our barn into holiday lets.We live on a farm in South Wales and was wondering are there any grants available for this huge project.THank you
Ina
- 13-Aug-20 @ 6:09 PM
I live in Cornwall and have just read that the Rural Enterprise Scheme doesnt extend to People living in Cornwall. Please can you advise and refer me to your partner organisation in Cornwall so that i may apply fpr somilar assistance. Many thanks.
AH
- 31-Jul-20 @ 12:37 PM
Hi i have a farm barn which hasn't been used for years. I am wanting to convert it, but getting confused with all the grant information, is there a grant to convert farm buildings? Thanks in advance
Charl
- 16-Jul-20 @ 11:31 AM
Hi, as I lost my job at the onset of the lockdown, I started up a paddock maintenance business specialising in the smaller paddocks ( up to 6 acres).I am located in the NewForest,and have found that there is a BIG call for this type of business. I use a compact 30hp tractor at present, with various implements ranging from toppers to pipe layers, box levellers etc.However, the tractor I have is quite old (its rather unreliable), and I also require more implements - is there any way I could get help to replace my tractor and get a muck spreader.We are the only company in the New Forest area that does this kind of work - the sites we work on, the bigger tractors can't or won't do the work as its not worth their while coastwise, or they can't gain access as they are too big.Some help would be so gratefully received. Many thanks
Glen
- 15-Jul-20 @ 3:52 PM
Hi I am a new beekeeper on the west coast of scotland and was wondering if there are any grants that will enable me to increase the number of colonies i have and purchase new equipment such as suits and honey extraction equipment so that i can mentor other beekeepers and young people interested in the whole process Thanks Neil
Neil
- 2-Jul-20 @ 9:43 AM
Hi there. We have an upland hill farm in south powys and are thinking about converting a barn into a holiday let but are not able to afford the cost of this project. Would we be legible for any sort of grant? Thanks in advance Michael
michael
- 1-Jul-20 @ 1:25 PM
Hi. I want to increase number of bee hives in west London and out of London areas, by finding people who want to host some hives and live next to parks or nature resort. And then placing hives there and look after them. Is there grants to support my vision.
Andrii
- 21-Jun-20 @ 11:36 PM
We are looking to convert our barn into a holiday let. Would we be eligible for a grant? Many thanks
GDM
- 8-Jun-20 @ 10:20 PM
We are looking to purpose build a building to open a tea room & events business on our farm & wondered if there are any grants/funding available please
Speedy
- 4-Jun-20 @ 5:00 PM
We farm in the national park, are looking to build a purpose built tea room & events business& wondered if there are any grants available please
Speedy
- 4-Jun-20 @ 4:57 PM
Please could someone advise me whether there are any grants available to help me set up my Log Pod Glamping business, i have got full planning permission in place but need support to start . Thankyou
Alypally
- 1-Jun-20 @ 6:58 PM
We are thinking of buying some glamping pods to put on our farm in the Yorkshire dales national park, would we be eligible for this grant and how would we apply?
charlie
- 31-May-20 @ 11:39 AM
Hi we have just renovated and are in the process of developing two barn conversations and the annexe of our farmhouse to let as holiday accommodation and we would like to further develop our land into a glam ping site. Would we be considered?
Lee
- 22-May-20 @ 12:21 PM
Hi my grandparents own a small farm and They are semi reitired and I'm looking to take over and expand. But I need to build some new buildings some cattle sheds and some sheds for storage for hay and straw. Also looking to hopefully build and open a farm shop is this grant helpful in anyway Thanks
Scott1
- 16-May-20 @ 5:24 PM
Hi,we are looking for help with funding to buy and do up an abandoned farm from our local council. We would like to start a farm shop and tearoom on there. Where do we start looking for help.
Emma
- 16-May-20 @ 11:32 AM
Hello, is this grant scheme still open and under what governing body?
Katie
- 12-May-20 @ 3:36 PM