English Heritage Grants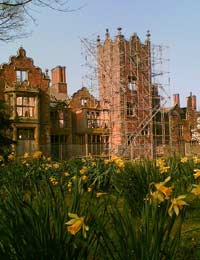 English Heritage has a major influence on cultural life. Each year, it awards £30 million towards the restoration and upkeep of historic buildings, monuments and designed landscapes. Furthermore, these symbols of English tradition attract an annual 11 million visitors.
Source of Funding
700,000 members support English Heritage. Each member pays a yearly subscription. Most of the organisation's funds, however, come from private donations, commercial ventures and the Department for Culture, Media and Sport.
Grant Criteria
The priorities of English Heritage are historic environments that are at significant risk, and proposals that improve the management of England's historic environment. An application for a grant must first meet these national criteria. It then has to match secondary priorities. A grant proposal must:
Show a financial need for restoration and upkeep
Demonstrate that the historic building or site has a long-term future
Show that the historic building or site needs restoration work within two years
Applications should also convince English Heritage that other benefits are likely to come from a grant award. These benefits include the development of skills and training; educational and social advantages; partnership working with other fund providers; availability of the building or site to visitors; improvements to the local economy. If a proposal passes these tests, it must meet regional funding priorities. There are nine such regions. Interested grant applicants should contact English Heritage for the priorities that apply to their proposals.
Within the East Midlands region, for example, the priorities are grant applications that refer to structures registered as at risk; structures or landscapes that may be able to play a part in regional and local strategies; schemes for managing conservation projects. Finally, any grant application that meets all national and regional priorities should fall into one of the categories given below.
1. Grants for War Memorials
English Heritage works with the Wolfson Foundation and the War Memorials Trust to provide grants for the repair and upkeep of war memorials. Anyone interested in applying for funds should speak first to the War Memorials Trust.
2. Historic Buildings, Designed Landscapes and Monuments Grants
England has many historic monuments, buildings and designed landscapes. The maintenance costs of these can be huge. English Heritage grants are available for urgent repairs and conservation work. Grants can also pay for the commissioning of professional reports that outline any repairs and management that a building, monument or landscape may need.
3. Grants for Local Authorities
Local Authorities can apply to English Heritage for grants that improve, protect and control their historic environments. Grants can cover all or some of the costs of repairs; help to buy historic buildings and designed landscapes; and fund relevant heritage jobs.
4. Grants for Repairs to Places of Worship
Any faith group can apply for a grant to assist towards the repair of places of worship. Such places must be listed buildings. Demand for these grants is high. The types of urgent repair that may qualify include repairs to spires, roofs and guttering.
5. National Capacity Building Grants
National Capacity Building refers to projects that champion the conservation of the historic environment and the public's use of it. Projects must meet at least one of the following goals:
Provide support to organisations that are obliged in law to look after the historic environment
Encourage and publicise best practice policies that manage, conserve, interpret and document the historic environment
Stimulate the interest of local communities in their historic environments
6. Regional Capacity Building Grants
The goals of the Regional Capacity Programme are similar to those of the National Capacity scheme. The main difference is that projects should provide information about a region's specific historic environment.
7. Management Agreements
England has monuments in cities, towns, villages and fields. Some, such as burial mounds and earthworks, date back thousands of years.
English Heritage management agreements are for the owners and tenants of land on which monuments stand. An agreement applies for either three or five years. Under its terms, a landlord or tenant can receive financial help with repairs and upkeep.
8. National Heritage Protection Commissions Programme
This grants scheme gives money for assessing, researching, surveying and developing historic structures and landscapes. It can also fund archaeological projects. Universities, charities, companies and local authorities may apply. Individuals who are interested in such grants must be self-employed.
You might also like...
Els- Your Question:
Hi we live in the manse malmesbury which is attatched to the Moravian church , our home is grade 2 * listed. We are in the process of needing to start thinking about replacement sash windows up stairs and would like your advice if we would be eligible for any grants ? Thanks Kind regards Ellen foreman
---
Our Response:
It's unlikely you'd get a grant unless your income levels are low enough to perhaps qualify for some help from one of the energy company's (to improve insulation etc). You could try English Heritage orHistoric England.
GrantsExpert
- 28-Feb-17 @ 10:26 AM
Hi we live in the manse malmesbury which is attatched to the Moravian church , our home is grade 2 * listed . We are in the process of needing to start thinking about replacement sash windows up stairs and would like your advice if we would be eligible for any grants ? Thanks Kind regards Ellen foreman
Els
- 26-Feb-17 @ 2:25 PM