Grants for Expeditions & Travel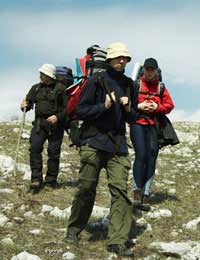 Anyone with an idea for an unusual expedition abroad, or for a trip that has a purpose other than a holiday, should seek details about available grants. There's a wide range of bodies willing to help with the cost of mounting an expedition. Some of them are also able to attract publicity and further sponsorship.
Don't Delay
It's vital, though, to start looking for support without delay. Some grant applications can take a while to process. Others lay down criteria that an expedition team may not be able to meet straightaway.
Universities
One common source of expedition funding is universities. University College London (UCL), for example, has an expeditions and travel committee.
The UCL committee makes annual awards of expedition grants to teams of students who wish to explore challenging environments around the globe. These environments must demand unique team and organisational skills.
Individual UCL students can also apply for travel grants. Again, the travel must be challenging. It should also have a clear purpose and require personal initiative.
Another instance of a higher education body with a travel and education committee is the University of East Anglia. The committee not only gives grants to students who wish to travel; it also suggests additional sources of finance.
Royal Geographical Society
The Royal Geographical Society has grants available for teachers, researchers, postgraduates and undergraduates.
The Society has a total of around 25 grants and awards. These provide funds to 40 – 50 teams each year.
The Journey of a Lifetime award, for example, is for a trip to any destination on the planet. The funding is £4,000.
The Neville Shulman Challenge Award goes to a team that increases understanding of the world through exploration. The amount of the award is up to £8,000.
YET
The Young Explorers' Trust (YET) has a grant scheme for anyone under 19. The purpose of the scheme is to help young people engage in adventurous expeditions. Such expeditions must have YET approval.Other YET awards include the David Hollier Expedition Award and the Stephenson Expedition Award.
The David Hollier Award does not insist on certain criteria. But successful applicants usually have connections with scouting or the Duke of Edinburgh Award scheme.
The Stephenson Expedition Award generally goes to polar expeditions.
Gilchrist Educational Trust
The Gilchrist Educational Trust in West Sussex has grants of £1,000 - £2,000 for small or medium-sized expedition teams. A team must intend to conduct scientific research. Team members must also be willing to contribute their own money towards expedition costs.
British Mountaineering Council
The British Mountaineering Council (BMC) can supply money for international climbing expeditions. Applicants must be BMC members. They should also show that a grant would make a substantial difference to the proposed trip.
British Sub-Aqua Club
The British Sub-Aqua Club (BSAC) runs an expeditions grant scheme known as BEGS. Every year, BSAC has five expedition awards, each worth £1,000. The purpose of a BSAC expedition must be to discover new dive sites or improve the skills of a team of divers. To apply, divers must be BSAC members.
Support
The above are just a few examples of expedition and travel grants in the UK. The country has a long tradition of supporting exploration; so those who have a proposal for a trip may well find help.
You might also like...
Hi my 15 year old daughter has been offered a placement for a trip to Sri Lanka in July 2018 but it's going to cost over £1000 plus extra spending money and visa pass clothes ext does anyone know of any places for help with costing im on benefites at moment but I don't want her to miss out as it's part of her education
Michelle Burke
- 22-Sep-17 @ 2:53 PM
Hi, I am organising a wildlife trip from Kenya to Capetown and back creating awareness of The endangered Rhino, and other animals that are on the endangered list. The idea is to visit schools in the areas that poaching has been at its worst and create awareness of this big problem. Any help would be much appreciated. Thanks
Simba
- 9-Jul-17 @ 2:28 PM
Agriggs - Your Question:
Hi, my son has gone on a trip to pencilling with primary school they wanted 300 and something pounds I can't afford that I'm disabled on Esa my partner can't work as has to care for me and my children, the school said I would get help! I payed £45 and kept asking if I had to pay any more, I've been asking for months no one got back to me. My son went on his trip today Monday, the Friday just gone the school phone me and tell me I have to pay £195 still. I'll struggle paying that, I'm trying to save to buy his secondary uniform plus have a 9 year old. I had more help at my boys last school why do they want me to pay so much?
---
Our Response:
Ask the school if there is anywhere else you can look for funding. They should really have informed you of the amount you were expected to pay. They might be able to offer you the option of payment by instalments too. Try the
Turn 2 Us
website to find any other funding help.
GrantsExpert
- 17-May-17 @ 11:44 AM
Hi, my son has gone on a trip to pencilling with primary school they wanted 300 and something pounds I can't afford that I'm disabled on Esa my partner can't work as has to care for me and my children, the school said I would get help! I payed £45 and kept asking if I had to pay any more, I've been asking for months no one got back to me. My son went on his trip today Monday, the Friday just gone the school phone me and tell me I have to pay £195 still. I'll struggle paying that, I'm trying to save to buy his secondary uniform plus have a 9 year old. I had more help at my boys last school why do they want me to pay so much?
Agriggs
- 15-May-17 @ 9:24 PM
I am completing a world challange in July 2018. I am wondering if there is any grants available to support this. I need £3500 plus also need to purchase all my clothing. I am doing odd jobs but this will take a lifetime to get to the £3500 needed. any ideas or help will be greatful
stotty
- 4-May-17 @ 8:04 AM
Hi my daughter has ADHD and mild learning difficulties is there any grants that could help her go on a school trip to France its £900 and I would struggle as I'm a single parent
emma
- 2-Feb-17 @ 4:37 PM
Hi my daughter is going to France with her secondry school and it's costing 400 pound that's without passport and spending money is there any help I can get from anywhere
nicky
- 1-Feb-17 @ 3:18 PM
Hi I am 14 years iPad an am going to be going out to Cambodia for 4 weeks to volunteer and help villages out there, I am going with Camps International and need to raise £4000, however Ii Nd it difficult to fundraise as my dad is disabled and I am a young career. Where should I apply ?
Molly
- 21-Feb-16 @ 6:59 PM
Hi, I'm afootball coach working in Hackney and I'm planning to take a group of under 13 football players to Sweden to take part in the World Cup tournament. I work with mostly under privileged children and I would like to know if there is any type of FundingI can access the help with the costs. I would really like to take all of my players, but as most of them are on benefits there parents would find it hard tocontribute towards the cost of the trip I really don't want to leave anyone out.Can you please help me find a way to fund this trip, all advice is welcome.
Coach jc
- 5-Nov-15 @ 9:13 PM
@Bran. Try the above suggestions. You may also find it useful to havea good look through the
Turn2Us Grants Search page.
Also continue with lots of innovative fundraising schemes. Good luck.
GrantsExpert
- 30-Jul-15 @ 12:09 PM
Hello my name is Brandon?,Ime 15years old and will hopefully going to Ecuador with the school in July 2016th for 1month,with Camps International.The cost is £4000 per student,I have raised £1000 so far with coffee mornings quizzes,raffles,car boot sales and generous family neighbours and friends.I will be working with local communities teaching English,getting to know their way of life,giving information to understand methods of making a living, protecting the environment and animal conservation projects.I was wondering if I could be considered for a grant or information helping me towards fulfilling my dream.MANY MANY THANKS Brandon??
Bran
- 30-Jul-15 @ 11:59 AM
@Clare66. If it's for school buses then many authorities will give a pass to those who travel further than the local authority set distance. If you are within the distance but still within a long walk or have a difficult route to school, you may be issued with a free bus pass. This, however, is often means tested.
GrantsExpert
- 26-Sep-14 @ 11:39 AM
Do you know of any grants to assist with school bus costs?
Clare66
- 25-Sep-14 @ 3:31 PM
Many of the grants available are specifically for older teenagers/students etc. You would be better to trylocal fund raising through events and contact local businesses for sponsorship. You could give the following a try though: The Journey of a Lifetime Award, given by the Royal Geographical Society (with IBG), in partnership with BBC Radio 4, offers you the chance to make a 'journey of a lifetime' and to tell the world about it in a memorable piece of radio documentary-making. The Arrol Trust provides grants for people wishing to broaden their horizons through travel in the UK or overseas for gap years and educational trips. Application forms must be supported by a reference from the applicant's teacher or employer. Applicants must be willing to attend an interview with the trustees and be willing to report back on the completion of their trip. Lindsays, Caledonian Exchange, 19a Canning Street, Edinburgh, EH3 8HE
GrantsExpert
- 3-Jul-14 @ 11:23 AM
Hi. We have a 14year old that helps us at a brownie unit. She has be chosen to go with other young leaders / rangers to do a service trip to an orphanage in Vietnam next summer, she will be 15 by the time of travel. She needs to raise £2800 to go and we were wondering if you could advise us on any grants she could apply for to help with the funding. Thank you
Guider
- 2-Jul-14 @ 12:57 PM
My son is hoping to go to Costa Rica and Nicaragua in July 2015 with True Adventure where he will assist in a variety of environmental and community based projects . Are there anygrants that could help with the cost? I have been now a lone parentsince October and am on a low income. My sonis 16 and istrying to get a part time job help towards it. Thank you
Hopeful
- 23-Jun-14 @ 2:34 PM
Hi I am travelling to India (Himalaya & Rajasthan) in 2016 for world challenge and must raise £3650 in order to do this. I this 4 week expedition i will be spending a few days based at a local village or school helping to renovate classrooms. I will also be taking part in 12 to 20 day trek above the snowline, reaching altitudes of over 5000 metres. It may also be possible i could visit a traditional Buddhist 'gompas' along the trek. So it would be great if you couldlet me know if any grant or funding is available for this expedition to India, so i could reach my amount i need to go. Thanks Harry Bamber
harrybamber8
- 18-May-14 @ 12:11 PM
I am travelling to Costa Rica and Nicaragua in 2015 for world challenge and must raise £4,000 in order to do this. I will be trekking in the jungle and cloudforest while there as well as doing some community development work and wondered if any grant orfunding is available for this to help me reach the money needed. Thank you.
I'm 15 years old and I will be going on an expedition to Ecuador on July the 24 to August 24th this is a 1 month expedition I am going with camps international with school along with 10 other student the cost for the trip is near £4000 per student. We will be doing animal conservation, working with local communities in teaching them English but also we will be learning Spanish in the process ,helping understand methods for them to make money in a way which will protect the environment,(bio-degradable) we will also be doing treks in the cloud forest and many more. I was wondering if any grants are available in order to help with the funds to get to Ecuador I have been fundraising since round about may but I still need to raise alot more to get there.Many thanks if anyone could helps or point me in the right direction :)
bryony
- 31-Jan-14 @ 11:58 PM
Hi im planning on going to ecuador in the summer of 2015 to do some community work teach english and some conservation projects do you have any companys willing to help fund my trip thanks x
porg
- 23-Oct-13 @ 7:46 PM
Im travelling on a World Challenge expedition in 2014 to Vietnam and Laos the total cost is £3,500 and i would really apperciate it if you could suggest a grant or any funding avaliable for this type of thing? It would include a community involvement section and a trekking phase i would be ever so grateful for your help as though i am struggling to raise money i truly see this as a life changing oppurtunity, Thanks so much in advance.
Orla
- 8-May-13 @ 9:03 PM
My name is Aiysha , I am 15 and am intending to travel to Swaziland (South Africa) in the summer of 2014 with world challenge. I was just wondering if their are any grants available that could assist in helping me achieve the total sum of £2,149 so that I am able to take part, as raising a large sum of money alone is proving to be difficult. I would be very grateful for any assistance offered. Thank you very much.
Aiysha.A
- 21-Apr-13 @ 5:58 PM
My daughter is planning to go to costa rica and nicaragua next year with world challenge and I would like to know if there are any grants that could help with the cost. The cost IS £3,500. Thankyou
clare
- 6-Mar-13 @ 8:07 PM
I am a teacher in a primary school, running a new hockey club. We have qualified to represent our county at the Welsh national schools hockey championship. A huge honour and also a huge expense. Do you know of any grants or funding we could apply for to help with our travel costs? Thank you in advance.
Sara
- 28-Feb-13 @ 9:44 PM
Hello, my name is Ashley Rogers and i'm a 16 year old student at Bryntawe Comprehensive, and next year i'm planning to go to Eithiopia with World Challenge to help out with the local communities, i have to raise £3,500, i was just wondering if there are any grants to support this life changing opportunity? Thanks.
Ashley
- 31-Oct-12 @ 11:23 AM
Hello my son school is planning a trip to paris, midrid and barcolona.i would like to apply for grant or scharlorship money if there are any avail. fundings for these trips. It would bevery educational for him. Please let me know of any info that could help us you out with this. Thanks Angel
Angel
- 12-Sep-12 @ 11:11 PM
I am a 17 student going on a trip to Borneo 2013 with the school to help with conservation etc. do you have any suggestions for obtaining some grants to help with funding of this trip?
Cookie
- 27-Aug-12 @ 5:37 PM
I am a 17 year old student who is looking for possible funding grants for help with my expedition to Borneo with the organisation called Camps International. It takes place summer 2013 and I will be taking part in wildlife conservation, community development and jungle trekking. Are there any grants available to which I am eligible to apply for to aid me in fundraising? Thanks
Emma
- 24-Jul-12 @ 4:09 PM
A pupil from a Cornish secondary school is going on an expedition to Borneo in 2013.She will be there for 4 weeks and it will include community development work, wildlife conservation and jungle trekking.She is looking at help in her fundraising.Are there any grants/funding available to her.Thanks
Lisa
- 11-Apr-12 @ 10:02 AM
My daughter is planning to go with World Challenge to Laos and Thailand July 2013, are there any grants available to support such a adventure, she needs to raise £3,500. She has started fund raising but every penny counts towards her goal. Thanks
Merlin
- 29-Feb-12 @ 4:19 PM