Getting Help with Funding for School Trips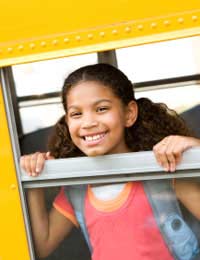 Putting your child through school is a necessity, and despite the UK claiming it has a 'free' education system in place, many parents find that the cost of education is soaring.Taking into account the cost of uniforms, books, travel expenses, food costs and the added contributions parents are asked to pay towards school trips, the cost of your child's school education can run into the thousands.
A report from Citizens Advice revealed that 50 per cent of parents pay more than £10 per school day trip that their child attends, and for those who go on residential trips, this cost can reach as much as £200.
One issue pointed out by parents when it comes to financing school trips is that they are not given enough notice to budget and save in order to cover the costs.The report also showed that those families on low incomes didn't know that they could actually be exempt from paying some, or all, of the cost of these trips.
The Real Deal
The rules surrounding the charges schools can apply for educational trips are hazy.Basically, schools are able to charge parents a fee for board and lodging for school residential trips, but they can't charge for activities that take place during school hours – although they can ask for voluntary contributions.
This often makes those parents on low incomes feel obliged to make a contribution that they realistically can't afford with many schools implying that the trip could be cancelled if there aren't substantial contributions.The reality of the situation is that those parents who are entitled to free school meals are exempt from these charges.
However, leading charities often point out that children from low income families are often isolated or bullied at school as a result of their parents not being able to afford new uniforms or to pay for school trips.
For parents on low incomes, the main cause of concern is that their child could suffer academically as a result of not being able to attend the trips that are linked to the curriculum. It is often the case that schools exclude those children who can't pay from the trip, despite the rules clearly stating that contributions should be voluntary.
Money, Money, Money
Parents whose children attend secondary schools face an average annual amount of £1,000 just to cover the 'added extras' of their child's education. And primary schools aren't much better, costing parents as much as £600 per year.
According to figures from national charity, One Parent Families|Gingerbread, lone parent families are five times more likely to have an income of less than £200 per week making it very difficult for them to budget to cover the cost of school trips.This means that families are forced to borrow extra money to cover these extra costs, adding to their already difficult financial circumstances.
Helping Hand
There is little help available to help cover the cost of school trips. However, some local authorities can help towards the cost of school uniforms. Some do offer grants for extra expenses, but these are usually reserved for those with 'exceptional circumstances'.
One form of funding that has been successful in helping parents on low incomes with the costs associated with their child's education in Horizon.This project is supported by Barclaycard and charities including One Parent Families|Gingerbread, Parent Line Plus, Citizens Advice and The Family Welfare Association. It is through the latter that parents are able to access grants to help support parents with costs associated with education.
Grants Expert is sponsored by Purely Energy, who have funded a lot of our content. If you are looking for a low cost business energy supplier, take a look at their website.
You might also like...
My son Freddy Harbach (10) has been invited to a Norfolk trip ( £375 ) and we can't afford it . I'm on pension credit , wife is registered blind. Any help with a grant please? regards John Harbach.
N/a
- 14-Apr-21 @ 11:51 AM
My son is 11 and started high. Can I get any help towards school trips? I'm a single parent and unemployed at present Thanks
hello can I get help on school uniform has I'm a single mum with 3 children and my oldest starts seniors in September
incey
- 6-Mar-20 @ 7:06 PM
I have residency order for 2 grandchildren one child at secondary school and has a chance to go to france for 6 days costing £460. Have just paid £122 for passport. Is there any help I could get for trip
Amma
- 1-Jan-20 @ 7:41 PM
Hello! I have a school trip on june going to Spain Only one of my parents works. The trip costs £425 but I cant affort it . If a little help possible will be a good thing for me Please!
Ermir
- 9-Dec-19 @ 4:46 PM
My son has autism and got a school trip next year for a week cost £380 is there any help I could get single parent not working
Sar
- 27-Oct-19 @ 9:38 AM
Hi could we please have some more info on applying for this grant. We are a family of 8.6 children at school.Mum is disabled with little mobility and dad ( me) is main carer to all, so we are dependant on benefits,and this grant would offer a better outlook at school.Many thanks
Aaron
- 17-Oct-19 @ 10:11 AM
Hi I always have to say no to my son for school trips as being a single parent on a low income supplemented by Tax credits I simply can't afford it. But his school have a trip to Madrid that is open firstly to pupils on their school football team and those who have taken PE as a gcse subject. All his friends are going and it's the only trip he really has his heart set on. Having placed a deposit so he doesn't lose his place in the trip, I contacted the school stating my situation. They have offered no help. I feel belittled having contacted them in the first place - trip letters always state to contact them if the cost would be financially difficult. It's heart breaking to say no to everything simply because financially you can't afford it. What do I do?
Naz
- 16-Oct-19 @ 6:03 PM
Hi my daughter has been offered a trip of a life through school and camp international where she has chance to go cambodia in 2021. My daughter is trying to raise 4.500 through fundraising. Our plan is to raise the money through table tops, sponsor swim, car boots sale, cake and coffee morning etc just some of the ideas we are going for. I'm wandering if she could have a small donation to help with a trip of a life time. Please we would be grateful with any help you can do. Tammy Hockaday
Cambodia 2021
- 14-Oct-19 @ 5:28 PM
I am a single mother of 3 who range in age from 3-9. I have no help from their fathers and I am stuck in this country due to my now ex husband who has alcohol and substance dependency issue and does not see the kids. My eldest has come home with a letter saying that starting November 1 of this year I have to somehow find £40 extra a month to pay towards her trip in March. I am overwhelmed trying to think of how I can stretch my already tight budget to accommodate this with Christmas around the corner. I have no help and no family here :(
Alykat88
- 4-Oct-19 @ 1:10 PM
Hi, I am a single parent of two children at high school, I get no support from their mother as the kids were placed with me by social services due to violence and drug related issues whilst in their mother's care. I am struggling on a daily basis to keep them fed and watered as well as uniforms and other costs. I really don't want my children to miss out on school trips and it's really depressing me having to say no i can't afford it when they bring letters home all excited because their friends are going. Is there any help out there.
Craigmorris77
- 1-Oct-19 @ 4:23 PM
My grandson who has lamb schaffeur and is autistic wants to go on a school trip to France. My daughter is a single parent of 3 and has just purchased her council house and can no way afford the 604 pound they are asking for .is there any help available,???
Carol
- 27-Sep-19 @ 4:01 PM
Hi, my son has just started secondary school and come home wanting to go on a school trip to France next year and a skiing trip, but it's all very expensive! I don't want him to miss out as he is autistic and I think he would really benefit from these trips. I was wondering if as a family we are entitled to any help? as my husband is in the army.
Hello my son has got a school trip to rhosWales for £350 and I'm a single parent and I cant afford it is there any help that I may be able to get please
Jade
- 12-Sep-19 @ 2:54 PM
My granddaughter had bout home a form for a school trip cost 1,050 then she had to pay for her meals whilst on the six day trip plus spending money, yes this is a trip of a life time to New York, but her dad is a single dad and does not get any financial support and her mum does not contribute to her daughter and never has can he get any support to send her on the trip
Tress
- 10-Jul-19 @ 10:01 PM
My daughter came home end off February with a letter £190 trip to minydon I have been on sick over a year had to leave my job and now on UC I'm a single mum and my daughter's school applied for funding but know it has to be paid by the 14th June i feel so bad as she missed out on her last trip and this one is her levers trip in year 6 is their any help please
Nicky
- 26-May-19 @ 7:38 PM
My Daughter came home with a letter of a fantastic trip to China. She so wanted to go and said both her friends were going and feeling heartbroken I did not want to tell her that we couldn't possibly afford it. She was devastated and I just feel bad that now and opposition we found herself in I don't want my children to be held back or disadvantaged in any way. I I have three children and all will have trips in the future and I probably will have to say the same to them which is so sad and seems so unfair if there is any help out there I'll be very grateful to know about it thank you
Longlegs
- 15-May-19 @ 12:52 PM
Hi my daughter is going to China next July with the mandarin excellence programme it's still 400 pound to pay and I only have that a month when I have paid my rent
Lealea
- 8-May-19 @ 11:24 PM
I'm on unverle credit and a single parent i work and my son could not go on the easter school ski trip I just can not afford it he came home all excited telling me how everyone loved it and gave me a letter for next easter ski trip beginning me to let him go it's 899 pounds it broke my Hart to say I can't afford it to see his face drop and he said great now there going to pick on me again ..is there any help I can get towards paying and what don't help is they want 50 pounds to confirm a place a week today lts to short notice
My son is soposed to be going on his resadentail soon as hes year six and i am on benifits and struggle to pay trips ect as it is for 4 kids can i gt help with his resadentail as he gets free meals
Nikki
- 2-Apr-19 @ 11:55 AM
Hi my son is in year 8 and as a single mum who has always worked its a push to pay for anything let alone trips i really dont want him to miss out i pay for school meals and the school bus now im on unersal credits im reallystruggling is there anywhere get help towards his ski trip x
Clare
- 23-Mar-19 @ 10:04 AM
Hi how do you get help with school trip if you are on aLow incomePlease x
Jenny
- 19-Mar-19 @ 2:50 PM
My school has a camp to Cyprus and they need someone to fund them for the trip. I believe it is too much because the teachers don't want us to pay the price. Can someone help
My daughter has just started her first year in comprehensive school.she brought a letter home for a school trip to go skiing abroad with year 7 (her year), and also years 8 & 9 cost totals £890. Plus I would have to pay for all ski wear plus spending money. I'm Un able to work due to also having a disabled toddler to care for,a 5 year old son and a newborn absolutly where child is going.theres no way I can afford it..can I get help to cover full cost I can't even afford a percentage of it.im in receipt of child tax credits,income support chhold tax credits.thankyou
gina
- 15-Feb-19 @ 9:40 PM
My daughter is in years 8 and came home with a letter for a trip to Canada next year for £1500 letter states voluntary contribution, can i get any help with costs of this ??
Emzie1981
- 13-Feb-19 @ 9:16 AM
My son has a trip planned to Robin Wood . He is in year six and is so excited about it. I am on universal credits of£190 a month! Is there anywhere I can get help with the cost of this trip, the cost is £125.
Nosam
- 14-Jan-19 @ 9:36 AM
I have been fighting depression,anxiety and PTSD for over 2 years.I have had to go off sick which means I am now on statutory sick pay. My daughter has just come home with a letter for a German trip £460. I feel dreadful that due to my illness I have let her down and she can't go.
Daisy972
- 4-Dec-18 @ 6:29 PM
Hello, my son has come home with a letter for a trip to nap house in Devon and the cost is £420. I'm a single parent of 3 on benefits with no help from anyone else. I also live with bipolar disorder. My son hasnt been on any of his big trips at school due to not being able to afford the payments. He is in year six and it is his last chance to attend a trip that I think is very important for his future. I have spoken to his school and they said they are in able to help with these costs. I feel bad asking but is there anyone that can please help with some advice on what i can do. Thank you.
Kelly
- 22-Nov-18 @ 11:08 AM
Hello, I'm 14 and I'm my family are quite well off 8 go to a private school where I have a scholarship to help pay the tuition fees. Recently I was offered the chance to go to MIT which had been a life-long dream of mine. Sadly my parents simply cannot afford £1500 it costs. What could I do? Regards Nadav
Nadav l
- 13-Nov-18 @ 10:37 PM
Hi there my name is Kay and I am 16 I am currently studying at college doing a animal care level 3 course because of this I have luckily been given the opportunity to travel to the Galápagos Islands this trip would enable me understand the type of conversation the islands perform as this is a field I one day hope to go into. Unfortunately like all great things this trip comes with a heavy price and that price is £3500 sadly for someone like me who lives on benefits this is a trip that may turn more into a dream than a reality. I'm not asking for a miracle but any help would be helpful and I would forever be grateful Thank you