Getting Help with Funding for School Trips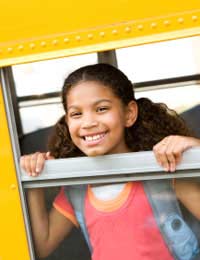 Putting your child through school is a necessity, and despite the UK claiming it has a 'free' education system in place, many parents find that the cost of education is soaring.Taking into account the cost of uniforms, books, travel expenses, food costs and the added contributions parents are asked to pay towards school trips, the cost of your child's school education can run into the thousands.
A report from Citizens Advice revealed that 50 per cent of parents pay more than £10 per school day trip that their child attends, and for those who go on residential trips, this cost can reach as much as £200.
One issue pointed out by parents when it comes to financing school trips is that they are not given enough notice to budget and save in order to cover the costs.The report also showed that those families on low incomes didn't know that they could actually be exempt from paying some, or all, of the cost of these trips.
The Real Deal
The rules surrounding the charges schools can apply for educational trips are hazy.Basically, schools are able to charge parents a fee for board and lodging for school residential trips, but they can't charge for activities that take place during school hours – although they can ask for voluntary contributions.
This often makes those parents on low incomes feel obliged to make a contribution that they realistically can't afford with many schools implying that the trip could be cancelled if there aren't substantial contributions.The reality of the situation is that those parents who are entitled to free school meals are exempt from these charges.
However, leading charities often point out that children from low income families are often isolated or bullied at school as a result of their parents not being able to afford new uniforms or to pay for school trips.
For parents on low incomes, the main cause of concern is that their child could suffer academically as a result of not being able to attend the trips that are linked to the curriculum. It is often the case that schools exclude those children who can't pay from the trip, despite the rules clearly stating that contributions should be voluntary.
Money, Money, Money
Parents whose children attend secondary schools face an average annual amount of £1,000 just to cover the 'added extras' of their child's education. And primary schools aren't much better, costing parents as much as £600 per year.
According to figures from national charity, One Parent Families|Gingerbread, lone parent families are five times more likely to have an income of less than £200 per week making it very difficult for them to budget to cover the cost of school trips.This means that families are forced to borrow extra money to cover these extra costs, adding to their already difficult financial circumstances.
Helping Hand
There is little help available to help cover the cost of school trips. However, some local authorities can help towards the cost of school uniforms. Some do offer grants for extra expenses, but these are usually reserved for those with 'exceptional circumstances'.
One form of funding that has been successful in helping parents on low incomes with the costs associated with their child's education in Horizon.This project is supported by Barclaycard and charities including One Parent Families|Gingerbread, Parent Line Plus, Citizens Advice and The Family Welfare Association. It is through the latter that parents are able to access grants to help support parents with costs associated with education.
You might also like...
I'm a single mum of 3 kids as my husband died of cancer 3 years ago. I don't work and recieve benefits. My eldest is in final year of primary school and due to go on a residential trip in February. I can't afford the deposit of £50 never mind the fee of 200. Is there any grants I can apply to for help. It heartbreaking that he might miss out
Jode
- 21-Sep-16 @ 5:04 PM
Jo - Your Question:
I am a single mother of 3, my eldest is due to move to university halls of residence next week, I am in extreme financial hardship, due to stoppages of benefit, my two youngest have started the new school term and this last year's uniform is still fitting and of a satisfactory condition they are however in desperate need for shoes, my other concern at the moment is how is my son going to be able to get the basics he needs for his accommodation, and even more so how can I cover his cost of moving from home to uni, would be grateful if any advice could be offered, thankyou.
---
Our Response:
All students are expected to take out a student loan to cover their fees and accommodation. Many, also find part time jobs to supplement this. This means you should not have to fund any of his expenses. Children from low income families can sometimes get extra money on top of the loan.
See here for more information
GrantsExpert
- 16-Sep-16 @ 12:22 PM
I am a single mother of 3, my eldest is due to move to university halls of residence next week, I am in extreme financial hardship, due to stoppages of benefit, my two youngest have started the new school term and this last year's uniform is still fitting and of a satisfactory condition they are however in desperate need for shoes, my other concern at the moment is how is my son going to be able to get the basics he needs for his accommodation, and even more so how can I cover his cost of moving from home to uni, would be grateful if any advice could be offered, thankyou.
Jo
- 15-Sep-16 @ 12:29 PM
Although not on a very low income, we still do not have enough extra money to pay for any of the trips organised by the secondary schools my children attend. There are many trips on offer - New York for a thousand pounds, Germany five hundred pounds etc. At primary school level the year 6 residential trip was also totally unaffordable for us. Why is there no funding from local authorities for poor working families?
lou
- 29-Jun-16 @ 8:00 PM
I have taken on special guardianship of two children 9 and 7 who were under the care of their localauthority. I have just had some letter for a resident trip costing £200 for 9 yr old who said everyone is going. I have heard that I can get some kind of funding towards this because of their background.Is this correctsend if so how Many thanks M
Im a grade 12 learner at mahhushe iwould like you to pay my fees for Durban trip that will take place on the 4th of may because my parents are unemployed and they cant afford it,plz help
makhanyi
- 18-Mar-16 @ 10:11 AM
@alwaysbusy. You should ask at your daughter's school first, they often have a budget for helping financially with school trips. You should also try
the Turn 2 Us
grants finder, which brings up details of lots of organisation, societies and charities that offer grants/funding for this kind of thing.
GrantsExpert
- 7-May-15 @ 12:45 PM
@alwaysbusy. Try the school first of all. They will usually take steps to help anyone in financial need for things like school trips, uniform etc etc. There is also a range of grants available on the
Turn2Us Grants page
GrantsExpert
- 7-May-15 @ 12:35 PM
Hi am a single parent .daughter's father is deceased.I work full time but low wages.my.daughter has a school trip costing 450. could I get any help .I am on a very tight budget .I have refused many trips before. I can't afford it .her friends are going .lucky that if you don't work you get subsidy .would like some help .please
alwaysbusy
- 30-Apr-15 @ 10:12 PM
@Nothing. Try the
Turn 2 US website
to be sure you are getting all you can.
GrantsExpert
- 7-Apr-15 @ 2:06 PM
My partner died in January and im finding it hard to sort all thats piled up need some help with paying for two school trips and uniform is there anything I can get to help
nothing
- 3-Apr-15 @ 4:51 AM
I know how yr all feeling. I never envisaged all this expense upon having my son and am now forced to have to ask my partner to assist with funds.
JC
- 25-Mar-15 @ 11:45 AM
@lulu. Your children's school may be able to help with school uniform costs - give the bursar of the school a call and explain your predicament. Some councils/education authorities can also help - here is the
government web page with more details.
.
GrantsExpert
- 13-Feb-15 @ 12:57 PM
Could you please give me some advise on how to apply for assistance in getting funding towards getting school uniform for mytwin daughters who will be going to secondary school in September
lulu
- 11-Feb-15 @ 11:08 AM
@locket. See the Helping Hand section in our article. Many schools have help to offer those on low incomes, especially if the trip is related to coursework so ask the school as well.
GrantsExpert
- 31-Oct-14 @ 11:16 AM
I am a single parent, i do work but my daughter is going on a trip to New York costing 1200. is there any help availiable to help me pay for this. Thanks
locket
- 31-Oct-14 @ 8:34 AM
@Amma. Ask directly at the school, they often have access to funds for trips for those who cannot afford them. Note that they are sometimes means tested, so you will be asked for details of your financial situation.
GrantsExpert
- 15-Oct-14 @ 10:56 AM
Hiya, both my secondary school age daughter's have a school trip to Barcelona, I am a single parent on a very low income, is there any help for me towards paying for this trip?
Amma
- 14-Oct-14 @ 8:17 PM
My son has a trip to Florence and the cost has been decided at £595 I am a single mother and on a low income and don't know how to pay for the trip will the school help me with the cost?
@stressedmam. Which county do you live in?
GrantsExpert
- 1-Jul-14 @ 10:47 AM
Hi my son starts 6th form this year and is staying at his high school. Up untill now he recieved a bus pass,now I have to find £800? Impossible whilst being single working 45 hrs pw and having 2 other kids.Is there anything out tthere ????.. am becoming more stressee closer we get.
stressedmam
- 29-Jun-14 @ 1:18 AM
@td - sometimes you can get help directly from the school if it's an educational trip that covers part of the curriculum. Usually the letter regarding the trip should give details about that, so you know who to contact.
y3teach
- 18-Jun-14 @ 11:17 AM
I have the same probleme I cannot aford to pay for my daugther school trip .385 what can I do please.
Hi i want to know where i can get money for my son to go on trips with the school he goes to a special school the nappies are going to small for him and i need larger sizes for him
tracy
- 28-May-14 @ 6:53 PM
my 15yr old daughter is going to paris with the school and its costing me £900 and am a single parent just to ask if there is any help to pay towards thanks.
grace
- 13-Aug-13 @ 11:27 AM
I am really struggling to put food on the table and the children are in receipt of free school meals.After working very successfully for 20 years I had to resigned due to very serious depression and anxiety.To say things are hard is an understatement. My children's school are aware of the circumstances but say no support is available for my daughters residential.I am struggling to make the regular payments and there is still £220 owing.Please please can you advise me of any support available.I feel so responsible as I think its my job to protect and support my child.Unfortunately I am failing at the moment which is really hard for them
Hi GK I too have twins, age 13, and I have the same issues. Have you spoken to the school itself? This worked for one of my boys...... Twin 1's school (non fee-paying Grammar) has a trip toFrance (even though they're studying Spanish!!) later this year at a cost of £450. I contacted the school and explained that I am a single Mum and have just come off ESA and am now on JSA. They have offered to cover half of the cost and so Twin 1 is going on his trip. Twin 2's school (local Academy school) announced a trip to Belgium at a cost of £455 and so based on Twin 1 going to France I had to say yes; assuming I'd be offered similar financial support. When I contacted the school they said that they don't have funding to support pupils wanting to join in overseas trips and that I would have to pay the full amount. Fortunately for Twin 2 the trip was cancelled because there wasn't enough interest but it does mean that in his eyes he's still loosing out. Good luck
nettedarling
- 1-Feb-13 @ 6:47 PM
Please can you help or let me know where i can obtain a grant for school journey for some of our parents who cannot pay for their child to attend a school journey but would like them to go.
Tracy
- 23-Jan-13 @ 2:40 PM
is my child intiled to help with school trip abroard if parents on low income or out of work
lover
- 15-Jan-13 @ 4:03 PM
having been made captain of Cricket,my Grandson is expected to lead the school cricket team on a trip to St Lucia next summer, however this will cost at least £1600, daughter is asingle parent on a low income and this amount is out of her reach. I am on a state pension as a widow and help when I can but not to this amount. Is there anywhere to apply for a helping grant, just some not necessarily the whole sum?
judge
- 18-Dec-12 @ 11:22 AM