Family Action Grants to Help Those in Need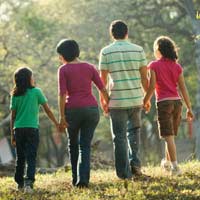 25% of all people suffer mental illness at some stage in their lives. Such illness can lead to all manner of problems. Half of all adults who have debts, for example, are suffering financial hardship because of depression or some other type of mental trauma.
There are other facts about mental health that make sobering reading. Around 75% of people with depression never receive help or treatment; half of those with mental health problems have children that depend on them; and 65% of children with parents that have mental health problems will themselves experience mental illness.
This means that there are significant numbers of adults and children who are at risk because of mental health issues. Family Action is a charity that provides help to these vulnerable people.
Background
Family Action dates back to 1869. Over a period of almost 150 years since then, it has developed a network of 100 services.
These services give welfare help to more than 45,000 families and children each year. This assistance is in the form of emotional support, practical measures and grants. Family Action also has an education-based information and grants scheme. This assists a further 150,000 people.
The charity's emotional support and practical measures help resolve the many problems that arise from mental illness such as domestic abuse. An equally important aspect of Family Action's work, however, is its grants programme. The charity has provided grants since it first began. It now administers educational and welfare grants throughout the UK. Both schemes have a range of priorities. The educational grants also have offshoots such as the Horizons Education Fund and the Mid-Yorkshire Social Work Fund.
Education Grants
Applicants for Family Action education grants must be students at an EGAS-affiliated university or college. EGAS is the Educational Grants Advisory Service. It helps students find grants from charitable trusts.
To be eligible for a Family Action grant, students must usually be receiving welfare benefits or on low incomes. They may also have families.
Family Action gives priority to students studying certain subjects. These tend to be practical rather than academic. They are the type of subjects that increase a student's chances of gaining work.
Students don't need to be British citizens to apply for grants. Refugees, people with leave to remain, and asylum seekers are eligible and may be studying International English Language Testing System (ILETS) courses or English as a Second or Other Language (ESOL) courses.
Family Action doesn't set limits to its education grants. The usual amount of each award, however, is £200 - £300. Students generally apply for such grants to help with education costs such as necessary equipment, travel and books.
Although there is no restriction to the amount of a grant, Family Action gives just one grant per applicant for each academic year.
Welfare Grants
The aim of Family Action's welfare grants programme is to provide financial help to individuals and families who are on low incomes or who receive welfare benefits.
Grants normally work out at £100 - £300. They cover items such as clothing, cookers, washing machines, beds, medical adaptations and aids to communication.
There is a limit on overall funds for the grants. To control this limit, Family Action accepts applications only at specific times of the year. These are the months of March, June, September and December. The charity doesn't process welfare grant applications outside these four months.
Family Action targets its welfare grants at priority areas. The first of these is mental health. Applicants, for example, must be aged over 18 and have a clearly diagnosed mental health problem.
The other priority areas are domestic abuse; sickness; disability; young people aged 19 – 25; and older people aged 60 or over. Family Action also offers grants to women living in Greater London who need a holiday to help them recover from illness or exertion.
In every instance, grant applicants should not apply directly to Family Action. They must seek the backing of someone who has worked with them such as a health worker or social worker. These representatives must complete and submit grant forms on behalf of the applicants.
If a grant request is successful, Family Action sends a cheque to the applicant's representative. Applicants cannot receive direct payment.
Family Action restricts each successful applicant to one grant per year.
You might also like...
Hi I'm rally struggling due to mental health illness and lost my job over this at Xmas I was a nurse and now I can barely feed me and my kids
Maggie
- 23-May-19 @ 9:59 PM
Hi my name is James I have suffered with mental illness since I can remember I am 35 now I have been struggling financially for a while and at the moment I have no cooker so any help would be great thank you
James
- 14-May-19 @ 9:46 AM
My son had congenital cockayne syndromeand due to his condition I would have to give him cpr and mouth to mouth to bring him back to life 2 -3 times a week but sadly Owen had a heart attack age 4 and passed away ..my heart never healed and every day is a struggle losing my little boy i been so depressed and lonely and heart broken i have financial difficulties and would be nice if i could get help As i got no one to turn to or help . I need clothes ,washing machine a bed so if anyone can help id appreciate every little help ..god bless x from Emma
emma29uk
- 4-May-19 @ 9:06 PM
Hi I have a baby and suffer with mental health issues currently suffered domestic violence in relationship and emotional abuse and have not got money for deposit for flat or money to buy items for the flat can you please help
Prinny
- 28-Apr-19 @ 7:36 AM
I have suffered mental health issues since the age of 15 and am now under the community mental health team. I have had to give up work as I have been at my worst recently. I am now having to claim UC and am in alot of debt. I have 3 children that Im scared I won't be able to afford the basics for. Is there any financial help I can get?
Stacy34
- 26-Apr-19 @ 9:38 PM
I am enquiring how I can help my Friend who has a Brittle Bones due to having a broken back I am writing to you to enquire how I can help her get funding to pay for a New Bed. My Friend is on low rate ESA & low rate PIP and she is in constant pain and requires a New Bed because the bed that she has at present is Old and this is causing her a lot of pain both at Night and Day. Please can you contact me on Telephone No : 07979287363
Gazza
- 14-Apr-19 @ 7:40 AM
I'd love to have a grant to help buy a new washer/dryer. I suffer with chronic diarhea so I am constantly having accident as I can't control my bowels. My washing machine at the moment is a rental one which I'm having problems with. I suffer with mental health aswell as other health complications. Look forward to hearing back from you x
LauraJayne91
- 28-Mar-19 @ 1:25 PM
Hello my name is tracy I have been diagnosed with a unstable emotional personality disorder many years ago I live alone and go out once every 2 weeks to do my food shopping I have lived in my house for just under 5 years I have old broken wood flooring with holes and big cracks in it where the cold comes threw as its just cement underneath I'm in the house all the time and it's affecting my mental health as its horrible to look at and its making my house cold it's making me depressed and there's nothing I can do as I don't have the money to fix this problem I have to sit every day just looking at it feeling uneased and emotional I'm not shaw if I can get any help but thank you for reading this.
Sweetcheeks
- 16-Mar-19 @ 3:42 PM
I'm going to try and get a move to a one bedroom ground floor flat asap because I'm disabled I have to climb 3 flights of stairs to my Room in a HMO. I've been there 6 years now and I just can't cope with the stairs anymore.problem I'm having is I'm on low income and just can't afford anything to move in their. I've tried to get a similar Room in another HMO but they have no ground floor ones available. Any ideas has to whom I can get in touch with please?. Many thanks Matt.
Matt
- 13-Dec-18 @ 4:39 AM
Hi I have bipolar disorder Now on very low benefit My dog needed operation cost me just under 4 thousand pounds 3 thousand for actual operation Had to get in debt paid on mother's credit card can't afford payments This is spiralling my disorder severly Have all evidence that's needed Is there anyway you could help me please I'm having to go to food banks for little bit of food what they can give
Ann
- 12-Dec-18 @ 8:34 PM
Hi, I am a 22 year old women living in Cornwall. I have just been signed off by the doctor as not fit to work due to my deteriorating mental health. I lost the job I love and am now left with no income after 3 psychiatric hospital admissions and several A and E admissions which cost me and my family quite a bit of money each time. I would really appreciate it if you could consider me for a grant and look forward to hearing back from you. Many thanks Abby
Abby
- 3-Dec-18 @ 8:27 PM
Please can I get help to buy a new mattress. I have a lot of pain and cant sleep at night. My mattress needs replacing so I can get some much needed sleep. I am a mental health sufferer.
Noggers
- 24-Nov-18 @ 11:21 PM
Hi my husband passed away on the 19th of October he had a lot of illnesses and I was his carer we have 3 teenage children he did have benefits and myself Carers allowance but now he's passed that will all stop and because the debt we have is in both our names it's £10,000 and I have a funeral costing £5,000 to pay for I don't know where to start or what to do my husband was 66 and I'm 43 he has 3 pensions but not sure what I'm entitled to and what I'm not
Mandy
- 28-Oct-18 @ 6:49 PM
I have recently lost my job due to panic attacks,anxiety severe depression and agoraphobia.and am struggling badly.my daughter needs a new bed and so do I due to them being unfit to sleep in.if you could help me out I would be extremely grateful.
Wraggy
- 22-Oct-18 @ 7:13 PM
I have had severe depression,angina,diabetes2,chronic kidneys stage 3,and coronary heart disease and ischemicheart disease,im after help with my debtsand i need house hold goodssuch as washing macine microwave fridge freezer all above have broken down through ware and tare, my debts are significant with my health problems i have not manage bills and well being very well could you please let me no if you could help in any way if not can you try and put me in touch with someone who can thanks for your time
Benno
- 21-Oct-18 @ 3:14 PM
Am askinggrants to please help pay for my son bed.
Elton George
- 20-Oct-18 @ 9:41 PM
My husband ccimitted suisside in dececmber 201p in our family home. Me n my son found him n had to cut him down . I also suffer now width no polar type 2 now n grand mal epelectic fits whit are not controlled. I take about 8 fits a week . Since My husband died I've fallen out with my children my mum n all my siblings. I have pushed everyone awY coza my illness. I live alone with my dog Sasha . I've got no friends no one . I sit by myself day after day. I'm only on the low rat rsa benefit . So I've fallen into a lots dept now . My house is mortgaged n the Morga company are threatening to evict me now. I'm very desperate with no money wotsover to ge. By on . I'm begging you if you could help me out financially to halo me out please. Thanks for your kindness ms Teresa cromby x my mobile number is 07932126383
Tess
- 16-Oct-18 @ 9:07 AM
Hello I've been fleaing domestic violence for a while now spent time in refugee & temp accommodation I have a 3 yr old son, a 2yr old son & a baby girl due in the next 7weeks any help would be amazing thankyou.
Mummy
- 15-Oct-18 @ 10:00 PM
I suffer from mental health problems and have had all my benefits stopped after 5 years and my money was cut. I am single and am struggling with money with everyday living as the bills are now building up. This is making my illness worst daily. Look forward to hearing from you
Gaz
- 26-Sep-18 @ 12:38 PM
Hi my young daughter suffers ptsd and would like to know if any education grants to help fund for a computer Thank you...
Kwllow
- 24-Sep-18 @ 9:53 PM
I'm registered blind I have ocular albinism and struggle with day to day life I can't see 3D and really need help with getting some new flooring and mine isn't good and cause I can see the edges I trip a lot in finding it really hard can any body help
Kez
- 22-Sep-18 @ 1:20 PM
Hi. I'm cleaning domestic violence and have had to move due to it and had to leave mine and the baby's funiyure and belongings. Is their any help I could possibly get please
Cbrodiexo
- 17-Sep-18 @ 1:52 PM
I am an asylum seeker with a 10 year old daughter. I am seeking if your organisation to hep with grant to pay for her residential trip next year since she is in year 6. School has asked for instalment which i cannot afford since i am not allowed to work. I would be grateful if your organisation can hep.
beautifuldiva
- 6-Sep-18 @ 9:24 PM
I have gone i suffer with anxiety and depression however because off this I pushed a lot off people.away an wouldn't talk on phone I have recently gone into full time work but have feel into rent arrears I have now got a court date to be evicted what help can i get to either pay it off or move us in case we have to go please can someone help
Tara
- 5-Sep-18 @ 7:55 PM
Hi I'd like to apply for a family welfare grant since me and my boys have just got our own tenancy after 9 months of living in a hostel due to domestic abuse...we've moved to a new area and don't know anyone...I'm struggling to put a home together for my boys...we need literally Everything...from white goods to beds and everything in between...I have support workers both from the homeless issue d-a issue and also ongoing support staff who would happily fill in the forms for me...please point me in the right direction to have the forms sent out...thank you so much... E
Elle
- 31-Aug-18 @ 3:11 PM
Hi I am currently in arrears with my rent and an facinv eviction if this is not paid. My housing association has applied to the courts for the eviction as I am in breach of a court order as was unable to keep up with repayments while on esa. I could barely survive on the benefits let alone pay 100 a month. Despite medical advice I have forced myself back into full time employment and am waiting until I get my first pay which will be the end of this month. However I am still short despite putting away as much as I can. If I were able to apply for around £500 (or more if possible) I could start to enjoy life again. The thought of becoming homeless is not worth considering. I am desperate and I would happily do anything to prove I am worthy of being helped. I look forward to hearing from you
Chris
- 30-Aug-18 @ 5:12 PM
Hi, please can you help or point me in the right direction. My son has just left school, he has no interview clothes or shoes, I cant afford to help him as I'm on benefits myself. I suffer from anxiety, depression and PTSD, I'm constantly thinking and overthinking about this.
Sam
- 30-Aug-18 @ 3:49 PM
Hi I'm looking to see if I can get a grant for a washing machine and my mum's carer and I wash a lot of clothes and bedding for my mum and my three children and my washing machine has crashed I am so desperate for a washing machine and a hard look at my mum and work 16 hours I am desperate to get washing machine thank you please help I live in Manchester England..thank u
Tigerfeet
- 24-Aug-18 @ 1:38 PM
I have breathing problems. Three of my arteries are blocked. The cardiologists cannot perform operation due to severe risk factors. I am on insulin, have knee and hip problems. Osteoporosis and arthritis. My DOB is 25/06/1953. I am 65. On benefits. I am moving into extra care sheltered end of this month. My social worker is Wendy Wilson -0330-222-8156. She will give supporting letter. I need financial help towards move and deposit. If can help I shall be obliged.
Neesha
- 20-Aug-18 @ 11:23 AM
I am 86. DOB 24-08-1932. Very frail, have mental health problems, had a hip operation . In wheelchair. I am going into extra care sheltered housing end of this month. I need financial help with moving costs and deposit. My mental health social workers name is Wendy Wilson. Her phone is 0330-222-8156. I am on benefits. If you can assist shall be obliged
Veera
- 20-Aug-18 @ 11:17 AM