The Prince's Trust: How You Can Benefit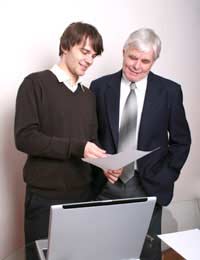 Recent research suggests that an average of one in five young people in the UK are not in work, education or training.The Prince's Trust was founded in 1976 by Prince Charles and is basically a charity that helps young people.The Prince of Wales is now the charity's president - a position which is that of figurehead and he has no legal responsibility for the charity.
Those who are affect by long-term unemployed, who have been in trouble with the law, who've struggled at school, or who have been in care are all eligible for help from the trust.
The charity runs a number of different activities, but possibly the most well known is the help it offers to young people looking to start their own businesses.
Starting your own business will be one of the most exciting and challenging things you will ever do. The Business Programme lends a helping hand to young people aged between 18 and 30 who are unemployed or working less than 16 hours a week.
The help provided usually consists of a low interest loan of up to £4,000, which needs to be repaid by the budding entrepreneur.
Research has shown that businesses that seek advice and support, particularly during their start up phases and first few months of life, are the most likely to survive and succeed.
If you are accepted onto the Price's Trust's Business Programme, you will have access to ongoing support from a business mentor as well as products and services that will help get your business off the ground.
What Else is Available?
Apart from helping young businesses get off the ground, the Prince's Trust has a number of other awards and grants that can help.
Development Award Grants are worth up to £500 and are available to put towards skills training or to help you get into work. The criteria for this grant is very strict, and it isn't available to full-time students, graduates or people who have what is classed as a 'high level technical qualification'.
The Prince's Trust Group Millennium Award is a grant of up to £15,000 which is given to groups of between three and 12 people for projects that will benefit their local community. This can include things like improving the environment, guiding others or introducing the use of technology to improve the lives of others within that community.
For those young people who are passionate about music, the Sound Live Course is designed to build up confidence with practical sessions on performance and the music business as a whole. Each session is led by musicians and other experts in the field, however, to qualify for this course you must have been unemployed for more than six months.
How to Apply
The rule of thumb when applying for help from the Prince's Trust is to plan ahead and make sure you do everything properly. The most important thing to do is research what it is you are applying for and make sure you are actually eligible for help.
The decision as to whether you will receive a grant or not is not taken by individuals, a board of people usually sit down and go through the application you have submitted so it is important to bear in mind that any tricks you might think of pulling, they have probably seen before. It is best to be upfront and honest.
Grants Expert is sponsored by Purely Energy, who have funded a lot of our content. If you are looking for a low cost business energy supplier, take a look at their website.
You might also like...
hi from hungary little english me and family want a shop on corner we have no money and eat rats in r small houde in liverpool please help
bugazr Alavbic
- 29-Apr-19 @ 1:07 PM
nip - Your Question:
I am a student doing Music BA hons at University however I am in need of a professional Alto Saxophone and also Baritone Saxophone. I am a grade 8 standard. But l need some extra finance to be able to afford even second-hand ones can the trust assist me a little?
---
Our Response:
We're not sure about the Prince's Trust specifically but below are some other avenues to try:
The Munster Trust
- has list of organisations offering help with instrument purchase or loan.
The Cherubim Trust
- Loans professional-calibre instruments to musicians aged 15-25 who cannot afford one that matches their potential.
The Artis council
Creative people and places fund.
GrantsExpert
- 6-Mar-18 @ 12:34 PM
I am a student doing Music BA hons at University however I am in need of a professional Alto Saxophone and also Baritone Saxophone. I am a grade 8 standard. But l need some extra finance to be able to afford even second-hand ones can the trust assist me a little?
I've done the course with the prices trust at west Cheshire college while undergoing a barbering course .. on completing the course I then decided to start my own business and seeked help from princes trust which I'm still waiting for as been messed about .. literally stuck and can't move forward.. business plan was sent in ages ago .. sent a message to employee and was told I have to wait as manager been on holiday / got to go through the whole of north west forms .. do feel neglected / discriminated against ....
Lj
- 26-Jul-17 @ 11:23 AM
I am 21 years old, I have recently started up a gardening and handyman business. Any fianacial assistance would be greatly appreciated. I live and work in Ayr.
Gardner
- 14-Jul-17 @ 4:07 PM
Im a 36 year old woman and I have no gcse's but I am very passionate & determined to have my own business but I do need help with funding.Would the princes trust be to help me. Please reply adap tbanks
Nightgirl
- 20-Feb-16 @ 11:30 PM
Am from an unprvilige back grown.when i wus growing up didnt got much aim and goal since have become a father i want to do somthing to better my life my aunt who use to be there for me just digoniese with menthal health problem that let me want to so much more with my life.i will like the trust to help me to open a resturant
My name is dwight am from east london.havent got much family here except my aunt who use to support me and be there for me .then my aunt took sick and dignose with paronide schecoprenic.have recently become a dad for the first time .am asking for the princess trust fund to start my own buisness am looking to open a resturant .am 20 years old
I am a single mum and my daughter is in university studied medicine and it is a second degree so she is not entitle to a tuition fee from the student loan company. I have used up my life's avenges to pay for her first year. I can not afford to her tuition for sept so I need so she can go back to uni for her second year and further years. Please help me am very desperate , thanks
Zay
- 27-Jun-14 @ 2:45 PM
Iwould like to knowif the trust can help parents disabled Or unfit to work with the cost of there childs fees?? The child in Question plays cricket for his county and the costs Of each season are about £1000 which is in no affordable by the patents So I Needed to know if there was such loans or grants available That would cover the cost of his equipment travel expenses & match fees Ur response will be much appreciated & I hope the trust can help Thankyou
sportlover
- 13-May-14 @ 2:56 AM
hi im 25 wanting to start my own Business for a better life for my son im a single parent. I would like to open a play gym for kids to have lots off fun and a better future for me and my son. realy hope you can help thank you very much
lilloz
- 6-Apr-14 @ 10:30 PM
hi, am 21 and have 2 kids, dillon 2 and charley 5 months i am in big need of help i want to start my own mothers and toddlers group and need help with £2000, please help or donate, thanks
sammy
- 20-Apr-13 @ 12:12 AM
I need some money to help me with some Paying for my Morgage. I going throught financial Problems . I earn less money and my outgoing Is more becouse what I earn only pays Morgage . All the bills are extra. I have a big loan of 50 thousand to pay off. It's been 8 years I have been separated and looking After a child . That's why I wrk part time and earn less. I have no one to help me please help me . I have a 300.000 . 3 hundred thousand Morgage to pay off. Please help Thank very much Thank you very much
Sarah
- 13-Mar-13 @ 9:51 PM
hello. I'm from Bulgaria. we are a big family. when we have high unemployment. I need help. even as a loan to develop a small shop. may donate. Thank you. please help
TAIS09
- 6-Feb-13 @ 11:49 AM